The 'Profitable' Ola and Uber You Can lnvest In Right Now
Jul 20, 2018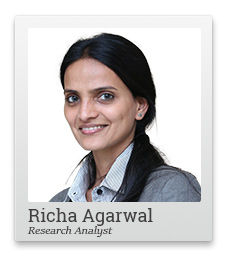 Uber and Ola own zero vehicles, yet they have changed the way we commute.
Airbnb has not one hotel property. Still, it has redefined the hotel industry.
These businesses are immensely successful. The key is their asset-light business model. It enables them to quickly achieve scale and efficiency, and then to exploit new revenue opportunities.
But, they are not profitable businesses.
Airbnb struggled for 10 years before having its first taste of profits. Ola and Uber are still burning money and seem to have an infinite time horizon when it comes to making profits.
It would have been exciting to invest in such industry 'disruptors', but not for me. I believe in profits.
You see, I would not want to invest in just any company that disrupts the conventional business models. I would leave that to start up owners or venture capitalists.
I wanted to see if there were any asset-light business models that have been implemented successfully in a capital-intensive industry.
Most importantly, I wondered, can such businesses be profitable?
--- Advertisement ---


Unbelievable Winning Streak…Since 2015!

Most investors would be happy if they are able to close 2…3…or maybe even 5 consecutive positions at profit… And am sure they'd be ecstatic if they get 10 in a row.

But, what if we told you that out of the last 20 positions that we closed...none were closed at a loss.

And the best part…this is the Unbelievable Winning Streak for our Premium Small Cap Recommendation service! we're sure you're interested to know more…

So, don't delay…

Click here to know how you could benefit from our small cap research.
------------------------------
Which is why I was so excited when I discovered a disruptor that is making fantastic profits as well.
I found this player disrupting the hotel industry. A company that has changed the industry dynamics.
The hotel business is capital intensive with large upfront investments needed in land, construction, furniture, and equipment...usually funded with debt. Excess debt results in poor profitability and subdued return ratios. The largest hotel companies in India - Indian Hotels and Hotel Leela Venture - are reeling in losses.
But this company is crushing the industry!
It has registered impressive sales and profit growth in the last five years. And that too without taking too much debt or burning cash. It has also created a strong brand presence.
With the tailwinds from growing domestic tourism, rising discretionary consumption, urbanisation, and the burgeoning middle-class population, this is an ideal opportunity for investment.
But its fundamentals are not the only reason why I'm talking to you about this company today.
As I have been observing, and you can't have missed, the Smallcap Index is down 20% from its peak.
The median correction in these stocks from their 52-week high is a massive 38%. And while correction in some stocks is long due, some good businesses too have been unfairly penalized.
Th hospitality company I discovered belongs to the latter group. Despite a double-digit profit growth this year, the stock is down by over 40% since the beginning of the year. And that has made it a low hanging fruit at current valuations.
Make sure you do not miss the opportunity - now is the time to grab it.
Now, I can't name the company here because it is one of my recommendations.
But if I were you, I would take note of this exciting new idea of 'asset-light' disruptors, and keep an eye out for them.
In my search for exciting small caps, I often discover business ideas that are beyond the ordinary. And as always, I make sure you hear about them too.
Regards,

Richa Agarwal (Research Analyst)
Editor, Hidden Treasure
PS: Richa has recommended three brilliant companies like this one that are set to become future blue chips. Get here report by subscribing here.
Recent Articles