4 Stocks to Profit from the Smallcap Rebound
Jul 23, 2019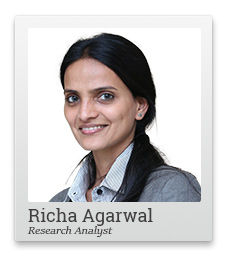 There is a sense of déjà vu in the market these days.
In less than 72 hours, Rs 4.4 trillion of market wealth has been wiped out as the Finance Minister has said that the 'super rich' tax stays.
At Rs 88 billion in July 2019, the net outflow is the highest in any month this year.
A similar wipe off was seen post the Union Budget announcement -investors lost nearly Rs 5 trillion in just 2 days.
--- Advertisement ---
FREE Event on Equitymaster's New Project

On May 17, we are holding a FREE event to reveal Equitymaster's Great Indian Wealth Project.

At this event, we'll reveal the details of your first stock for a potential Rs 7 crore in long-term wealth.

Seats for this event are filling up fast.

Since there are limited seats, we urge you to register at the earliest.

Click here for free sign-up
------------------------------
There is blood on the streets.
For quite some time now, you have been hearing my views on rebound in the smallcaps.
Despite my reminders to not give up and lose hope, I'll not be surprised if the widespread fear has rubbed on to you.
Even brokerages are wary of the volatility in the small cap space. Some of the famous investment strategists have even formally announced stopping coverage on small caps. And I do not blame them. For a lot of them, what happens in the short term affects their prospects.The only chance you stand against the merciless current market is with patience.
Some of you have asked me:
What's the point of holding fundamentally good companies on paper with high intrinsic values that you cannot realise now?

Shouldn't one focus on cutting losses when stocks crash?

How do you even know how long to wait? Aren't we all dead in the long run?
I've said this before: Smallcaps are a capricious lot.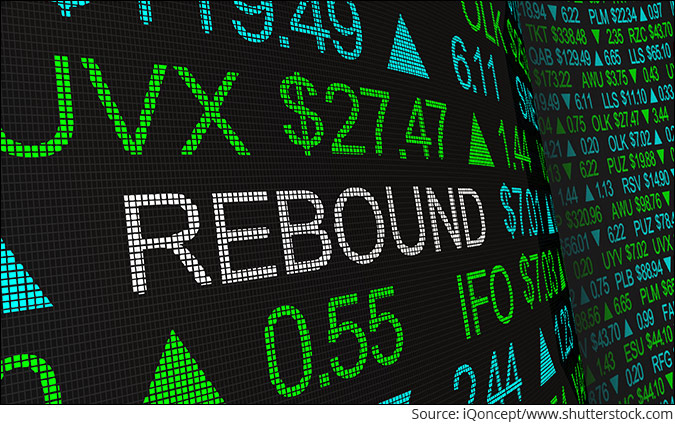 I do not know how long one must wait - nobody does.
Learn: How to Potentially Accumulate Rs 7 Crore in Wealth Over the Long-term
I usually recommend stocks from a 3 to 5-year horizon. There have been cases when the target price has been met in the first year of recommendation itself.
And then there were instances when the stock nosedived and refused to budge for a long time.
For instance, Titagarh Wagons.
From our recommendation price of Rs 66, the stock had corrected to Rs 14 (a fall of 78%) within 10 months of recommendation. It remained in the red for 2 years...
But as you can see in the chart below, the rise in the stock price was equally dramatic.
From its lows of Rs 14 in August 2013, the stock went up to Rs 161, a gain of 1,047% in less than 2 years (most of which came in 2 months, from Jan 15 to March 15).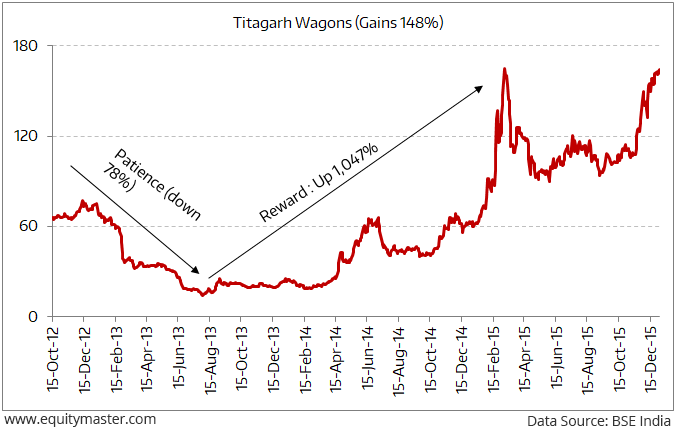 78% fall and then 1047% gain - all in a period of around 2.4 years...
That's what the combination of volatility and patience (backed by a strong process) can do.
We closed the stock with 148% gains from the recommendation price - a CAGR (compound annual growth rate) of 33%.
--- Advertisement ---
How to Earn a Fortune in Gold, the Smart Way

Gold is on 'the verge of a decadal run' says Vijay Bhambwani, India's #1 Trader and Editor of Fast Profits Daily at Equitymaster.

He says gold has the potential to generate staggering gains in the coming years...And those who are betting on gold right now will hit the jackpot.

But wait.

While gold is an attractive investment destination, there's a very specific way to play this opportunity...

A way that ensures you rake in maximum profit and perhaps hit the jackpot...while minimizing potential pitfalls. Thankfully, Vijay - India's #1 Trader - can guide you step-by-step in the upcoming gold rush and help hit the jackpot just at the right time.

Sure, you don't want to be an average trader. That's not how you make a fortune.

Here's how you can get Vijay's guidance...
------------------------------
I'm being selective in sharing this example of course. There have also been a few cases where I was wrong to wait...when pressing the exit button early would have made sense (the wisdom of this can ONLY be seen in hindsight).
And yet, I don't recommend stop losses when stocks crash.
You see, I don't take my cues from stock prices, but from the gap between price and estimated value. And if there is a significant upside (and no other stocks that are better opportunities), I wait...
Again, sometimes, I have been wrong in my assumptions.
But then, a wise man, Peter Lynch, has said:
In this business, if you're good, you're right six times out of ten. You're never going to be right nine times out of ten.
And we have done well on that front. Distancing ourselves from random price corrections, sticking to facts and logic, and most importantly, maintaining the temperament and discipline have ensured that we were right more times than we were wrong...
And that the gains outweighed the losses by a wide margin.
Hidden Treasure has beat the Sensex nearly 2.5X over the last decade or so... and that, dear readers, is why we wait...
This discipline is difficult to practice when the stock you have invested crashes 70% to 80%...
But it could be easier if you approach smallcaps with enough caution in the first place and allocate only a small amount of capital to a single stock.
This will not just let you ride the volatility smoothly...but will make sure that you have enough capital to deploy in 4 rebound stocks - those with enormous potential to bounce back from the market crash.
Here are four stocks that I believe will make the most of the smallcap rebound:
Stock #1: This small cap company in a sweet spot with multiple triggers to sustain explosive growth rates. A leader in its niche, the company boasts of an unmatchable quality - There are only two Asian suppliers (and only one Indian company) that pass the stringent quality of European clients, and this company is one of them. Most importantly, the company is at an inflection point. It's entering a new product segment with huge latent demand and no competition. Over next three to five years, the profits of the company are likely to explode. While the stock has already caught fancy of many superinvestors, the correction in smallcaps has brought the stock in the Buy zone.
Stock #2: You don't get a second chance to make a solid first impression...or so the company's Managing Director says. This undisputed leader in a niche consumer discretionary segment has entered the Rs 4 trillion food and FMCG, and is all set to make the most of this incredible opportunity. For long term investors, this could be an eight bagger.
Stock #3: This company is in the business of transforming other businesses with software. It is supporting technologies like augmented reality, artificial intelligence and machine learning, and enjoys the privilege of partnering with and working with clients like Amazon, Google, Microsoft, IBM and Oracle. In short, it's all set to ride the wave of digital revolution.
Stock #4: The fourth smallcap, a market leader in its niche, is a great play on the farm mechanisation in India. With over 3.5% dividend yield, this small cap with zero debt and high returns could put many blue chips to shame.
If you can ride out the volatility with patience, this market is a once in a decade opportunity for you. I hope you will make the most of it.
Warm regards,



Richa Agarwal
Editor and Research Analyst, Hidden Treasure
PS: Dear reader, Tanushree believes this is the right time to buy the best 7 stocks in the market before they run up. Read more about these 7 stocks here...
Recent Articles