This Technology is Revolutionizing the Auto Industry
Jul 26, 2018
Editor's Note: While cryptocurrencies draw a lot of polarizing opinions, their underlying technology - the blockchain - seems to have found favour from all quarters. Now India's automotive industry seeks to use this technology to improve its efficiencies. Read on for Prasheel's insights...
---
Bitcoin and cryptocurrencies are back as the hot topic today - especially as their prices are on their way up. But it is blockchain - the revolutionary technology behind cryptos - that is of real interest.
The Indian government, for example, seems to have taken a dismissive view of bitcoin and cryptos in general, and the regulators have curbed their use, but both are embracing blockchain technology and its applications.
The government seems to believe that 'bitcoin bad, blockchain good'
Which makes it pretty clear that it is blockchain that will have a smoother path of entry into our country and economy.
And as this technology develops and takes hold - it will bring up many opportunities for us regular investors...
But to know what is actually happening in the space, you have to understand and keep updated with the technology...
So, basically, here's how blockchain works...
Blockchain is basically a distributed ledger, whose applications could revolutionise many industries.
No data stored on the blockchain can be modified or erased without all of the participants agreeing to the change. That means it protects against fraud.
What's more, the data stored on the blockchain is distributed among all participants, which takes away a single point of failure for the system.
The tamper proof and transparent nature of the blockchain technology makes it an interesting prospect for all kinds of industries
While blockchain adoption in India has been slow, India Inc. is slowly warming up to blockchain applications.
--- Advertisement ---


The Secret To Scoring Big With Small Caps Revealed…

Most people out there view small caps as a short-term thing.

In other words, they want to invest in small caps today, and get back huge returns in a few days to weeks.

But the best way to make triple- and probably even four-digit returns from small caps is to invest in solid small companies, and hold on to them for a fairly long time.

In fact, doing so has even given four-digit returns in the past.

To know how you can find solid small companies, just click here…
------------------------------
Major Indian Banks Lead the Charge in Blockchain.
India's banks are already in on the game through BankChain (Several Indian banks - SBI and 27 other banks - joined hands to form BankChain - that harnesses the blockchain technology - to enable smart contracts and store KYC details) and their own blockchains.
The telecom industry is evaluating blockchain-based platforms for optimizing and lowering operational costs among other things.
The enormous possibilities of blockchain are attracting new industries almost every day.
The latest ones to join the league, are automakers and components manufactures. And they want to jump in head-first.
The Indian automobile industry is gearing up to create what could be...
The country's biggest blockchain implementation.
According to media reports, the automobile industry is planning to take the existing industry-wide data share platform autoDX to the next level by putting it on the blockchain.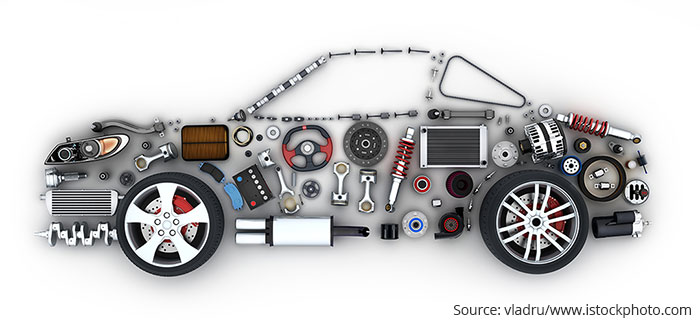 AutoDX is a cloud-based platform for invoices, purchase orders and shipping notices. It is a common platform developed by IBM for auto industry groups Society of Indian Automobile Manufacturers (SIAM) and Auto Components Manufacturers Association (ACMA) and helps create a standard platform for communication between the industry.
AutoDX is not a small platform by a long shot. It has 60 automobile companies on board and registered over 2 billion transactions on the platform last year. It also claims to reduce up to 80% of a company's supply chain costs which makes up to anything between 1-5% of its total costs.
The Auto Industry Takes a Leap
Now the automobile industry - spearheaded by Vijay Sethi, CIO of Hero MotoCorp and Chairman of SIAM's IT committee - wants to port the autoDX platform on to the blockchain.
This would mean 2 billion transactions on the blockchain just to start with!
While Mahindra and Bajaj are building their own blockchains, a universal industry-wide blockchain would save the companies time and money.
Moving to a new blockchain means having the same benefits as the current platform, but in a tamper-proof and transparent platform bringing in complete supply chain visibility to participants.
For example, a components manufacturer can better plan its inventory if it can see the automobile manufacturer's manufacturing line.
Apart from this, blockchain could help boost the automobile industry in other ways...
Eliminating Counterfeit Auto Parts
Counterfeit auto parts look genuine and frequently get into the supply chain landing up in service centers. These parts often have a higher failure rate than original parts and end up hurting the manufacturer and its brand.
Blockchain can address this problem by creating distinct ID tags for every part, along with immutable tags for the time and location. These parts then can be easily verified by the dealer and supplier network as well as the car owner, eliminating the problem of counterfeiting.
Streamlining Service and Finance
The automotive industry has a lot of moving parts. This includes auto manufacturers, component manufactures, dealers, regulatory bodies, insurance companies, financing companies, etc. So many parties controlling a supply chain makes for a lot of paperwork and time.
A blockchain-based system would enable greater transparency of accurate information between the different parties.
For instance, transparency of information about a vehicle's real wear and tear would help an auto finance provider to gauge residual value of the vehicle more accurately. Mahindra is working on a similar auto financing use case to streamline the process.
Targeted Recalls
Recalls are an integral part of the automotive industry. Even a small snag could affect many users. Even if there is an issue in a small sample size of vehicles manufactured, automakers err on the side of caution and recall any vehicle even remotely connected to the issue. However, large recalls don't really work well for the company's brand image.
Blockchain can solve this by digitally tagging each car with a unique ID. This enables manufacturers to recall specific vehicles with the identified issues. This not only saves on recall costs, but helps preserve the company's brand.
Faster Supply Chains
An automotive manufacturing plant needs to coordinate with multiple suppliers, logistics and transportation providers to ensure on-time delivery and an optimized inventory. Due to multiple parties involved, the automotive supply chain can get really complex.
A blockchain based platform can help create a transparent supply chain which enables information-sharing between parties, improving just-in-time logistics and overall efficiency.
Apart from these, blockchain can be used for various other applications such as preventing odometer fraud, vehicle tracking, ride-sharing, streamlined insurance and others.
Getting all stakeholders in India's automotive industry onto the blockchain will definitely be a challenge. But the industry is taking baby steps to make this a reality. A successful implementation will not only revolutionize the auto industry, but also put blockchain and its benefits up front and center. Many more industries would want to emulate it.
This is going to open up a new world of opportunities for us, dear reader.
I will be keeping my nose to the ground, so I don't miss a thing. And if you are up for it, I am happy to keep you updated as I do my own research.
Warm regards,


Prasheel Vartak, CBP (Certified Bitcoin Professional)
Editor, Crypto Confidential
PS: Steeped in blockchain research himself, Prasheel is determined to move the country along with him. Join him to make sure you always know what's happening with the advances in blockchain technology and cryptocurrencies. Click here.
Recent Articles