The Biggest Mistake You Can Make in this Market (and 3 Stocks to Buy Now!)
Aug 3, 2018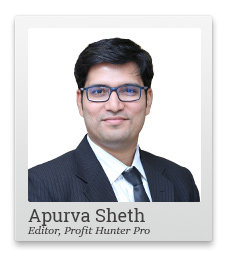 The Indian stock markets were in a smooth ride in 2017. Investors and traders were in buying mode. Every dip offered a great entry opportunity.
But the markets topped out in January 2018 and fell sharply. It experienced great volatility and the buy on dips didn't work anymore.
The benchmark Sensex and Nifty are hitting new highs once again mainly because of HRITHIK stocks.
It is only in the last week that broader market stocks started participating. Most broader market stocks have fallen a lot from their highs and could make a comeback.
But how do you decide which ones to buy?
Buying just because markets have fallen is one of the biggest mistakes an investor can make. It's like catching a falling knife blindfolded. It is reckless and dangerous.
As a matter of fact, a falling market can keep falling. You cannot predict where the bottom is until it is made.
So how would you know when to buy a falling market or a stock just before it turns the corner - without all the guesswork? And most important of all safely?
It's possible. Today, I'll show you how it's done.
--- Advertisement ---


We've Found These 3 Trading Opportunities For You…

If you're a new trader, finding good trading opportunities by yourself can be tough.

But the good news now is that we've already found 3 short-term trading opportunities you could consider acting on right away…without any effort from your side!

These are all fundamentally strong companies that are also technically sound right now. So don't hesitate.

Click here to find out how you can get full details of these stocks right away!
------------------------------
We'll see how you can buy a stock near its bottom just before it resumes its uptrend. We will do this using price patterns.
If you have read my guide - unlock the explosive power of techno-funda investing - you will be well aware about trendlines.
[Note: If you don't have access, subscribe to get the guide right away.]
Price patterns takes the concept of trendlines a step ahead. Simply put, price patterns is a combination of two or more trendlines. It helps us identify current trends and upcoming reversals in trends. Price patterns develop on all time frames - intraday, daily, weekly, monthly, and quarterly.
Recently, I observed a price pattern which helps us catch the falling knife without hurting our fingers.
It is called an inverse head and shoulder pattern. I recommended a stock based on this pattern on Tuesday to my Profit Hunter Pro subscribers. A day later the stock went flying higher almost 10%.
Now I will show you how this pattern works and most importantly, how you can profit from it.
But first, it's important to understand that a falling stock probably won't magically turn around and go up. It takes time.
A stock must completely bottom out before it's safe to trade.
The first rule in trading this pattern is patience. You're never going to catch a stock at its lows. You need to give it time to setup for a move higher. If you pull the trigger before a bottoming stock breaks out, you're increasing your risk of taking a big loss.
So let's start and understand how inverse head and shoulder can help you catch a stock near its bottom.
The inverse head and shoulder pattern could very well warn the death of a down move and the beginning of an up-move.
It is a three-trough chart pattern resembling, as the name would suggest, a head and two shoulders but inverted.
Just imagine a person hanging upside down. How would he look?
A Person Hanging Upside Down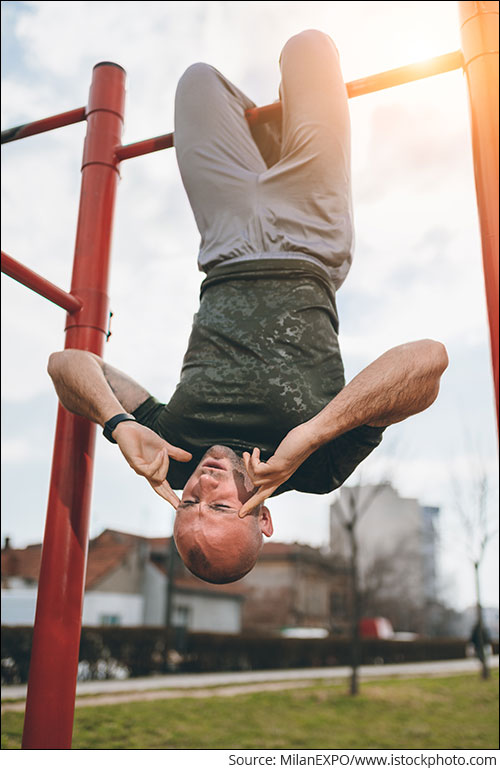 Now that you have a rough idea of how this pattern looks.
Let's get straight to chart, it will help you understand the pattern better.
The Inverse Head and Shoulder Price Pattern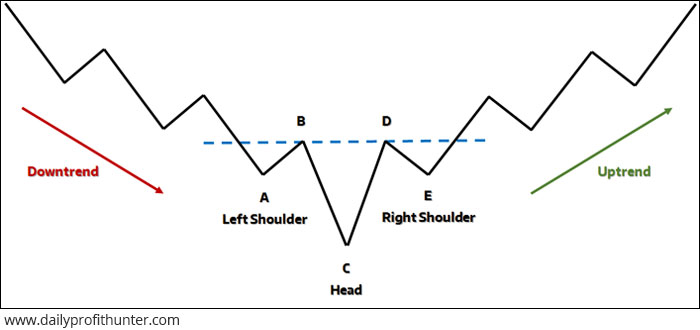 As the stock trades in a downtrend, it makes a lower top - lower bottom pattern. The down-move halts near point A. This is the point from where the bulls start showing interest and that results in pushing the price up to point B. After a decent recovery, the bears once again drag the price to a new low (point C).
This is where the sellers are exhausted, and the buyers begin to step in and test the waters, slowly bringing the stock back to life. The stock rallies to point D where it witnesses selling from the people who bought at point B because they prefer to exit at breakeven levels.
Selling from these people drags the price down to point E. However, the price doesn't hit a new low. As a result, the bulls are now confident that their attempt to start a new uptrend could be successful now.
They start buying and push the price up near point B and D, which acts as a resistance once again. (When you join both these points, you get what is called as the 'Neckline' of the inverse head and shoulder pattern. See the blue dotted line in the chart above).
However, the bulls are confident this time around and push the price above this neckline. The breakout completes the pattern and you get your buy signal.
Remember, you're not waiting for the stock to jump to new all-time highs. You're simply waiting for shares to signal that the market has flushed out the aggressive sellers and the stock is ready to move higher.
So that's about it for the inverse head and shoulder pattern. Now, as I mentioned above, I have already recommended one stock based on this pattern which is already off to a flying start.
There are a number of stocks forming similar pattern in today's market. I have all those stocks on my radar. And will also recommend them as and when they are ready to breakout.
3 stocks I am recommending today
I hardly ever recommend more than one stock at a time, but today I will be recommending three. Each with the potential to throw up 11% to 12% in a matter of weeks, if not days.
There is a way in which you can catch them before they fly away. Find out how.

Apurva Sheth (Research Analyst)
Editor, Profit Hunter Pro
PS: To make 12% returns in a few days sounds like over-reaching, but with Apurva's system it is just another ordinary trade. Subscribe now to get the 3 stock recommendations that can make you the gains this market is otherwise withholding from investors. Subscribe now - before the prices run up.
Recent Articles