How to Make Money in This Volatile Market
Aug 7, 2018
Editor's note: Dear reader, yesterday I wrote to you about Tanushree Banerjee's prowess in bringing in massive long-term returns from safe stocks. Right now, this skill is crucial because the markets are exceptionally tricky. We want to make sure you don't lose your wealth in times like these. Tanushree has developed a safe investing blueprint - The Permanent Wealth Blueprint - and she is ready to share it with you! Join Rahul Goel, CEO of Equitymaster, in a special online presentation of Tanushree's Permanent Wealth Blueprint. You don't want to miss out on this! Just click here for the video...
---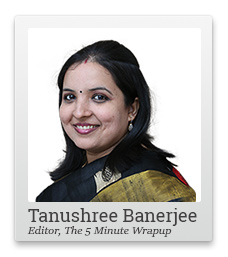 Did you ever hear about golfer Tom Kite? I knew nothing of him until I read an article by the legendary Howard Marks, in 2013.
Marks talked about this little-known golfer not because he had won any major tournament. Rather, because he didn't.
The 42-yearold golfer had never grabbed headlines throughout his career. He never won the US and British Opens, Masters Tournament and PGA Championship. But with his small wins in over 20 seasons he had won US$7.2 million in official prize money. That was more than any other golfer ever.
Howard Marks, a fund manager whom even Buffett looks up to, believes every investor should aspire to be like Tom Kite. He wrote...
That's the way we think it should be done: by consistently finishing in the money, but with no need for headline-grabbing victories. What we think matters isn't whether you hit a home run or win the Masters on any given day, but rather what your long-term batting average is.
Unfortunately, that's not what most investors think or read. The headline grabbing stocks are typically the ones that have already gained the most or are losing the most.
--- Advertisement ---


3 Stocks to Generate Permanent Wealth

Yesterday, Tanushree revealed 3 Permanent Wealth Stocks that are a buy right now.

3 stocks based on her brand-new stock picking strategy…

3 stocks that she believes have the potential to guide you towards permanent Wealth.

And if you act right away…

You can get full details on these stocks in Tanushree's Permanent Wealth Blueprint.

Interested?

Click here to claim your blueprint…
------------------------------
The only super investors or fund managers who find a mention in headlines are the ones who have been the best or the worst at finding multibaggers.
You will rarely read about a super investor who says that the process of building wealth with stocks is sequential. That it's more like dominoes, and not instantaneous. You start with little capital and gradually grow it so that you reach the next level and then the next and so on. And that within a few years, you will have a capital so substantial that you will find it hard to believe you started with so little.
Having the goal of achieving 15% return per annum sounds meek compared to the goal of looking for 10 baggers. Precisely the reason, why I do not see my safe stock recommendations ever grabbing newspaper headlines.
I am not looking for stocks that are guaranteed to grow earnings at over 30% per annum.
I am not looking for managements that run businesses like rockstars. Or like Prof Sanjay Bakshi would call them, Intelligent Fanatics.
And I do not claim that each safe stock I recommend is the next Infosys, Titan, Asian Paints or HDFC Bank in the making.
Rather, my goal post is to recommend stocks that will stay in the money (consistently reasonably profitable) for a long period of time.
Which Index Will Allow you to Stay 'In the Money'?
So as the Sensex keeps soaring and the BSE Smallcap keeps bleeding, I exhort you, dear reader, to slightly shift your goal post. It's a small tweak that can allow you to buy stocks with the maximum upside at minimum risk.
Do not look to buy stocks only in the headline grabbing Sensex or the BSE Smallcap index. Consider a wide range of stocks that pass through fundamental qualitative and quantitative filters.
Do not look to buy businesses run by super successful managers. Ignore managements that have been hailed as rockstars by investing magazines and publications. Rather look for consistent performers and conservative outliers.
Do not aim to buy only the stocks that can become 10 baggers in 10 years. Rather make sure that most of your stocks fetch at least 15% per annum. The 15% return per annum will give you 50% gains in three years, 100% gains in five years and 300% gains in ten years. And unless you go wrong with too many of them, your overall returns will be phenomenal, over the years.
This relates to a Warren Buffett rule:
You only have to do a very few things right in your life so long as you don't do too many things wrong.
So, you have to focus on increasing the size of your capital a wee bit every year. And you have to be very careful not to lose big. If both are done well, you won't need headline grabbing stocks to create a lot of wealth.
I've never considered it a legitimate goal to recommend stocks at the bottom. You can't really know where the bottom is, other than in retrospect. That means the only way to grow your capital a bit, without losing a lot, is to keep your margin of safety in valuations intact.
Fortunately, several safe stocks, in which I sought more margin of safety in valuations, until a few months back, are a buy a now. And I'm sure, my subscribers who received several special alerts, aren't complaining.
Warm regards,



Tanushree Banerjee (Research Analyst)
Editor, The 5 Minute WrapUp
PS: Over the last few months, Tanushree has developed a new and exciting blueprint for building permanent wealth! This blueprint could be the springboard to your long-lasting wealth. Tanushree is ready to share it with a select group of readers. Join Rahul Goel, CEO of Equitymaster, for an online video presentation of Tanushree's Permanent Wealth Blueprint. Click here to launch your journey to permanent wealth!
Recent Articles