3 Stocks to Ride the Big Rebound in Smallcaps
Aug 11, 2020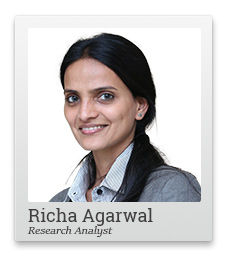 Something interesting is happening in the smallcap space.
After a long period of dormancy, smallcaps have begun to dominate the bulk deals on the NSE and BSE.
Like I had shared with you a few weeks ago, smallcaps are at a critical inflection point.
You see, historically, the Smallcap to Sensex ratio has averaged at 0.43 times. Currently, this ratio stands at 0.36 times. This leaves a significant rebound potential for investors to ride.
If you compare the smallcap index's rise versus the Sensex's gains post Covid, the signs of the smallcap rebound are apparent.
Almost 8 stocks in our smallcap recommendation service (Hidden Treasure) have witnessed gains in the range of 20%-40% in last in last 26 days.
And I believe this is just the beginning.
The rebound potential in certain smallcaps is upto three times!
But there will be something different about this rebound.
In my view, this rebound is likely to be concentrated and limited to a few stocks.
You see, these are testing times for many businesses. I'm not just referring to the Covid issue that is still waiting for a solution.
But the virus attack has catapulted significant shifts in consumer behavior, supply chains, and demand patterns. It is testing the staying power of businesses - both big and small.
Businesses are getting more and more asset light, digital and technology oriented.
Big businesses are still wondering how to deal with legacy issues. Nimble and cash rich smallcaps, led by visionary managements, are cashing in on the opportunity.
At the same time, many smallcap companies, with a lack of virtues - financial discipline, access to funds, market size, visionary management - are staring at oblivion.
It's critical to pick the right stocks to ride this rebound and be highly selective with stocks in the smallcap space.
To capitalise on this time sensitive rebound in smallcaps, I recently shared an opportunity in three smallcap stocks with my readers in my summit last Friday - Rebound Riches.
Here's a peek into these 3 stocks :
Rebound Riches Stock #1
The company is a technology company, catering to multiple industries including high growth medical technology and healthcare (including tackling Covid crisis), semi conductors, and geo spatial solutions.
It's deeply involved in an industry you may have heard a lot about over the past few years - Internet of Things (IoT). As you may know, Internet of Things is the idea that over the coming years, almost every piece of technology or gadget will be connected to the internet.
With healthy returns on equity, a dividend yield over 4%, strong cash reserves, it is not a speculative play, but a robust business set to ride the rebound gains.
Rebound Riches Stock #2
The second company is one of the best bets on the growth and financialisation of capital markets and rising internet penetration.
Riding structural megatrends in the economy, with attractive dividend yields, health cash reserves and assets that exceed its market capitalisation, this stock is available at mouthwatering valuations.
Rebound Riches Stock #3
Last but not least, is a value-compounding business led by a visionary genius. Amid myriad economic challenges, this niche leader has managed to grow sales and profits at a healthy rate.
And it has done so while increasing its operating and net profit margins. Furthermore, the company has very little debt on the books - a quality that's extremely critical in post Covid times.
In case you could not attend that summit, it is still not too late. Till midnight tonight, you can access my summit here. I hope you will make the most of it.
Warm regards,



Richa Agarwal
Editor, Hidden Treasure
Equitymaster Agora Research Private Limited (Research Analyst)
PS: Today is the last day to get my best 3 smallcap rebound recommendations. Please click here for access...
Recent Articles