Smallcaps that Will Outperform in the Market Rebound
Aug 12, 2019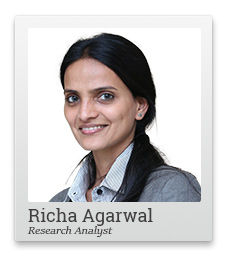 I agree with you market runs in cycles...and a rebound will follow in smallcaps. But as per recent reports some of the big investors downsizing their positions in smallcap stocks. Should we be worried?
I don't remember the exact words...but that's the essence of the query I received from my subscriber recently.
Does it mean there could be more pain in the offing in the smallcaps?....
...Or that the economic growth is likely to remain subdued?
Honestly, I don't know about the near term. And I would not like to speculate.
--- Advertisement ---
Here's an urgent profit opportunity from us that no mainstream media is revealing...

The #1 Stock for 2021.

...An innovative stock with the industry giants chasing it for its technology to touch millions and millions of people every day.

It serves several clients across the globe, but what got me is this...

The stock is leaving all its competitors behind despite the COVID crash, and now the price has already started to move.

There's actually one more reason why this stock could take off and make its early investors rich.

It's revealed here in this note with transparency.
------------------------------
But then what am I betting on when I talk about smallcap rebound?
I'll answer that, but first things first.
When I'm talking about smallcap rebound, I'm not betting on India's GDP growth. It may be 5% or 7%. It won't even matter too much for the rebound in smallcaps.
Nor I'm betting on the smallcap index soaring back to 20,000 odd levels.
I don't think that every smallcap stock will bounce back as the market sentiments revive. In fact, I'm sure a lot of the existing smallcap firms will fade away.
Here's is what I'm counting on.
Irrespective of whether economy grows at 7% or 5%, the ongoing changes in economy will make it really difficult for inefficient businesses to survive. These will include not just unorganized businesses, but listed companies that have failed to evolve or adapt to the structural , cyclical and regulatory changes (GST, RERA, liquidity crisis).
--- Advertisement ---
Going Live on 30th September 6pm To Answer A Burning Question

Economies across the globe have collapsed.

However, despite all the weak economic data, the stock markets have rallied.

But how sustainable is this rally?

The burning question of the hour is

"Where are the Stock Markets Headed?"

And that is exactly where our upcoming live and exclusive free webinar will help you.

Join Nilesh Shetty, Associate Fund Manager, Equity Funds and I.V. Subramaniam, Director, Quantum AMC LIVE as they address your most pressing concerns...and try and fulfill your need for the next big investment opportunity.

If you are a serious investor, you cannot afford to miss this opportunity.

Register FREE for this upcoming webinar in 1-click
[Yes! I want to attend this Exclusive Webinar]

Yes, also send me your financial planning newsletter, Quantum Direct, free of charge.

Date: 30th Sept. | Time: 6pm | Venue: Your Computer
------------------------------
The drive towards transparency and accountability will make the business unviable for most of the players (that so far were making the most of the loopholes in the system). The signs of consolidation are already visible in critical sectors like real estate and NBFCs.
In short, the formalisation and consolidation across various sectors in the economy will lead to massive market share and value migration, from mediocre to efficient and compliant companies. These are the players that I am betting on.
Quite a few of these are well run businesses with competent and ethical managements that have taken a beating, and are available deep in the buy zones.
Some of these companies are the market leaders in their niches. Some have exclusive partnerships with biggest companies globally offering strong visibility. Some are exclusive in the sense they enjoy a technical edge that their peers have failed to replicate. And some enjoy unique positioning - a presence across the value chain that helps them make margins better than their peers.
These companies are paying off their debt comfortably. Most importantly, at current stock prices , the dividend yields on some of them are high enough to remind me of what Howard Marks said - 'Well bought is half sold'.
Which means that buy price is so cheap that a long term investor need not be worried about the selling price.
UNLOCKED: Up to 3x More Gains During the Corona Crisis...
To be sure, the markets could correct more in the near term. And these stocks could go down further. .
But I believe any correction will be an opportunity to buy them even more and let the magic of compunding work better for long term investors.
Coming back to the subscriber's query, I don't follow big investors as religiously as my colleagues Radika and Sarvajeet do at Smart Money Secrets.
So I specifically checked the actions of the the specific big investors the subscribers had named. And indeed, some of them have reduced their stakes in quite a few of their holdings.
But this is just a half truth that the mainstream financial media is propagating.
You see, thre is no unidirectional action by big investors in the smallcap space. While they are trimming their stakes in certain existing holdings, I see a lot of smallcaps freshly added to their portfolios as well.
They might still be constrained in the current market scenario to buy as much as they want due to liquidity or size constraints in smallcaps.
But you have no such hurdles to make the most of once in a decade buying opportunity in smallcaps. I hope you will not let 'gloom and doom' headlines in the mainstream media ruin it for you.
Warm regards,



Richa Agarwal
Editor and Research Analyst, Hidden Treasure
PS: Equitymaster's small cap expert, Richa Agarwal, believes 3 small-cap stocks are on the verge of a rebound. Get the details here.
Recent Articles