Bet You Never Thought HDFC Bank Could Lose its Head
Aug 17, 2018
Editor's Note: Dear reader, we've just published an updated version of our book bestselling book, Equitymaster's Secrets: The Biggest Lessons from Our Entire 20+ Years Investing Journey, with a special message from Tanushree Banerjee, editor of The 5 Minute WrapUp. The first edition of this book is normally available on Amazon for Rs 1,450. But, as a special thank you to Equitymaster readers, Tanushree is virtually giving away copies of her book for free. There are only 1,000 copies available. Find out how to book your copy here.
---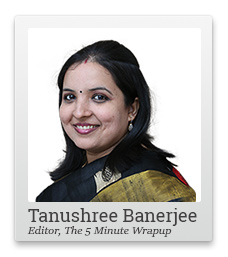 HDFC Bank's chief risk manager Paresh Sukthankar led a small team for Times Bank merger due diligence, quietly and informally. Five of them would travel together in a car and get off somewhere near the BMC headquarters, and then walk down to the Times Bank office at the Times of India building. After getting off the car, they would walk down separately, pretending not to know each other. Anyway, it was hardly a couple of minutes' walk and no one would be dressed like a banker, in striped shirts and grey suits. Even the driver didn't know where they were heading.
This interesting anecdote from Tamal Bandopadhyay's book, A Bank for the Buck, says a lot about early days of HDFC Bank. But also about how instrumental was Paresh Sukthankar in framing the bank's risk policies right from the start.
With MD Aditya Puri months away from retirement, Deputy MD Sukthankar's exit leaves HDFC Bank vulnerable. At least temporarily. It joins private sector peers ICICI and Axis and at least 10 public sector banks in the search for a capable 'captain of the ship'.
--- Advertisement ---


Your Hardbound Book Will Be Dispatched Shortly

Hundreds of readers have claimed their virtually free copies of Equitymaster's Secrets: 2018 Limited Edition. If you haven't already, please share your Indian postal address with us as soon as possible, so that we can dispatch your book. We are running out of stock faster than we'd anticipated…

Click here to claim your book.
------------------------------
But there is a difference.
The smaller public-sector banks do not have any systemic importance. On the other hand, the top three private sector banks HDFC, ICICI and Axis control...
Half of the retail credit exposure of Indian banks

A third of the combined retail credit exposure of banks and NBFCs... and

Almost a fifth of the Sensex weightage
What India's 'Headless' Private Sector Banks Control...
(%)
At the end of July 2018
Share of Retail Credit
Sensex Weightage
Banks
Banks + NBFCs
HDFC Bank
10.4
20.7
13.8
ICICI Bank
5.4
16.6
11.2
Axis Bank
3.0
11.9
7.9
Combined share
18.8
49.2
32.9
Source: BSE, Companies
Needless to say, the vulnerability of these banks, until the next heads are appointed, is a matter of concern.
Each of these banks, has over the past two decades, been the poster boy of India's retail credit explosion. They have amongst the largest share of home loans, credit cards and auto loans. And were so far classified as systemically important banks and not systemically risky ones.
HDFC Bank, in particular, managed to sidestep every risk of slippage in loan quality, all these years. And was always rewarded for its performance, that was consistent to the point of being boring.
The change of guard at these banks, will not change their operating performance overnight. Neither will the ones with bad loans get rid of them sooner. Nor will the ones with solid risk controls fall into any NPA trap.
However, the market will look for reasons to value these banks differently, based on the approach of the new management.
And it could be extremely risky for investors to assume that these banks will never pose any risks to the sector or their portfolio.
Warm regards,



Tanushree Banerjee (Research Analyst)
Editor, The 5 Minute WrapUp
PS: The last time we published Equitymaster's Secrets: The Biggest Lessons from Our Entire 20+ Years Investing Journey, over 20,000 readers claimed their copies. This time, we are printing only 1,000 copies of the updated version which includes a special message from Tanushree Banerjee. Claim your copy before we run out of stock!
Recent Articles