What is the One Stock You Should Buy Today?
Aug 27, 2020
Editor's note: Small-cap stocks are running up fast. Even junk stocks are making money for traders these days. You need to be careful dear reader. Be very selective. You must find the best stocks in this market to invest your money. Otherwise you could get burnt. Research analyst Girish Shetty has the solution to this challenge in this editorial...
---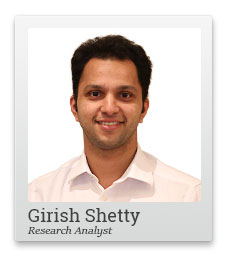 My college friend called me recently after a long time. He was visibly excited.
Who wouldn't be when you've just won US$ 40,000? Yes, you read that right. He had just won the amount betting on Moderna in the US stock market.
Now, Moderna has been making losses for the last five years. But who is to argue with a person who has made money?
I asked him about what he would do with his money. He told me he would put the profits in another stock. Again, the stock he named has been making losses for years now.
--- Advertisement ---
The Best Way to Retire Rich

According to a one estimate... one needs about Rs 6.8 crore at 60 to be able to live a comfortable life till the age of 90.

And the best way to accumulate this money and retire rich is to buy the stocks of extraordinary companies in their early stages.

That's it.

And if you get it right... then even a single stock could fund your entire retirement.

Especially if the stock is riding a mega trend.

We revealed the details of 3 such stocks at our special event - The Great Indian Wealth Project.

These 3 stocks could lay the solid foundation to build your potential Rs 7 crore wealth in the long term.

Click Here to Get the Details of These Stocks Right Away...
------------------------------
Is this a summary of what is happening right now in the stock market in India as well? Are retail investors gambling away their hard earned money?
Of course, I'm not calling all retail investors gamblers. In fact, their decision to invest during the scary month of March was a very good one. Unlike most times in the stock market, retail investors have got their timing right this time.
But what is important is the stocks they've invested in. I believe the retail money has gone into 3 types of stocks since the March market crash...
The Favorite 'Blue-Chips': This is the safe haven for the retail investor. It's the option for people who prefer to play safe. This category is filled with the market favorites. Nestle, Asian Paints, HDFC Bank and a few more.

By no means a bad choice, but some of them were overvalued even after the crash. While the business model of most of these blue-chips remain strong, future returns might not be great due to over-valuation.
Watch Now: 3 Little-known Stocks We are Super Bullish On
The junk stocks: These stocks attracted retail investors who don't care about terms like long-term, financials, business, management. These are businesses with questionable management or broken business models. These too found many takers in this crash. Investors in these stocks might be ecstatic for now. But in the long-run, it might not end well.
The undervalued steady stocks: Investors in these stocks are the ones who have got it right. Both in terms of their timing as well as stock picking process. These are businesses that will be around for decades and are run by an able, competent management.

Also, these are businesses that were unfairly dumped in the mid and small cap sell-off we've seen since 2018. The retail investors here rightly identified these bargains. There were stocks with excellent fundamentals available at throwaway prices. Investors who have stocks in this category are likely to do well in the long run.
We have also tried to look at the third category for our Hidden Treasure subscribers. As I wrote to you recently, some have already given excellent returns.
But I believe this just the start. Stocks in this category have a long way to go. Once the Covid-19 related uncertainty is over, the re-rating in these stocks are likely to take them even higher.
This market crash has provided a once in a decade opportunity in the Indian stock market. A huge wealth creating opportunity lies ahead for investors who get their stock picking right.
So, what's the best stock to bet on?
I recommend Richa's 'Crorepati stock'. It's the one stock she is most bullish on.
Join Richa at the One Stock Crorepati Web Summit today at 5 pm. She will tell you all about this exciting stock.
Warm regards,



Girish Shetty
Research Analyst, Hidden Treasure
Equitymaster Agora Research Private Limited (Research Analyst)
PS: Richa Agarwal will be live at 5 pm this evening at the One Stock Crorepati Web Summit. Discover the best stock in the market today by joining the summit here.
Recent Articles