Worst is Over for the Auto Sector...Which Stock Will You Buy Now?
Aug 30, 2019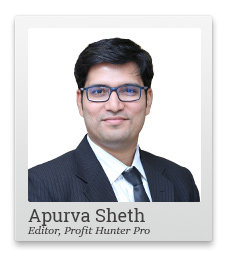 Would you drive a Ferrari on an Expressway looking in the rear-view mirror?
No way.
Then why invest based on past price action?
That is how a non-believer would argue with someone who considers price action before taking his investing decision.
He's right. Investing should be done based on what lies ahead.
--- Advertisement ---
Ex-Swiss Investment Banker Reveals His Biggest Investment Strategy in 4 Free Video Classes

Rahul Shah, ex-Swiss investment banker and Co-Head of Research at Equitymaster, is hosting a series of 4 free video classes for his readers, where he will reveal the details of something he's been working on for years…

The Double Income Project…

Rahul will show his readers, step-by-step, how to dramatically increase their income, potentially even double it…in what he believes is the earliest amount of time possible. a few short years.

For instance, if you make Rs 50,000 a month…Rahul's goal is to show you how to take it to Rs 100,000 in the long run.

Or if you make Rs 100,000…Rahul will show you how you could potentially increase it to Rs 200,000 in the long run.

This is different from anything Rahul Shah has ever done before – there's nothing to pay, no service to subscribe to and no forms to fill to attend these classes.

Just click here to sign up for the free video classes.
------------------------------
But what if I tell you that the past could give you a fair indication of what the future could be?
Would you still ignore it?
I don't think so.
It would sound unbelievable but I believe the worst is over in Auto sector. One should prepare for better days in the Auto space.
Don't believe me?
Read on...till the end.
The Double Income Project: The Lazy Man's Guide to Doubling Your Income in The Long Term
Indian stock markets are going through a rough patch for more than a year. There is bad loan stress in the financial system. The corporate capital expenditure is stagnant. The earnings are falling consecutively for many quarters. The consumer demand is shattered. Investor sentiment is at its low.
It is becoming difficult for a sector like Auto to grow in this environment. There have been layoffs in auto companies. Many of them have even appealed to the Finance Minister for a relief package. The FM has already made some announcements last week to improve their situation. There are some more measures in the pipeline.
Stock prices of Auto companies are worse affected. They are off significantly from their January 2018 highs.
% Drop From 2008 Highs
Some of these stocks are back to their demonetisation lows. Their valuations are at 5-year lows.
--- Advertisement ---
Watch this Video Now And You Will Stop Worrying About Money...

If you are concerned about money, then you MUST watch this exclusive video right now.

Because in this video, Richa Agarwal, Head of Small Cap Research, talks about stocks that have made a select group of people Crorepatis.

They invested in just one stock and ended up becoming Crorepatis in the long run.

In this video, Richa also reveals her unique formula to identify such potential RARE stocks.

Plus, she also discusses her special report, 'One Stock Crorepati: How to Get Rich With This Little-Known Indian Stock'.

This video is now available for your viewing...

This video could be taken down any time soon. So, hurry…

Click here to watch the video right away…
------------------------------
How can one talk of the worst being over in such a scenario?
The answer lies in price action. But I am not talking about the recent past which still looks gloomy.
I am talking of the price action of the last 15 years. Market goes through cycle of greed and fear every few years. The Auto sector isn't any different.
The cycle of greed and fear exists for centuries. People were as greedy and fearful a hundred years back as they are now.
They tend to react in a similar fashion to greed and fear, which results in repetitive cycles. The reason for tops and bottoms may be different every time. But one commonality is that people were excessively greedy at the tops and excessively fearful at the bottoms.
History may not repeat but it rhymes.
I have spotted a rhythmic cycle of greed and fear in the BSE Auto index that repeats every 32 months. I will explain this with the chart below.
Greed and Fear Cycle in BSE Auto Index
This is a monthly chart of the BSE Auto Index since inception. I picked the major top of April 2006 as the end of greed phase in the sector.
The sector trended downwards for 32 months until December 2008. I have drawn the next vertical line there. This line marks the end of fear phase and beginning of greed phase.
I have followed the same approach and drawn each vertical line at an interval of 32 months.
I have marked the greed phase in green and fear phase in red.
You will notice that the index rallies 137% in the first greed phase which ends in 2006. It drops by 56% in the fear phase of 2008.
The index reverses its trend and moves up by 243% in the greed phase of 2011. The index ends the fear phase of 2014 with gains of 59%. It seems unusual but we can consider it as an exception.
The index moves up by 51% in the greed phase of 2014. It ended this greed phase in December 2016 and since then it's in the fear phase. The index has already lost 21% in this fear phase.
But the good news is that the fear phase ends in August 2019. Next month onwards the index enters the greed phase and will stay there until December 2021.
This means that the worse of the fall could already be behind us. There's enough time left for a turnaround even if the index dragged lower for a couple of months.
So one could keep an eye on the Auto sector and stocks within the sector. It's getting ready for an upmove once again and you don't want to be caught off guard. Do you?
I have already picked an auto stock for my Profit Hunter Pro readers this week. My target for this stock is a gain of 8.47%. It's up more than 5% and I've already revised our stoploss up above our cost price. So, chances of losing money on this stock are minimal.
I will guide all my readers through this turnaround phase.
I'll pick fundamentally strong stocks for you at the right time.
Now if you want to benefit from this up move in the auto sector, join Profit Hunter Pro today.
Warm regards,

Apurva Sheth
Editor and Research Analyst, Profit Hunter Pro
PS: Dear reader, identifying profitable turnaround trades requires a proven trading strategy. This is exactly what I've developed for you. Read all about my trading strategy here...
Recent Articles