The Next Batch of Multibaggers Could Literally Drop from the Sky
Sep 3, 2018
A few years back I was at a wedding in Gujarat.
As the wedding procession was making its way to the venue, guests couldn't help but notice a bird-like object performing some cool aerial stunts.
It was the first time most of us were seeing an Unmanned Aerial Vehicle (UAV) - you would know it now as a drone - in action and were enjoying every bit of it. I could see people crane their necks and marvel at this little piece of technology rather than pay attention to the rituals.
In an age where couples are going to great lengths to have the most memorable wedding possible, drones are indeed a welcome addition.
Who doesn't want to capture some extra-ordinary special moments and to give the whole experience a cinematic effect by shelling out just a few thousand more. And photographers are all but willing to oblige.
Before my first ever tryst with drones, I had only heard about them in the context of war. In fact, a few months after the September 11 attacks, news of terrorists being eliminated in drone attacks were a regular occurrence.
Soon, other countries followed suit. Last time I checked, Israel, the UK, the US and even Pakistan had all used armed drones in combat.
Drones: Your Very Own Eye in the Sky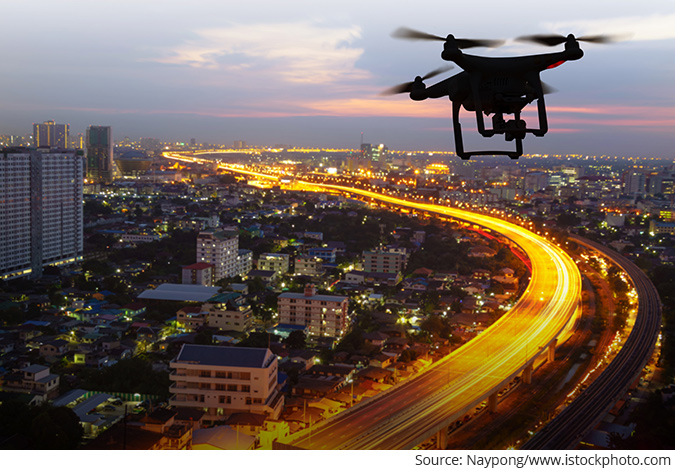 However, the war zone is not the only place where drones can play pivotal role.
Civilian applications have begun to gather pace.
It won't be long before we see drones making a stellar contribution across different industries.
E-commerce behemoth Amazon created a big splash a few years back by planning to drop packages at customers' doorsteps using drones.
Christened Prime Air, the service has ambitions of delivering purchased items within 30 minutes of placing an order. While it was met with a fair degree of skepticism the first time it was announced, Prime Air seems to be inching closer and closer to reality with each passing day.
Then there are the industries like oil and gas, construction and entertainment where drones hold a great deal of promise.
However, a sector that could possibly dwarf all others in terms of sheer number of these state of the art gadgets is likely to be agriculture.
In fact, as per Aviation Week, about 80% of future commercial applications of drones could involve the agriculture sector.
I can see why. Drones would be manna from heaven for farmers. For a modest price, they have at their fingertips the means to visualize patterns of soil variation and pest infestations, notice differences between healthy and unhealthy crops, and conduct inspections at regular intervals.
The utility of an early warning signal in a field like agriculture cannot be emphasized enough.
Drones, with their ability to conduct large number of sorties without endangering human lives, and without the farmer having to walk through the fields, could play a big role in improving farm yields. Even a slight improvement in yields and we are looking at savings of order of a few billion dollars every year.
As far as India is concerned, I only realised later that the photographer in the first ever drone wedding I attended was actually doing something illegal.
You see, the regulation around usage of drones in India is pretty much a grey area and one complaint could have landed the drone operator in trouble.
There have been sporadic reports of people landing in jail for operating drones without the requisite permissions.
This could soon be a problem of the past though.
After dragging their feet for more than two years, the legislative framework for the operation of drones is out. And if experts are to be believed, the Government may have arrived at some sort of a happy medium allowing the market to flourish without undue security risks.
A leading financial website claims the new policy is likely to be a game changer. It allows commercial operation of drones within a specified range and height. This means things like drone-to-home delivery may be a reality very soon.
This is not to say all the challenges have been done away with.
One big challenge is that while the Government's drone policy is not opposed to its use, a big bureaucratic maze awaits anyone wanting to get the requisite clearances.
Then there are other issues like the maximum permissible heights and mandatory installation of equipments that have the potential to throw a spanner in the works.
Having said that, the acknowledgement that drones are here to stay and have great commercial value is a step in the right direction in my view.
It could likely give the nascent drone manufacturing industry a big shot in the arm.
Thus, if the regulation speeds up the adoption of drones in India, the market size that is expected to reach US$ 900 m by 2021 may well be exceeded by the time the deadline comes to a close.
And while there are no big drone manufacturers that are listed on the exchange, there's always a possibility of a few IPOing in the near future.
Besides, there could be quite a few indirect plays at well - the pick and shovel companies plays to the drone manufacturers.
This space could get interesting in the times to come. We are keeping an eye out and will certainly keep you posted.
Good Investing,



Rahul Shah (Research Analyst)
Editor, Profit Hunter
PS: There is a lot of action in the small cap universe right now. Make sure you are not missing out! Learn about what is happening in our small cap service. Click here.
Recent Articles