How I Made Over 70% Gains from India's Biggest Failed Economic Experiment
Sep 4, 2018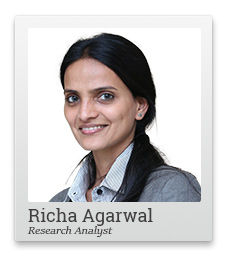 Demonetisation is back in the news.
Thankfully, not for an actual notebandi this time.
RBI's latest revelation that 99.3% of demonetized money is back in the system, validates my negative view on this draconian measure in 2016.
I had received strong criticism from most of my readers when I published that. The article was called biased, premature, and politically coloured. This was despite the long list of supporting facts and apparent casualties I had mentioned.
But even as reports confirm that demonetisation was the biggest failed economic experiment, it's sad to see the authorities wash their hands off the responsibility. Even more unfortunate to see them making Mr Rajan the scapegoat for the economic slowdown.
Anyway, this is not a political or economic commentary.
Here is why I'm touching on this controversial topic again.
One of the many comments I got for my article that day, was:
May I suggest your team does a brainstorming session on how best all the challenges and failures of the re monetization scheme can be turned into opportunities?
Well, I tried...and not without success.
--- Advertisement ---


Want big returns from small caps? Your strategy is what matters most…

A lot of people dream of making big returns from small caps.

But most of them don't have any strategy in place for achieving that, and just go by a friend's suggestion or their gut feeling while investing in small caps.

Wrong method!

After 10-plus years' experience of picking out high-potential small companies, Equitymaster has uncovered and finetuned a strategy to make big returns from small caps.

To know what that strategy is, just click here…
------------------------------
At the time of demonetisation, one of the worst hit industries was microfinance. As an industry that mainly runs on lending and payments in cash, the microfinance sector was brought to a screeching halt.
Microfinance became a pariah for the investor and analyst community. Within a month, the stocks in the industry crashed. Some are yet to recover from the blow.
It was amid these turbulent times and panic that I recommended a low liquidity small cap microfinance stock in Phase One Alert - an exclusive recommendation service in small cap space. It may have seemed foolish then. But I had met the management and studied the business enough to know that the company had the capacity to suffer and survive the tough times, and thrive when the tide turns. I was only waiting for the right valuations. And demonetisation-induced crash in the stock price offered me that chance.
One and a half years on, this calculated bet has turned out well.
As I write this, the stock is up 73%. That too amid ongoing disruptions in the small cap space. If anything, the company, under its able management, has emerged stronger from demonetisation-induced crisis.
In the last two years, this company has achieved 100% cashless lending in microfinance operations. It has successfully diversified into different geographies and verticals to minimise the risk. That's prudent, in case any such regulatory measures hit Indian economy again.
Indeed, the biggest adversity has brought out the best in the company. And has given us an opportunity to build wealth.
--- Advertisement ---


Interested In Potential Market Beating Profits?

Since February 2014, research analyst Rahul Shah has beaten the Sensex 2.3x!

Subscribers have gotten the chance at several breakthrough double and triple digit returns…

And most of them within a 2-year time period.

Today, you can see just how amazing Rahul's research is by giving Microcap Millionaires a test run…

At only 5% of the normal annual price!

So, go on, you have nothing to lose…

Start your trial of Microcap Millionaires today
------------------------------
The stock is well above the buy price now.
But don't lose heart.
For there is no dearth of opportunities even now.
Macro factors like high crude prices, falling rupee, bad debts, market regulations, volatility in small cap space and upcoming elections (the list is long)...have spun a web of similar unjustified fears around certain fundamentally strong businesses. And while small cap index has shown some recovery, a lot of low market cap stocks are still being unfairly judged and penalized, with least regard for their long-term potential and fundamentals.
In Hidden Treasure, as per the latest performance review, there are 20 such stocks where I have a Buy view. While I may not get all the calls right, I'm confident that over the long term, we will be able to maintain our track record of beating Sensex nearly three times (since inception).
I hope you too will learn from history and not let macro noise and media chatter distract you from the long-term wealth building opportunities.
Here are some golden words from Mr Buffett himself that will help you build a perspective:
Imagine the cost to us, then, if we had let a fear of unknowns cause us to defer or alter the deployment of capital. Indeed, we have usually made our best purchases when apprehensions about some macro event were at a peak. Fear is the foe of the faddist, but the friend of the fundamentalist.
Like Mr Buffett, I am also determined to 'continue to ignore political and economic forecasts, which are an expensive distraction for many investors and businessmen...'
Regards,



Richa Agarwal (Research Analyst)
Editor, Hidden Treasure
PS: Richa's small cap service has beat the Sensex 3X for a decade thanks to her brilliant analysis and boots-on-the-ground approach. If you haven't as yet, you can try the service right now by clicking here.
Recent Articles