A Recession Proof Stock You Can Bet On
Sep 10, 2019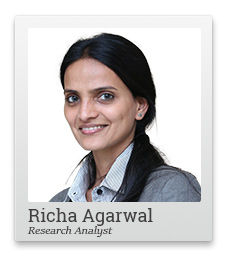 Last week I wrote to you about how promoters are participating in a once in a decade opportunity of making big money from the smallcap rebound.
You see, the last time the BSE Smallcap index was at today's level of about 12,700 points was in January 2017. In the following 12 months, the index moved up a massive 57%.
Will the next 12 months repeat history?
Maybe.
After all, the markets are finally showing early signs of a smallcap rebound.
--- Advertisement ---
[Only For Indian Citizens] India is Set to Regain Its Lost Riches

India was the world's richest country nearly 2,000 years ago.

And if you are like us who believe that India is on track to regain its status as one among the greatest countries on earth…

Then, we encourage you to join other true Indians in the first-ever mega summit "REBIRTH OF INDIA" for FREE.

Click Here to Claim Your FREE Pass for this MEGA Summit…
------------------------------
A lot of smallcaps on my watchlist screen are in the green... Some even recorded double-digit gains yesterday.
That's the thing with smallcaps. The fall is sharp. And the rebound, sharper.
Honestly, I would not be surprised if despite knowing my views and optimism in the smallcap space, you are still waiting on the sidelines.
Auto slowdown, US China trade war, and now the GDP shocker...the bad news has been pouring in.
It is not easy to ignore the news while investing your hard-earned money.... more so in the highly volatile smallcap space.
--- Advertisement ---
The 'Profit Accelerator' That Helped Wipro Multiply 2,000 Times Since 1991

Do you know what a 'profit accelerator' is?

It is one of 3 traits that the most profitable stocks have…

For instance, back in 1991 Wipro underwent a huge transformation…

This was the 'profit accelerator' the company needed.

Over the next 3 decades, the stock price of Wipro multiplied over 2,000 times.

Amazing, isn't it?

If you're wondering what exactly a 'profit accelerator' is, you'll find a full explanation of that and the other 2 traits that make a 100X potential stock, in this note.
------------------------------
But what if I tell you that there is a smallcap business that operates in an economic heaven, and could be one of the biggest beneficiaries of the market rebound.
The company commands a market share of more than 40%.
And there is almost a 100% chance that you would be using its services.
Yes, this single business has a quite a few attributes that any winning business might ever possess...
These include high entry barrier induced by regulations, and strong client stickiness.
And did I mention the zero debt and a huge operating leverage - While expenses remain the same, any increase in revenue directly flows to profits.
Now this company does not need much capex to grow its revenues.
So, what does it do with all the profits it earns?
Well, it distributes a significant chunk as dividends...that leads to steady income for its investors.
I have been thinking hard about how this business could be disrupted...and have realised that this business itself is an ultimate disruptor.
The company is a strong play on digitisation, a trend which is only set to increase in India...and enjoys a long runway ahead.
All in all, the company makes the cut for my next Hidden Treasure recommendation which I will release this week.
Usually, the typical horizon period for my smallcap recommendations is 3 to 5 years. But if you ask me, this could be one business that you could own and pass on to future generations. Make sure you do not miss this opportunity to make your generations richer.
Warm regards,



Richa Agarwal
Editor and Research Analyst, Hidden Treasure
PS: I believe 4 small-cap stocks are on the verge of a rebound. Read more about these 4 stocks here.
PPS: Rahul Shah, Co-head of Research at Equitymaster, has an exciting money-making proposal for you! No matter how much you earn per month, Rahul will show you how to make much more in a reasonable period of time. Read more about Rahul's strategy here...
Recent Articles