My Top Stock to Buy in this Market Selloff
Sep 22, 2020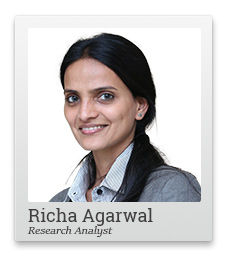 We saw the Indian stock markets sell off yesterday. At the same time, the volatility index zoomed.
In fact, it was a sea of red across the global indices. Fears of another lockdown surfaced after a spike in the Covid cases.
Is this end of the short-lived bull run? Should you be worried and get out now?
You must if you are playing the market for the short-term. In fact, if that's the case, you should stop reading this article now.
But if you are in the market for the long-term, I have something interesting to share.
It's not about where I expect markets to be in a week, or even month from now. I can't predict the direction of the market. No one can.
--- Advertisement ---
India Rushes to Prepare for a 2-Front War

A 2-front war is here.

China and Pakistan seem to be acting in sync... when it comes to attacking India.

Both countries have increased their military activity in the border region like never before.

And that's exactly what India is rushing to prepare for.

In fact, the Indian government has already allocated Rs 90,048 crores for 2020-21 itself.

Plus, an additional Rs 4 lakh crore would be spent over next 5-7 years.

This money will secure our borders. And...it will potentially trigger a mega growth opportunity for a select few Indian defence companies.

With this flood of money flowing their way... their stock prices could potentially shoot up to record highs in the coming years.

You can learn everything about this massive opportunity tomorrow at our Explosive Profits Summit.

At this summit, you will also get the details of what we believe is India #1 defence stock pick.

It's a potential 10x opportunity in the long term.

Click here to sign-up instantly here. It's free.
------------------------------
It's about an exciting smallcap stock. I believe it's a must have for anyone thinking beyond 2021.
I don't know if we will have a second lockdown in India. I personally feel that our economy just can't afford it.
But when it comes to picking stocks, I do build in that assumption.
It not only forces me to play safe, but it also lends conviction when a sell off like yesterday's shows up.
A few months ago, when Covid and lockdowns were still a novelty, I recommended 5 'essential' stocks with this approach.
I believed these business will survive and stay resilient, no matter how 2021 turns out for the stock markets or economy. Hidden Treasure subscribers can read the report here.
Even after the correction yesterday, these stocks are up 35%, 47%, 72%, 122%, and 83% respectively.
When I recommended these stocks, I was neither counting on a rally as we've seen over the last few months, nor on any regulatory bonanza for smallcaps.
NEW: 5 Pandemic-Proof Smallcaps You Should Know About...
I focused on traits like market leadership, competent and ethical managements, healthy financials with special focus on the balance sheet, and attractive valuations. I also added two questions to make this selection ultra-crisp.
Which companies are financially fit enough to sail through the coronavirus crisis?
Which companies will not only survive, but also thrive in a post-coronavirus environment?



All five answered 'yes' to these conditions.

But one of these is quite special. So much so that it's the only smallcap I've recommended to my subscribers to consider an allocation beyond the standard guidelines.

Here's what I like about this stock:

It's a market leader with 25% share in its niche.
An innovator, that changed the game not only for its own industry, but for its clients as well. It's the sole supplier to some of the best bluechips. None of its peers come close to what it has achieved.
A proxy play on India's food and FMCG segment which is its fastest growing segment (that comes under the 'essential' category). Again, the best of bluechips make it to its client list.
There are multiple growth triggers in the different segments it caters to.
Potentially new opportunities in pharmaceuticals and agrochemicals.
The company pays steady dividends, has a strong balance sheet, and the stock is available at attractive valuations.
The list would not be complete without a word about the management, whom I've had the chance to meet personally.
'You don't get a second chance to make solid first impression'.
That's what the management said when I probed about all the innovations the company had successfully done.
--- Advertisement ---
Top 3 Stocks for 2020 and Beyond

We've uncovered 3 high-potential tech stocks after years of research.

These 3 cutting edge tech stocks could potentially create a wave of Indian millionaires.

First one is present in the sector which is expected to GROW over 300 times by 2030.

Second one is one of the leading players in Artificial Intelligence technology.

And the third one is involved in putting up a global safety net to save the world from cyber criminals.

These 3 tech stocks have the potential to offer life-changing gains in the long run.

Click here to get the details...
------------------------------
You see, management meetings are always interesting. They are a quintessential part of my recommendations.
However, this meeting left an extra-special impression on me. It wasn't just about business, financials, and growth prospects. Of course, I discussed all those...and they were impressive.
But what really stood out was the promoter's passion for what he does. Never before I have met a promoter who goes so deep into product and processes. Someone who is so focused on keeping the company ahead of the curve.
I've tracked this stock for more than four years now. My conviction in the business and the management has only gotten stronger.
If there is just one stock you would ask me to recommend, this would be it.
The recent correction offers you a rare opportunity to own this potential multibagger. I hope you won't miss the chance to own it.
Hidden Treasure subscribers can access the stock here.
If you aren't subscribed to Hidden Treasure, you can get the report by signing up here.
Warm regards,



Richa Agarwal
Editor, Hidden Treasure
Equitymaster Agora Research Private Limited (Research Analyst)
PS: Get access to my top stock for 2021 here.
Recent Articles