It Took 15 Years! But I Have Finally Cracked the Secret to Penny Stock Fortunes
Sep 24, 2018
Wilfred Pareto, an Italian economist, was once out in his garden.
As he observed his pea plants, he saw an interesting pattern emerge.
Nearly 80% of his peas came from just 20% of his plants.
This odd fact lay buried in his mind only to be dug up later when on an important assignment.
A friend had asked him to study the land ownership in Italy.
Lo and behold, he saw the same pattern emerge yet again. Nearly 80% of the land was owned by 20% of the population.
This time, he did not let his discovery go into hibernation. As he explored the idea further, this ratio kept appearing again and again.
If you look around, you'd be shocked at the amazing regularity with which this pattern emerges in our day to day lives as well.
80% of our calories come from 20% of the food we eat.
80% of our happiness is determined by 20% of the people in our lives.
80% of wealth is owned by 20% of the population.
80% of the clothes we wear form only 20% of our wardrobes.
80% of the wealth we have made comes from 20% of the decisions we make.
Phew. It is as if this rule is some iron-clad law of nature.
80% of Results Come From 20% of Causes.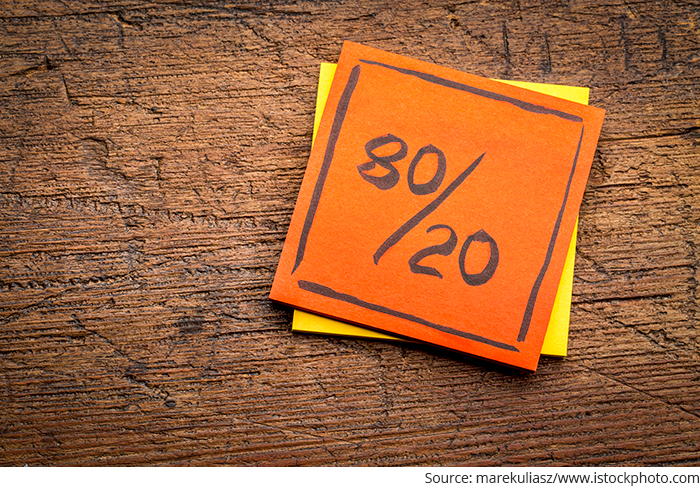 Guess what, this ratio, called the Pareto Principle, pays off in the case of studying potential stock investments as well.
Here's Seth Klarman, one of the world's most successful and recognizable investors on the same ratio.
But information generally follows the well-known 80/20 rule: the first 80 percent of the available information is gathered in the first 20 percent of the time spent. The value of in-depth fundamental analysis is subject to diminishing marginal returns.
It therefore follows that when it comes to penny stocks, there are two ways one can invest in them.
Do a detailed due diligence on the company and come up with as thorough a report as possible.

OR

Follow the 80/20 principle; look for those 20% insights that give you 80% of the information on your stocks.
I have been increasingly drawn towards the second approach in recent years.
I am now of the belief that doing in-depth research on stocks could prove to be counterproductive.
Instead, you should only look at the 4 or 5 things that matter, and then buy the stock at such a deep discount that if anything goes wrong, the downside is limited, but if things go right, there's huge upside for the taking.
Little wonder, this is the approach I recommend for investing in something as rewarding - and at the same time as dangerous if not handled carefully - as penny stocks!
Zero in on 4 or 5 indicators that you think matter the most and once the stock flashes green on most of these signals, check whether it is available at a deep discount to its readily ascertainable intrinsic value.
If yes, it is time to pull the trigger. That's it.
That's the secret sauce to investing in penny stocks right there. Stocks that trade at a low price of Rs 50 per share or below and have a basic business model and are not outright speculative.
I call this secret sauce my SOLID framework for investing in penny stocks - a framework that doesn't take too much of your time and yet delivers fabulous long-term results.
Next week, I will talk about what each letter in the acronym SOLID stands for and the kind of multi baggers this framework has already helped me identify.
Stay tuned.
Good Investing,



Rahul Shah (Research Analyst)
Editor, Profit Hunter
PS: And if it is small cap stocks you are after, there is NO better time than right now. Opportunities for buying small cap stocks in today's market are hitting the roof - do not be left behind. See what our small cap expert is up to... Click here.
Recent Articles