How Soon Before Smallcaps Start Hitting New Highs Again?
Sep 25, 2019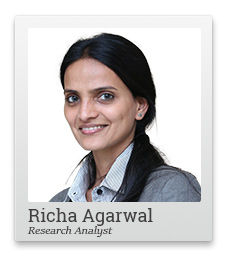 You were probably caught unaware last Friday.
It wasn't just you, most investors were.
Out of nowhere came the Finance Minister's massive announcement to slash corporate tax rates.
And just like that, the sentiment on D-street has changed entirely. Gloom and doom have given way to hope and optimism about the future.
But will this hope turn in to excitement, and then further to euphoria?
Is this the start of the next upcycle for smallcaps?
--- Advertisement ---
3 Stocks for Potentially Massive Gains

COVID-19 has triggered a fundamental shift in the global economic and geopolitical map.

This reshuffling of the geopolitical map is just ONE of the forces fuelling the great Indian revival.

A revival that will restore the power, wealth, and influence we once enjoyed.

And, those who invest in the companies at the heart of this revival could turn a small stake into generational wealth.

Our co-head of research, Tanushree Banerjee, has narrowed down on 3 specific stocks.

She strongly believes, these 3 "revival stocks" could potentially offer massive gains.

Click here to learn more about this mega opportunity
------------------------------
It does seem so. Perhaps this massive slashing of corporate tax rates is just the catalyst the market needed to break out of its stupor.
This could be the start of the big rebound in smallcaps.
While the signs of a rebound are already there, how long before smallcaps truly start rising in a big way and hitting new highs once again?
Let me share with you a set of numbers about market rebounds that got me one totally thrilled...
It's the kind that will get you up from your seat, pacing the room, amased at how quickly things can change in the stock market.
In researching stock prices going back to 1985 and all the market crashes since then, here's what I discovered...
Over the last three decades or so, on average it has taken only 1.8 years to go from the dreadful depths of a stock market crash to the lofty pinnacle of a market high!
Do note this is not the time taken only to get out of a crash. Its looks like the current market crash may already be almost over.
Revealed: 3 Stocks for Potentially Massive Gains
This is actually the time it has taken, on average, to reach the next market high.
And wait till you read this next bit...
The BSE Sensex's average gain during such periods was 165%! That's more than two and a half times your money in less than two years!
Talk about gain after the pain. Here's the entire story:
Date when market
hit a high
Time taken to swing from depths of
previous crash to the high (years)
Gain in the Sensex
27-Feb-86
1.2
143%
09-Oct-90
2.5
300%
22-Apr-92
1.2
367%
16-Sep-94
1.4
127%
05-Aug-97
1.5
61%
11-Feb-00
1.3
115%
14-Jan-04
2.3
138%
10-May-06
2.0
180%
08-Jan-08
1.6
134%
05-Nov-10
1.7
157%
29-Jan-15
3.1
96%
Average
1.8
165%
Now that's exciting!
But I haven't even got to the best part yet.
Smallcaps, notorious for volatility, tend to see exaggerated price moves on both the upside and the downside. This means their moves from market crash to market high is even more dramatic.
While data for the BSE Small Cap index is not available for such a long period as the Sensex, this is more than evident from even a cursory look at comparable numbers for the Small Cap index.
In the table above, the gain in the BSE Sensex when it swung from the depths of the previous crash to its high in Nov 2010 over a span of 1 year and 8 months was 157%.
What was the gain in the BSE Small Cap Index over this same period?
A massive 254%.
Falling stock prices are usually an equity investor's biggest source of pain.
And a market crash?
Well, that can cause outright depression. It can paralyse existing investors and scare away new ones.
But remember these numbers.
Smallcaps can move up in the blink of an eye. That's why it's so important to pounce on the opportunities in smallcaps today while they are still available.
Warm regards,



Richa Agarwal
Editor and Research Analyst, Hidden Treasure
PS: Dear reader, in this market rebound I've found one stock with the potential to offer multibagger returns. Watch my video on this one stock here.
Recent Articles