How to Survive 1,000 Point Corrections and Fake Messages
Oct 5, 2018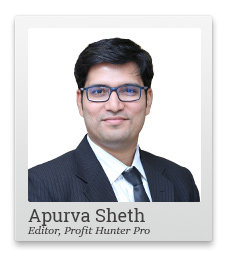 The correction in the Indian stock markets doesn't seem to be ending anytime soon. The Sensex slipped lower by 950 points on an intraday basis yesterday.
This was the 16th largest absolute intraday drop ever in the index.
And in percentage terms this was the second largest fall since November 2016.
I am sure drops like these worry many investors. But that's not the only thing worrying them.
Some other serious issues which investors are grappling with these days is the unrestricted spread of fake news and rumours through WhatsApp.
And the solution to both these problems is one - focus on price action.
The Indian stock markets have been a victim of such messages for a long time. But this time around the damage was big.
Shares of Infibeam Avenues crashed 73% last Friday after a message questioning the corporate governance and accounting policies went viral on WhatsApp.
The company sent clarifications to the stock exchanges but the damage was already done.
--- Advertisement ---


Your 30-day Unrestricted Access…Starts Today.

As soon as you accept our invitation to join Smart Money Secrets, we'll activate your 30-day unrestricted access today.

This is one of the best offers we're giving you today…which will end soon.

An offer, which gives you uninterrupted access to the investment ideas of top 40+ investment gurus of India.

You'll receive two special guides worth Rs 950 each…one of which reveals the complete investment strategies of Warren Buffett. Plus much more .

All of it for a SHOCKING price of just Rs 99. But for a very limited time.

So, if you've still not taken advantage of this offer, you may be out of luck soon.

Click here before it's too late for you.
------------------------------
Infibeam lost Rs 9,000 crores of market cap in a day.
And is still trading far below last week's highs.
Now let's see what went wrong here and how one could have safeguarded oneself from this damage...
The message questioning the corporate governance and accounting policies is said to be an old one which resurfaced on Friday as the stock opened gap down by 10%.
Market participants tend to look for reasons for a fall. I am assuming someone must have circulated this old message as an explanation for the fall.
Under normal circumstances there would have been some buying as the stock slipped lower. But in this case market participants were gripped with fear and panic which kept the buyers away from the stock. This resulted in a stampede amongst sellers which pushed the prices lower.
The company has denied any wrongdoings. I am not an expert in fundamentals or financials of the company but there were some red flags already being raised earlier.
Even if you had ignored those red flags then there is one thing which you simply cannot ignore at any cost - Price Action.
Have a look at this chart. It shows intraday falls of more than 10% in the stock of Infibeam since listing.
The stock has witnessed a total of 31 intraday falls of more than 5% since listing in April 2016. That means on an average you can expect atleast a 5% drop every 20 days.
The stock has witnessed 5 intraday drops of more than 30% since listing. Even if you ignore the last two falls then there are 3 occasions when the stock has fallen almost 40% in a day.
Apart from this there were 5 occasions when stock has fallen between -30% and -10%. And there are 21 occasions when the stock has fallen between -10% and -5%.
| | |
| --- | --- |
| Percentage Intraday fall | No of occasions |
| Intraday Fall more than -30% | 5 |
| Intraday Fall between -30% and -10% | 5 |
| Intraday Fall between -10% and -5% | 21 |
So you can see the stock has had a wild ride ever since it listed on the exchanges in 2016. If there's one thing happening at regular intervals are these crashes.
One would trade such a stock only if you want to play with fire or are ignoring price action.
The price action in Infibeam Avenues clearly indicated that the stock isn't for the faint hearted. If one doesn't have an appetite for such risks then he would be better off staying away from this stock.
At Profit Hunter Pro, we have always focused on price action over anything else. This has helped us not only stay away from such stocks but also sail through such 1,000 point falls.
In fact, the price action in markets are opening many opportunities for Profit Hunter Pro subscribers. Right now, there are two opportunities with us. One is a housing finance company and other is a private banking company.
Now you know that trading opportunities can come and go quickly in a volatile market like this. If you want to protect yourself from 1,000 point corrections and fake messages then focus on price action yourself or, of course, I am here to do it for you.

Apurva Sheth (Research Analyst)
Editor, Profit Hunter Pro
PS: In a volatile market here is the best way to keep making money - even as the stocks bounce around wildly. Click here to learn our short term trading secrets - and get our expert, Apurva Sheth's recommendations.
Recent Articles