This is the Biggest Opportunity in India's EV Transition
Oct 12, 2021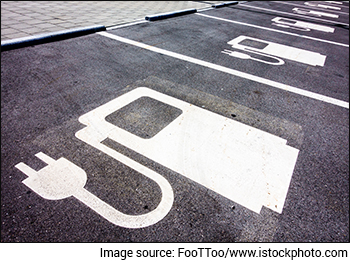 If the headlines are anything to go by, the green revolution is here.
The 'clean energy' and ESG themes are likely to gain momentum, with back to back acquisitions by Reliance Industries - Norway's REC Solar and 40% in Sterling & Wilson Solar for Rs 86 bn.
The company has taken some steps towards the aim of being net-zero carbon status by 2035.
The timing could not be better. The country is grappling with energy security crisis, amid a looming coal shortage. The media is full of stories of potential blackouts.
The stock of Reliance hit a 52-week high on the news.
The last time I heard so much about the renewable push, stocks of solar companies did well, but only for a while.
Forget earning good returns. The investments these companies made could never recover the cost.
A churn in technology, falling prices of solar equipment and panels, reduced tariffs, the Chinese manufacturing prowess along with their subsidies, bankrupted the Indian players.
I'm not sure if much has changed on that front.
--- Advertisement ---
Click Here to Watch the Replay of the Great Indian Wealth Project Event

At our Great Indian Wealth Project special event, we gave away these valuable resources virtually FREE.

This bundle includes our comprehensive wealth creation guide titled- Eight Steps to Your Eight Figure Fortune

And 3 high-potential stocks covered in our latest special reports...

To immediately get you started towards accumulating Rs 7 crore in wealth over the long-term

If you missed this event for some reason, then you can watch the special replay of this event.

Click Here to Watch the Replay...
------------------------------
I'm happy about renewable energy taking a larger share of energy consumption. And the investments happening towards zero carbon status.
But when it comes to its economics, I'm a skeptic.
I find it amusing to hear 'expert' comments about the stock of Reliance compounding at 25% for next 10 years due to this development.
It sounds more like wishful thinking than analysis grounded in objective reality.
Now I may not sound euphoric about this development from an investment perspective. But there is another opportunity in clean energy space I find more promising and plausible.
I'm referring to the biggest disruption and value migration of the 21st century - the great EV (electric vehicle) transition. It's unfolding right in front of our eyes.
The world's smartest investors, corporates, and even the government are betting on it. Every single factor that was required to make EV transition possible is coming together now.
EV Revolution at a Tipping Point.
I'm not counting on the government's policy push, although that is helping the transition for sure.
Nor I'm betting on the environmental agreements countries have signed.
The reason for my optimism is the simple and favorable fuel and price economics.
The cost of an EV battery, that comprises nearly 30-40% of the cost of an EV, has come down by 89% in last decade.
Watch Now: A Massive 15x Opportunity in Electric Vehicles
Over the next 2 years, it's expected decline by a further 20%.
At this rate, EV batteries will be cheaper than internal combustion engines. This will make their mass production economically viable.
There are many factors other than government subsidies that are driving the EV transition.
There are deadlines committed to under the Paris agreement to bring down emissions below certain levels.
There are all the investments in EV manufacturing and charging infrastructure made by many domestic companies.
Also consider the sharp decline in battery costs.
And then there's the shift in the consumer sentiment towards EVs.
Clearly, the mass production of EVs in India is here.
But it's going to be benefit certain segments more than others. Those segments are 2-wheelers and 3-wheelers.
--- Advertisement ---
REVEALED: How to Grow and Protect Your Wealth in 2022 and Beyond...

Interested in growing and protecting your wealth in the next decade?

Then Register for The Equitymaster Conference 2022 Right Now

Where the top investment minds of this generation will reveal their most lucrative money-making investment and wealth-protection strategies for the next decade.

Click Here to Get More Details...
------------------------------
After subsidies, owning a 2-wheeler EV is almost at par to some popular internal combustion engine models.
Also, the total cost of operation, i.e. the cost of buying, running, and maintaining 2-wheeler and 3-wheeler EVs, is lower than that of internal combustion engine ones.
EV Vs ICE: Cost Comparison
| | Upfront Cost Differential | Expected Time for Parity in Total Cost of Operations (With Subsidy) | Expected Time for Parity in Total Cost of Operations (With Subsidy) |
| --- | --- | --- | --- |
| 2 Wheelers | 1.0X-1.5X | Already there | Altrady there |
| 3 Wheelers | 0.9X-1.5X | Already there | Already there |
Source: KPMG India Analysis
The biggest opportunity in India's EV transition
You see, 2-wheelers in our country comprise over 80% of the of all auto volumes.
With low cost of ownership, comparable performance, and conducive charging options, the EV transition in the 2-wheeler space is on an accelerator.
If solar energy comes to every home, battery charging costs could be even lower.
By the way, China has already electrified 80% of its 2-wheeler fleet. This is how you need to think about this huge opportunity.
In the last five years, two-wheeler sales in India were around 2 crore units per year. Now the sector is cyclical and has been in the downturn for some time. So let's consider a moderate 5% growth for the next 10 years.
By 2030, we are looking at 2-wheeler sales of 3 crore units. Even if one third of this is EV sales, that's 1 crore electric 2-wheelers per year.
In the last 2 years, average electric 2-wheeler sales were 1.5 lakh units. From 1.5 lakh to 1 crore, that's a 66x opportunity in 2-wheeler EVs.
This is an annual growth rate of 52% over next 10 years. It's an almost vertical growth opportunity.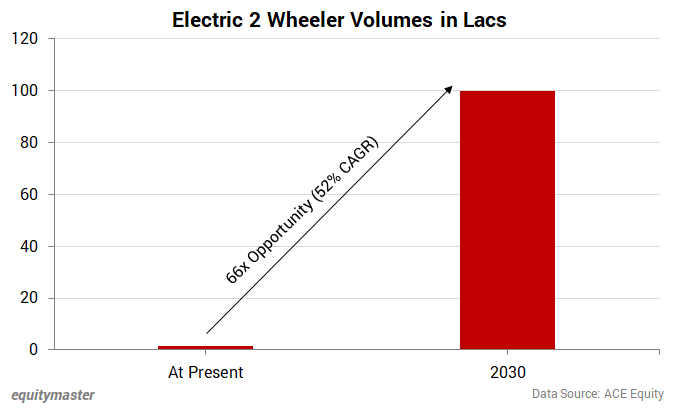 No wonder then all 2-wheeler OEMs, and some new entrants - Hero, TVS Motors, Bajaj Auto, Ola, Greaves Cotton - are making big EV announcements.
It's like a gold rush. But like in any gold rush, the winners will just be a few.
The Big Winners
As the winds of change blow and settle, there will be a long list of companies affected by the change. I believe only a few will be on the winning side of this list.
And let me tell you, these won't be the names that I shared above. Or the names you read or hear about in the media coverage on EVs.
The real opportunities are somewhere else.
Over the coming weeks, Tanushree and I will write to you about these opportunities.
Stay tuned...
Warm regards,



Richa Agarwal
Editor and Research Analyst, Hidden Treasure
Recent Articles