The Biggest Wealth Creating Opportunity that No One is Talking About
Oct 14, 2020
Editor's Note: Tanushree Banerjee, our co-head of research, has discovered a wealth building opportunity which has come to light in the border tensions with China. I recommend you read Tanushree's message now...
---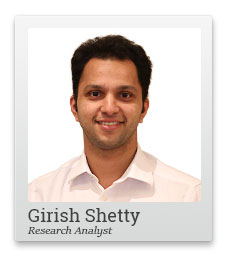 What is the first thing people look for when they shop online?
Is it the brand? The price?
Neither. They mostly look for reviews. People first look for how many other people have bought the product...and how many liked it.
Price, brand, etc come into the picture later.
That's the power of the majority. People look for consensus. They are most likely influenced by what others are doing.
A part of this also has to do with how humans have survived across generations...by being together.
The culture of following the herd is still strong within us.
The stock market is no different. Often, people follow what is popular. That's the reason we see extreme panic in a crisis and extreme optimism in a bull market.
There is another perception created in the stock markets...
--- Advertisement ---
India's Secret Plan to Beat China Takes Shape

China is playing dirty since the past few months.

Under the garb of military exercises, they shored up their troops at the border region in Ladakh.

What do they want? A war with India?

If that's the case, then India needs to be more ready than ever before.

India has already started deploying high-tech weapons at our borders.

It is estimated that the Indian government could spend over Rs 4 lakh crore on such defence equipment over next 5-7 years...

Pumping hundreds or even thousands of crores into a few Indian defence companies in the coming years...

As a result, select Indian defence companies could benefit in a huge way... and their stock prices could shoot up like never before...

Especially this one stock, which we call India's #1 defence stock.

It's a potential 10x opportunity in the long term.

We'll reveal all the details about this huge opportunity at our Explosive Profits Summit.

Click here to sign-up instantly here. It's free.
------------------------------
People believe, stock of only certain sectors can make money for them. Talk to most traders and investors and they would have put the majority of their money in the top 2-3 popular sectors.
Banking and FMCG have always been popular. You will find multiple stories around these companies.
If you talk of wealth creators of the past, the names that come up most would likely be HDFC Bank or Asian Paints or HUL.
But is this perception true?
Look at this chart...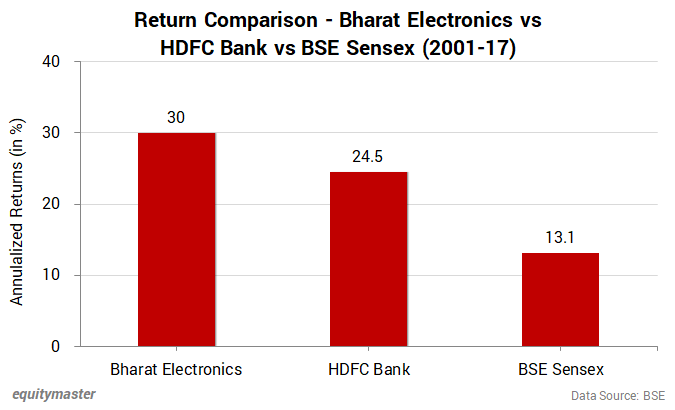 This is an 18-year comparison of the returns from HDFC Bank and Bharat Electronics. The blue-eyed star of the banking sector versus a defense PSU which hardly anyone talks about.
Weren't you surprised seeing this relatively unknown PSU outperform HDFC Bank?
Despite this, you wouldn't have heard much about Bharat electronics in any 'Wealth Creators of the Decade' report.
REVEALED: How to Unlock Almost 3x More Gains Post the Corona-Crisis...
Looking for social proof in the stock markets is not a great idea. You will be regularly fed stories of the most recent fads in the mainstream media.
But you will mostly miss out on the next big idea hidden in plain sight.
Just look at the recent developments in the defence sector. The Ministry of Defence announced an import embargo on 101 defence items.
This is another push towards the government's 'Atmanirbhar' or 'Make in India' project.
These 101 items will now be purchased from domestic companies instead of foreign ones. With this embargo, contracts worth Rs 4 trillion are likely to be signed over the next 5 to 7 years.
Can you imagine if this kind of opportunity was happening in the banking or the FMCG sectors?
We would've been hearing about it in the media for months. People would've projected their favorite FMCG or banking stocks as the next big 100x opportunity.
But this huge wealth creating opportunity for defence stocks has mostly gone under the radar.
--- Advertisement ---
For Those Looking to Buy Stocks

If you're looking to buy stocks now, then we've uncovered 3 great stocks for you.

Our research says, these stocks have the potential to create a wave of Indian millionaires.

Get the Details Now
------------------------------
With Indo-China tensions not abating, this sector will be in focus in the near future. The tipping point for the defence sector might not be too far away.
My colleague Tanushree strongly believes in the potential of defence stocks. She has been tracking this sector for many years and she is very positive on the huge defence opportunity that lies ahead for investors.
She spoke about the defence opportunity in her recent video as well.
Watch out for her editorial tomorrow. She will write to you in detail about the top defence stocks in the market.
I think it is prudent to act when defence stocks are not being discussed widely in mainstream media. In the stock market, it always helps to be ahead of the crowd.
Defence stocks are a great wealth creating opportunity.
Warm regards,



Girish Shetty
Research Analyst, Hidden Treasure
Equitymaster Agora Research Private Limited (Research Analyst)
PS: Tanushree Banerjee, our co-head of research, has discovered a wealth building opportunity which has come to light in the border tensions with China. I recommend you read Tanushree's message now...
Recent Articles