The First Among Equals in India's EV Ecosystem
Oct 19, 2021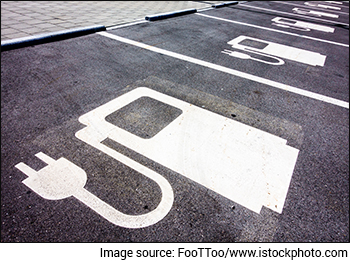 A gold rush is unfolding right in front of our eyes.
In my last editorial, I shared with you a 66x growth opportunity in electric 2 wheelers.
2-wheeler OEMs, and some new entrants - Hero, TVS Motors, Bajaj Auto, Greaves Cotton, Ola - are making big EV announcements.
However, the winners of this EV war will be few.
And most likely, they will be the names you don't often hear about in the media.
This may sound counter intuitive. So allow me to explain.
You see, these much 'visible' EV stories still heavily rely on internal combustion engines (ICE) vehicles.
--- Advertisement ---
The Hidden Opportunity in EV Stocks No One Knows About

With today's fast-changing technology and concern about the environment, the popularity of electric vehicles (EVs) has been on the rise.

Most investors go the usual route of investing in large companies and waiting to rake in profits.

We believe that's not the best approach.

In fact, our research has uncovered a hidden way to make potentially windfall gains from this EV opportunity.

Interested to know more? You can get all details by clicking the link below:

Equitymaster's Latest Research Project - Details
------------------------------
EVs are a tiny part of their huge businesses. Even as this part grows exponentially, it will cannibalise and disrupt their ICE fuelled legacy business. The business has been their bread and butter.
Thus, the incremental value gained in this transition could be low.
Of course 2-wheeler makers have no option. The EV transition is critical for their survival. But to expect overall growth, when their legacy business shrinks, is a bit of a stretch.
Until EVs achieve critical mass, they will entail huge investments. Economies of scale may take time. By that time, high competition and pricing pressures could weigh down their profits.
If you want to make big gains from India's EV revolution, you should look beyond the big EV names.
Where should you look?
The EV supply ecosystem.
Unlike most listed 2-wheeler makers, there will be a good profit making opportunity for players in the EV supply ecosystem.
So how will this supply chain work?
There are only around 20 moving parts in fully electric car. This compares to 2,000 parts in ICE vehicles.
FREE Event: Discover Your First Stock for a Potential Rs 7 Crore in Long-term Wealth
A fully electric vehicle will not need multi-speed transmissions, radiators, fuel injectors, gas tanks, valve trains or exhaust systems, pistons, gears, spare parts, and so on.
Companies that produce these parts only for ICEs based vehicles will suffer.
If you're thinking of investing in EV stocks, keep this graphic in mind.
Impact of EV Transition on Different Components
| Extremely Negative | Negative | Moderate | Positive | Extremely Positive |
| --- | --- | --- | --- | --- |
| Engine parts | Gears | Steering Systems | Electric Motor | Batteries |
| Clutch | | Seats | Inverters | Wiring harnesses |
| Radiator | | Brake Lining | Microprocessors | |
| | | Headlights | Controllers | |
| | | Leaf springs | | |
| | | Shock absorber | | |
Source: BEE Technical Study of EVs and Charging Infrastructure, Industry Report (GIZ, Niti Aayog)
Companies like ShriRam Pistons and Rings, or UCAL Fuel systems (that makes carburettors and Air Suction Valves) could be on the losing side of this race.
On the other hand, players in these segments will benefit:
Charging infrastructure
Battery swapping operators
EV ancillary manufacturers
EV software and product designing
Battery makers
Metal, mining, and chemical companies - lithium, copper, soda ash, silver, fluoride (substitute for lithium).
There are other potential areas where EVs could bring growth.
EVs will need better aesthetics, design, and fuel economies. This could push EV makers to substitute iron and steel with lightweight materials.
--- Advertisement ---
What CNBC Won't Tell You...


The next 10 years would be a golden period for Indian investors...

The "Big Bull" Rakesh Jhunjhunwala claims it could be one of the largest stock market bull runs in India ever...

And veteran investor Raamdeo Agarwal says the S&P BSE Sensex could even reach 200,000 points in the next 10 years... All thanks to these...

Highly Powerful Wealth-Building Mega-Trends
------------------------------
This could open new opportunity for high specialty polymer makers. Or for companies like NALCO and Hindalco.
EV beneficiaries could be in the sectors that might have escaped your attention. I mean, did polymer companies come to your mind when thinking of investing in EV stocks?
More examples are the product engineering, design, and technology services companies like Tata Elxsi and KPIT. These companies are working on making EVs connected, autonomous, and shared.
Lastly, be cautious of the players with heavy dependence on electrification, i.e. the 'pure EV plays', such as Olectra Greentech.
The upside in these players could be huge but getting the timing right is a huge challenge. In case of a delay in the transition to EVs, or any policy related hiccups, the momentum in these stocks could end swiftly.
Despite these caveats, I believe there will be huge profit making opportunities in the EV space.
Tanushree and I have been busy with our big EV project, separating winners from losers.
If you wish to profit from this megatrend, join us on 25 October at our special event on the EV Gold Rush.
Warm regards,



Richa Agarwal
Editor and Research Analyst, Hidden Treasure
PS: Equitymaster's secret research has uncovered a little-known way to play the massive 15x Profit opportunity in EVs. Get the details here...
Recent Articles