Your "I Was There" Moment in History Could Be Today...Don't Miss It
Oct 22, 2020
Editor's note: Join Tanushree Banerjee at the Explosive Profits Summit at 5 pm today and find out how to create huge wealth for yourself from India's best defence stocks. Register for free here...
---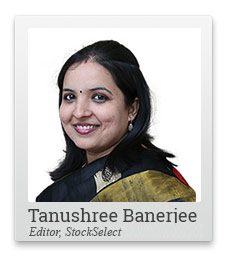 Decades from now, this will be remembered like the moon landing... the World Wars... and discovery of the polio vaccine.
That may seem dramatic.
But you would agree that each one of us living through Covid-19, in 2020, will become a part of history.
Now, as far as Covid-19 is concerned, so far, 99% of the world has no idea what's happening next.
We do not have certainty on the exact month of vaccination. We do not even know if we should expect another wave of the virus.
So, while are living in a moment of history, we do not know how or when this will end.
But do not sulk.
For there is yet another moment in history that you, as an Indian investor, have a chance to be part of.
And unlike Covid-19, this has a fair degree of certainty and visibility in terms of wealth creation.
That opportunity is right here. Today.
Yes, you read that right. Let me explain.
You see, since ancient times, kingdoms that had the biggest armies were seen as the most powerful.
--- Advertisement ---
How to Increase Your Monthly Income (Without Working 24x7)

Good news: Our top-analyst Rahul Shah has devised a new income-generating method that could guide you to slowly increase your monthly income to the point it surpasses your current salary...

Dubbed as the 'Automatic Income Strategy', this money-making method will be revealed only to those who register for Rahul Shah's FREE MASTERCLASS right now...

So hurry... because these videos will be taken off the web very soon.

Ok, Show Me How to Increase My Monthly Income Without Working Another Job
------------------------------
The rulers of such kingdoms grew their clout by colonising geographies far and wide. Doing this made them economically stronger.
And helped them strengthen their armies even more.
Incidentally, no ruler of Indian origin has ever resorted to such colonisation. Indians have always preferred peace keeping.
However, in the 21st century, a strong and well-equipped army is a must have.
Both for peace keeping and to insulate India's economic progress, in the coming decades.
Since 1960s, India has imported arms worth billions of dollars to stave off hostile neighbours, China and Pakistan.
In 2020, being the third largest arms importer in the world does not really work to India's advantage.
Rather, to grow our economic clout globally, we must follow what the US did in 1970s...and China in 1990s.
The US and China saw an inflection point in their defence production during the decades of 70's and 90's, respectively. Their defence R&D added technologically advanced weaponry to their armed forces.
New: 5 Pandemic-Proof Smallcaps You Should Know About...
These countries also saw their largest defence producers multiply their sales and profits at an unprecedented rate for decades.
If you don't believe me, look at this price chart of US defence behemoth, Lockheed Martin.
The company saw its stock price go up 65 times over past 30 years. That is a compounded growth rate of 15% over three decades, consistently.
The smartest investors in the world would be impressed with such returns. But only a few actually identified this inflection point in the US defence industry and acted on it. Jim Rogers was one of them.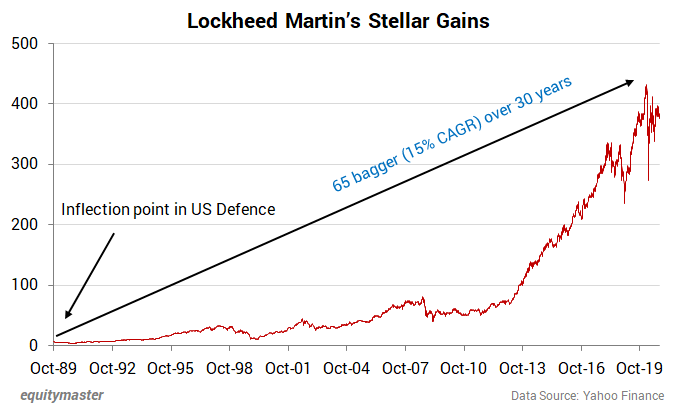 If you think this is history and Lockheed Martin may no longer be growing its profits, think again.
Lockheed Martin's profits surged by more than 155% in financial year 2018. Its competitor, Northrop Grumman also saw its bottomline expand by 61% that year.
--- Advertisement ---
REVEALED: How India's Best Investors Are Planning For 2021 and Beyond...

Are you an active investor looking to grow and protect your wealth in 2021 and beyond?

Then you must Register for The Equitymaster Conference Right Now.

Because for the first time ever, this conference is going fully virtual.

That means you can listen to the biggest investment minds of this generation - right from the safety and comfort of your home.

So don't wait...

Grab Your Conference Ticket Right Now
------------------------------
Countries like the US, China, Russia, Japan, France, Israel, and UK continue to invest billions in developing advanced weapons. Exporting defence equipment also adds to their economic might.
It's critical for India to become self-reliant in defence to get a firm foothold in the global economic hierarchy.
The recent ban on import of specific weapons is the first step in that direction.
There is a lot more to come.
I have explained it in my report - Unearthed: The Explosive ₹4 Lakh Crore Opportunity - which thousands are reading already.
But how can you become a part of this critical moment in India's history and to create huge wealth for yourself?
Well, the details are in two special reports I am about to send out today.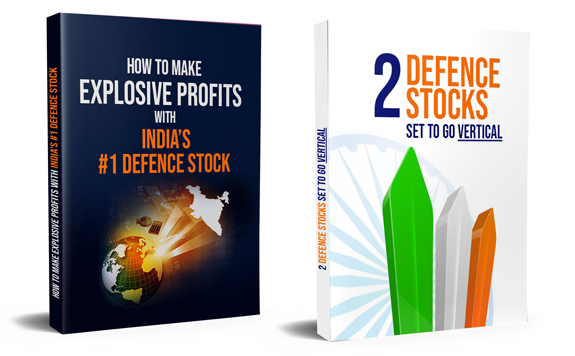 Like I said before, your "I was there" moment in history could be today.
Grab this opportunity now and ride one of the biggest megatrends to unfold in India over the next few years.
Warm regards,

Tanushree Banerjee
Editor, StockSelect
Equitymaster Agora Research Private Limited (Research Analyst)
PS: Join me at the Explosive Profits Summit at 5 pm today and find out how to create huge wealth for yourself from India's best defence stocks. Register for free here...
Recent Articles