When the Stock You Have Invested in Crashes 60%, or More...
Oct 23, 2018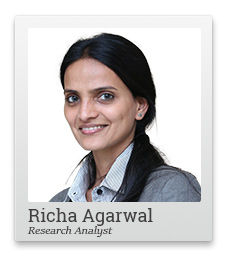 A few days ago, I wrote to you about the small cap bargains that the stock market is offering now.
Last week, the Sensex took a further 460-point plunge in a day.
The correction in the small cap space could go deeper.
And, with this correction, the stocks you have bought in the past, may fall further. Your high conviction picks can drop 40-60% in a few months in downcycles.
I'm not trying to scare you. But I want you to be prepared for the worst.
It's easy to be a long-term investor when markets are rising. All you need to do is hold on to your stocks. The market's rising tide will lift them.
But what happens during a bear market?
Many market participants forget about long-term investing. They stay away from stocks en masse...even the good ones. And if you have already invested in stocks where the price chart has sloped downward, you might even consider selling the stock to cut your losses.
In such times, it is important to accept that these downcycles are an integral part of the stock markets... especially small caps.
That's because small caps have low liquidity. Just one large investor dumping his holdings can cause the stock to fall sharply.
If you wish to build wealth in the long term, it is critical you do not let such corrections and negative sentiments make you exit stocks. In fact, you could consider buying more of the quality small caps that you have already invested in (provided you don't put too much money in one stock).
--- Advertisement ---


How to Survive This Stock Market Crash?

The market has entered a meltdown mode. Many wonder, what happens next?

Today we're going to show you how one could survive this Market Crash and even take advantage of it using our small cap stocks recommendation service.

We must say… this is a perfect time to get rich from this proven strategy.

Click here to learn more.
------------------------------
'But isn't this easier said than done?'... I can almost hear you think.
I can understand that nothing tests an investor's conviction more than rapidly falling prices.
Having said that - if you have done your homework, and understand the business and management well, it should not be difficult.
This isn't just plain talk. During my years as a research analyst and editor of Hidden Treasure, I have seen such phases many times. But I have never let the short-term price corrections (even in cases when stock was down by over 60%) influence my view on the stock.
As the chart below suggests, the approach has served us well.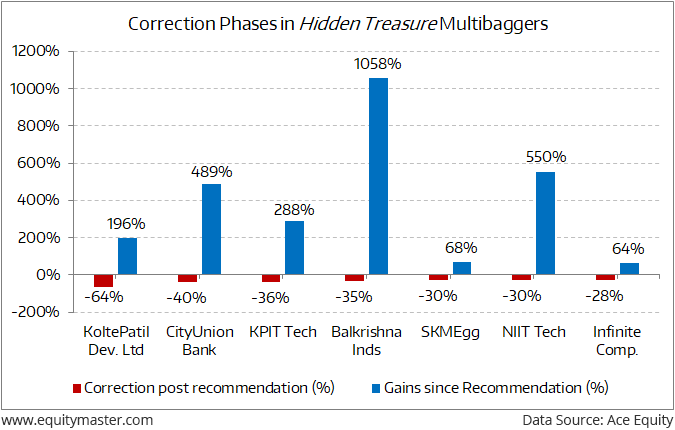 The chart shows the percentage drop (the red bars) in the stocks after I recommended them to Hidden Treasure subscribers, and overall gains from the recommendation price (the blue bars) in the long term on the same. Despite drops in the range of 30%- 65%, we held on to these stocks since we knew that the company was well managed and had good growth prospects. The stock was likely to do well in the long term. The short-term underperformance did not worry us at all.
We let the words of legendary investors guide us:
The stock market is designed to transfer money from the active to the patient. - Warren Buffett.
I'm accustomed to hanging around with a stock when the price is going nowhere. Most of the money I make is in the third or fourth year that I've owned something. - Peter Lynch.
It never was my thinking that made the big money for me. It always was my sitting. - Reminiscences of a Stock Operator.
If the job has been correctly done when a common stock is purchased, the time to sell it is almost never. - Philip Fisher.
--- Advertisement ---


A Chance to Grab Solid Small Companies For Dirt-Cheap… (Time-Sensitive!)

The market crashed recently and small cap companies on the whole have been severely hit. But believe it or not, that's actually a good thing for you.

Because if you act right now, you could grab a number of solid small companies for dirt-cheap.

Yes! Our latest special report reveals some small cap stocks you could consider investing in today.

And the faster you get into these stocks, the bigger your potential gains could be.

So click here to take advantage of this time-sensitive opportunity now!
------------------------------
Small cap stocks often go down before they go up.
Only long-term investors can make big money in these stocks. Speculators and momentum traders may not touch them for many years. Large institutions avoid them due to low liquidity and redemption pressures.
Your patience, as such, is the biggest differentiator and competitive edge as compared to all big investors out there. I hope you will not forgo this virtue in these testing times ...and instead make the most of some great buying opportunities on offer.
Regards,



Richa Agarwal (Research Analyst)
Editor, Hidden Treasure
PS: An intelligent investor should welcome market drops, says Richa Agarwal, Equitymaster's small cap investing guru. And we believe her. The markets are down now - are you ready to invest? If yes, click here to join her recommendation service.
Recent Articles