My Readers Are Profiting from My Winning Streak
Nov 1, 2019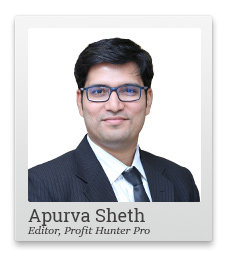 Last week we celebrated Diwali. It is the most auspicious time of the year. Diwali symbolizes the victory of good over evil, light over darkness, and knowledge over ignorance.
We started our day in the office on an auspicious note too. Most of our staff was dressed in traditional attire. We huddled together and prayed for our good health, wealth, and prosperity.
This is possible for us only if you, dear reader are happy.
Seeking Blessings from Goddess of Wealth
Now, I can't speak for all of you, of course but I can say, my Profit Hunter Pro readers were a happy bunch this Diwali.
After all, I did give them two reasons to celebrate. Let's look at both...
The auto sector was going through a rough patch until recently. However, things changed in September 2019.
I told you the worst could be over in the auto sector.
I was looking out for trading opportunities for my Profit Hunter Pro readers. That's when I found an opportunity in Eicher Motors.
I closed the recommendation at a profit of nearly 7% in just 9 days.
--- Advertisement ---
You're missing out on a profit source that's up to 200X bigger than stocks

Stocks have been performing terribly over the last 2 years...And it's probably cost you a lot of money.

But what if we told you that instead of stocks - there's another profit source that you can tap into...

One that's up to 200 times bigger than stocks...

And has the potential to deliver explosive payouts like Rs 63,400 in 1 day, Rs 18,250 in 1 day, Rs 13,950 in less than 12 hours and a lot more.

When you can tap into a profit source like this, you won't need to rely on stocks to build a fortune.

Now over the last 30 years, India's #1 trader has been using a special Blueprint to trade these profit sources...And we've convinced him to share it with you.

All you need to do is register for a special summit we're holding on the 26th of November.

Register now – it's free.

*Past performance does not guarantee future results.
*Two lots of each trade have been assumed to calculate the returns of all the backtest examples used.
------------------------------
On that day, I also wrote to you about another auto stock which was trading up by about 2% from my recommended price...
But you never know when it could shoot up like Eicher Motors!

The way auto stocks are moving up these days it seems like the stock could touch the target price soon. It could happen as early as Diwali.
Which stock was I talking about?
Maruti Suzuki
I recommended the stock to my Profit Hunter Pro subscribers on 15 October at a price of 6,985.75. The stoploss was 6,600 and the target was 7,600.
The stock had broken out of a flag consolidation. I knew it was only a matter of time before it went higher.
The stock moved exactly as per my expectations and we closed the position a day before the Muhurat session at the closing price of 7,471.
The gains were 6.95% in 11 days.
6.95% Gains in Maruti in 11 days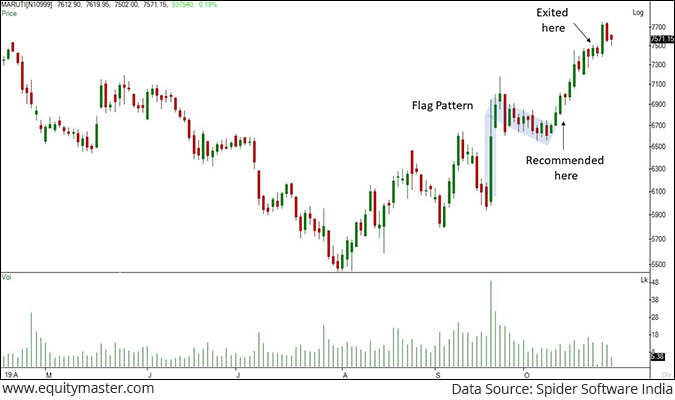 And that's not all...
We closed another stock on the very same day.
I recommended Page Industries on 9 October along with Eicher Motors. The stock took some time to move but when it did there was no looking back.
The stock was trading at a 50% discount.
It gave up nearly half of its gains after the corporate tax cuts. I recommended a buy at a level of 21,494.85. The target was 23,400 and stoploss was 20,600.
It took 17 days for the stock to hit its target. The gains were 8.86% on this stock.
8.86 % Gains in Page Industries in 17 days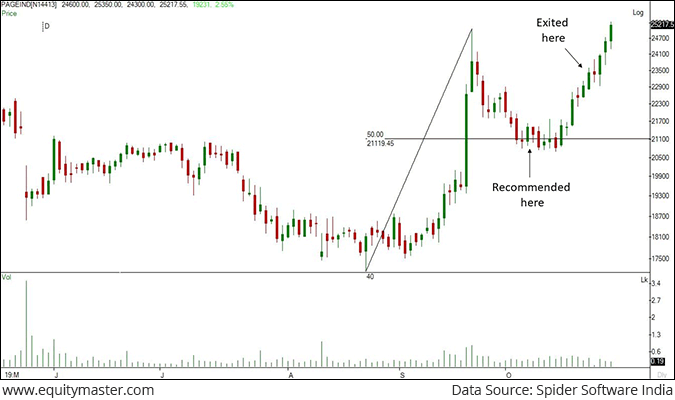 Like I said earlier, our subscribers were very happy after closing two recommendations with solid gains this Diwali.
My mailbox is flooded with emails. Here's one from a dear subscriber...
Dear Mr. Apurva,

Wish you a Happy Diwali. I am really happy to see you all at Equitymaster today huddled and celebrated Diwali and most importantly remembered all of us, subscribers.

Very few research companies in India have this in their DNA. This separates Equitymaster from the rest of the research companies.

What a Triple dhamaka you gave us. First Eicher, next Page industries and then Maruti.

What a perfect gift from Equitymaster to all the subscribers this Diwali.

Indeed! It's worth availing your service!

I wish Equitymaster reaches to many more customers across the world and help them attain the Financial Independence by subscription to Equitymaster Profit Hunter Pro.

Wish you more success this coming year.
This is just one among many emails I'm getting regularly. I am happy because my readers are happy.
If you would like to celebrate like them, then join me on the Profit Hunter Pro journey right now and be a part of this growing tribe.
Warm regards,

Apurva Sheth
Editor and Research Analyst, Profit Hunter Pro
PS: Identifying profitable trades like the ones you just read about, dear reader, demands a proven trading strategy. I've got you covered on that front because a proven trading strategy is exactly what I have developed for you. Read more about my strategy here.
Recent Articles