Chasing Value and Growth in Times of Elections and a Pandemic
Nov 3, 2020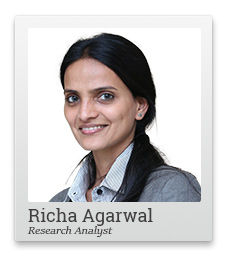 We are in the last leg of the US Presidential Elections.
From what I have been reading, world over the portfolios are being tweaked in anticipation of the victory of either Trump or Biden.
It's not just about who will win that is being speculated here.
But also, what this victory might mean for the stock markets.
In 2016, the experts saw a colossal failure in predictions on both fronts.
First, against the consensus, Trump won.
Second, unexpectedly, the US stock markets celebrated Trump's victory, instead of giving him a thumbs down.
So much for all the advanced data analytics and expertise!
Humans don't learn from history. This seems to be truer for experts.
My view is that we might have a very volatile week or maybe month ahead.
Eventually, money will find value. I believe if you are chasing value instead of liquidity, and have the patience, your investments will do fine.
--- Advertisement ---
The Smallcap Revival Summit

Join us on the evening of 20th May to learn,

• Why despite rallying over 100% since March-2020 lows... small-cap stocks are set for a massive rally over the coming months and years
• Details of our top 3 stocks to capture potentially huge gains from this upcoming small-cap rally
• And how to spot opportunities, even in the current market, with the potential to generate 200%, 400%, and even 900% long-term gains

Plus, there is a lot more that we are going to cover.

The summit is free to attend for Equitymaster readers.

But since there are limited seats, we would recommend you to register at the earliest.

Grab your spot for the Summit here. It's free.
------------------------------
To be honest, I'm a bit cautious these days while using the word 'value'.
You see, I have been reading many obituaries for value investing, especially in the post Covid market rally.
If you go by the media reports, value is out of favour, with more fund managers shifting to camp of growth investing.
However, I believe there is a fallacy in this broad and sweeping narrative.
You see, investing is multidisciplinary.
We have investors like Benjamin Graham who believed that the forecasting exercise is useless.
He said the best way to make money in the stock market is to buy cheap undervalued stocks priced below book value and let the mean reversion play out.
At the center of conventional value investing is the assumption that intrinsic value of a company mostly doesn't change.
It's about buying a stock whose intrinsic value you figure out to be Rs 100, at a discount of 35%-40% (at least), and then sell it as soon as the stock reaches the intrinsic value.
In other words, if you identify a stock with an intrinsic value of Rs 100, then buy it at Rs 60 to Rs 65 and sell it at Rs 100.
And then we have growth investors...
They seek out companies that offer strong earnings growth. They are not obsessive about valuations while buying growth stocks.
Both the approaches have worked in the past if you look at the history over the last few decades.
Get Details: We are Bullish on These 3 Little-known Stocks
However, in the recent years, the conventional value investors have lagged behind the growth investors.
Sensex is trading at 30 times P/E (price to earnings), a valuation that would make conventional value investors frown.
The obsession with growth stories is growing. In the US, FAANG (Facebook, Apple, Amazon, Netflix and Google) stocks are in fashion. Investors are willing to pay any price for them.
People are borrowing money to invest in Ant Group IPO, which is reportedly bigger than the GDPs of some of the top 50 countries in the world.
This brings out an interesting debate - What works: Value or growth?
And which camp you should belong to in order to maximise your wealth.
Let's look at some examples in the last five years:
Below is the list of companies I believe would have looked attractive to a conventional value investor in 2015...and their returns till date.
All the returns are on a CAGR (compound annual growth rate) basis.
Value Investing: A Performance Snapshot
Price to Book Value
Company Name
5 Year CAGR Returns (%)
Current
5 Years Ago
Steel Authority Of India Ltd.
-9.0
0.4
0.5
Shipping Corporation Of India Ltd.
-8.5
0.3
0.6
Gujarat State Fertilizers & Chemicals Ltd.
-0.8
0.4
0.6
Reliance Power Ltd.
-44.5
0.1
0.8
Noida Toll Bridge Company Ltd.
-28.1
0.3
0.9
REC Ltd.
-5.7
0.5
0.9
Bank Of Baroda
-24.3
0.3
0.9
Vedanta Ltd.
-2.2
0.5
1.0
Data Source: Ace Equity, Equitymaster
These stocks were available well below their book value 5 years ago.
But their price to book value has slid down further. Had conventional value investing been your philosophy, you would have ended up with losses.
--- Advertisement ---
[EXCLUSIVE] Webinar Invitation -
"Pandemic Impact. Economic Recovery. Investment Strategy - Insights Revealed!"

Date: May 21st | Time: 6pm | Venue: Your Computer

The Covid-19 crisis in India is said to be one of the biggest crises the country has ever seen.

Amidst this turmoil, investors are also questioning the future of their financial wellbeing.

In this exclusive webinar, Chirag & Sorbh will answer big questions like:

• How will the second wave of Covid-19 impact economic recovery?
• What asset allocation could you consider for uncertain times like this?
• Is the Indian stock market immune to the Covid-19 surge?

And many more...

Click Here to Register FREE for this Exclusive Webinar
[No Payments | No Credit Card | Absolutely FREE] | [Yes! I want to attend this Webinar]
------------------------------
But let's not jump to any conclusions yet.
Because the same approach would have delivered great results with another set of 'value' stocks.
Value Investing: A Performance Snapshot
Price to Book Value
Company Name
5 Year CAGR Returns (%)
Current
5 Years Ago
Gujarat Narmada Valley Fertilizers & Chemicals Ltd.
26.8
0.6
0.3
Godawari Power & Ispat Ltd.
35.5
1.0
0.3
Hindalco Industries Ltd.
16.1
0.9
0.5
Seshasayee Paper & Boards Ltd.
23.7
0.8
0.7
Maithan Alloys Ltd.
41.1
1.1
0.7
Manappuram Finance Ltd.
46.7
2.5
0.8
DCM Shriram Ltd.
24.4
1.3
0.9
Phillips Carbon Black Ltd.
37.9
1.3
0.9
Data Source: Ace Equity, Equitymaster
Let's see the performance of growth investing now:
Growth Investing : A Performance Snapshot
Price to Earnings
Company Name
5 Year CAGR Returns (%)
Current
5 Years Ago
CRISIL Ltd.
-1.4
48.1
66.4
Glaxosmithkline Pharmaceuticals Ltd.
-1.7
239.3
82.9
Symphony Ltd.
-3.1
36.6
56.0
Motherson Sumi Systems Ltd.
-0.6
56.5
53.2
Ajanta Pharma Ltd.
-0.3
31.1
39.9
Kajaria Ceramics Ltd.
4.8
40.4
35.5
La Opala RG Ltd.
-5.0
38.4
61.9
Data Source: Ace Equity, Equitymaster
5 years ago, these so-called growth stocks were available at valuations that would disgust classic bargain hunters. They might feel validated looking at the returns.
I hope you agree that justifying growth investing approach would be difficult, even for its staunchest supporters, given the results it has offered.
But again, this is just half the picture.
Here's another set of stocks that might have found favour with growth investors and would have made them proud.
Growth Investing : A Performance Snapshot
Price to Earnings
Company Name
5 Year CAGR Returns (%)
Current
5 Years Ago
Hindustan Unilever Ltd.
22.4
74.6
39.7
Astrazeneca Pharma India Ltd.
28.0
154.7
150.4
Asian Paints Ltd.
18.7
88.1
56.5
Relaxo Footwears Ltd.
20.2
83.1
51.2
Jubilant FoodWorks Ltd.
23.8
231.8
87.6
Pidilite Industries Ltd.
21.6
89.6
47.7
Bajaj Finserv Ltd.
27.3
142.5
198.3
DFM Foods Ltd.
27.2
70.0
40.6
Titan Company Ltd.
28.4
124.4
44.3
PI Industries Ltd.
26.2
68.7
34.5
Tata Consultancy Services Ltd.
16.9
34.5
23.9
Data Source: Ace Equity, Equitymaster
Now I know what you are thinking.
This analysis doesn't help to come to any conclusion on which approach wins. It also does not give an insight which will deliver results in the future.
Well, I believe that's the purpose of this analysis - To dispel the idea that one particular approach is superior to the other.
I believe that value and growth cannot be segregated. They aren't mutually exclusive.
We have seen cases where the book values have eroded overtime due to bad business models in the first place.
Buying them would have made no sense at any discount to book value, no matter how attractive. These are classic cases of value traps.
You cannot just look at price to book value multiples, or even past growth rates and make a smart selection of stocks which could guarantee you good results.
It ultimately boils down to knowing the businesses you invest in.
A stock that has delivered poor returns on capital across cycles and continues to be high in debt, is unlikely to offer a good return, no matter how attractive the valuations look.
Further, when you are picking growth stocks, relying on past growth numbers will not be enough.
You have to be reasonably confident that the growth is sustainable and virtuous in nature.
That is, the incremental growth should come with high returns on capital. In other words, every time one reinvests in the business, the return on incremental capital remain high.
If you can find such businesses, it would not hurt to enter their stocks at seemingly high multiples, that a typical value investor will never consider.
The next question is: What price should you be willing to pay for growth?
Let's say you have two businesses, or stocks A and B.
At the end of FY20, both have earnings of Rs 1,000. The P/E multiple for Stock A is 20 times , while for Stock B, it is 10 times.
Stock A pays no dividend and reinvests all the earnings back in the business.
Stock B, on the other hand, offers a dividend payout of 70%, i.e., 70% of its earnings are paid out as dividends, and 30% is reinvested back in the business.
Stock A is able to earn a return of 25% on the earnings reinvested, while stock B earns a return of 10%.
Which stock would you consider buying, from a 5 year perspective - Stock A with a P/E of 20 times, or Stock B with a P/E of 10 times?
Which Stock is Better from a 5 Year Perspective?
| | Stock A | Stock B |
| --- | --- | --- |
| Earnings (Rs million) | 1,000 | 1,000 |
| P/E Multple | 20 | 10 |
| Current Marketcap (Rs million) | 20,000 | 10,000 |
| | | |
| Dividend Payout | 0 | 70% |
| Reinvestment Rate (1-Dividend Payout) | 100% | 30% |
| | | |
| Returns on reinvested earnings | 25% | 10% |
A few years ago, I came across an illustration underlying how much one can afford to pay up for higher returns.
If I apply that to the above example, and assuming that after 5 years the P/E multiple of both stocks would be at 15 times, here's what your returns would look like:
| | Stock A | Stock B |
| --- | --- | --- |
| Earnings (Rs million) | 1,000 | 1,000 |
| P/E Multple | 20 | 10 |
| Current Marketcap (Rs million) | 20,000 | 10,000 |
| | | |
| Dividend Payout | 0 | 70% |
| Reinvestment Rate (1-Dividend Payout) | 100% | 30% |
| | | |
| Returns on reinvested earnings | 25% | 10% |
| Dividendsover next 5 years | - | 3,716 |
| 5th Year Earnings | 3,052 | 1,159 |
| 5th Year P/E Multiple | 15 | 15 |
| Marketcap after 5 Years | 45,776 | 17,388 |
| | | |
| Internal Rate of Return (IRR%, including dividend) | 18.0% | 12.2% |
Stock A, which one entered at a P/E of 20 times, and that offered no dividends, would have risen at a CAGR of 18%.
Stock B, with entry P/E of 10 times, and with dividend payout ratio at 70%, would have risen at a 12.2% CAGR.
So if you are reasonably confident of spotting companies that can grow and reinvest their incremental capital at high rates of return, be willing to pay up for the quality.
And mind you, this is not a verdict against value investing.
This approach just focuses on value that grows with time.
Find out more in this video...
Warm regards,



Richa Agarwal
Editor, Hidden Treasure
Equitymaster Agora Research Private Limited (Research Analyst)
PS: Join me for my #1 Stock for 2021 Mega Summit. Entry is free. Register here.
Recent Articles