Banks Are Booming in a Covid World
Nov 6, 2020
Banking was one of the worst affected sectors in the Indian stock market when Covid-19 struck.
The pandemic took a toll on businesses. Most of them were shut due to the lockdown. Sales were slack. Expenses fixed. Losses loomed large.
Salaries were cut and have still not reached pre-Covid level for many. The government stepped in and announced various measure to comfort the common man.
The moratorium on loans was one of them. Banks were asked to give a moratorium to their customers on their loans from March to August 2020.
Banking stocks were severely punished. No investor wanted to touch them even with a 10-ft pole.
But now they are chasing banks like never before.
--- Advertisement ---
The Smallcap Revival Summit

Join us on the evening of 28th January to learn,

• Why despite rallying over 100% since March-2020 lows... small-cap stocks are set for a massive rally over the coming months and years
• Details of our top 3 stocks to capture potentially huge gains from this upcoming small-cap rally
• And how to spot opportunities, even in the current market, with potential to generate 200%, 400%, and even 900% long-term gains

Plus there is a lot more that we are going to cover.

The summit is free to attend for Equitymaster readers.

But since there are limited seats, we would recommend you to register at the earliest.

Click here to register. It's free.
------------------------------
Check out the monthly returns of major sectors for the month of March and October 2020 in the chart below.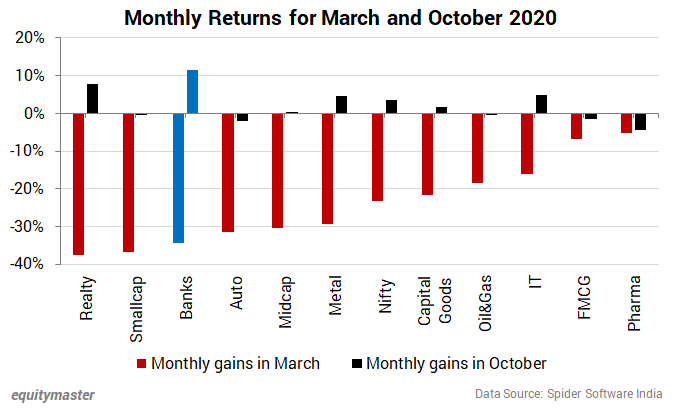 Banks were among major losers with a cut of 34% in the month of March.
Cut to October they are the biggest gainers for the month with 11% returns!
What could be the reason behind such a change in sentiment?
Many analysts believe banks are moving up because the uncertainty regarding the moratorium is clearing now.
BREAKING: Full Details of the #1 Investment of the Decade...
But I believe the writing was on the wall...or rather on the charts.
If you would have waited for the uncertainty to clear before investing in banks, then you would have waited far too long.
I showed a ratio chart of Bank Nifty to Nifty back in August. I told you that banks are in a sweet spot again and traders must look for opportunities in them.
Here's the chart once again...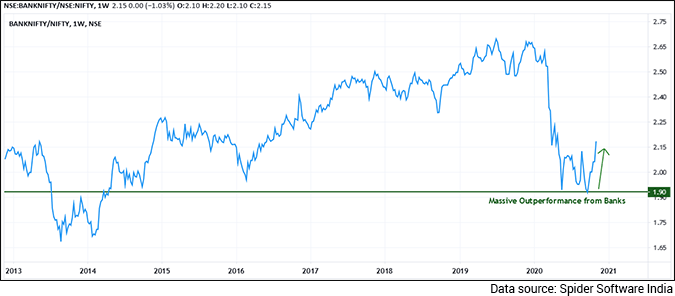 This is a ratio chart of Bank Nifty to Nifty.
Here I have divided the closing prices of Bank Nifty by the closing prices of the Nifty. It shows how Bank Nifty is performing relative to Nifty.
You can easily plot this chart on tradingview.com. Just type - BANKNIFTY/NIFTY in the ticker box.
A rising ratio line means Bank Nifty is outperforming Nifty. A falling ratio line means it is underperforming.
It is important to remember that a rising ratio line does not necessarily mean that Bank Nifty is rising and Nifty is falling. It simply means, Bank Nifty is outperforming Nifty. It could be that both are falling but Bank Nifty is falling less than Nifty.
--- Advertisement ---
Top 3 Stocks for 2020 and Beyond

We've uncovered 3 high-potential tech stocks after years of research.

These 3 cutting edge tech stocks could potentially create a wave of Indian millionaires.

First one is present in the sector which is expected to GROW over 300 times by 2030.

Second one is one of the leading players in Artificial Intelligence technology.

And the third one is involved in putting up a global safety net to save the world from cyber criminals.

These 3 tech stocks have the potential to offer life-changing gains in the long run.

Click here to get the details...
------------------------------
Bank Nifty was outperforming Nifty for a long time, since 2014.
But all hell broke loose in March when the pandemic struck. Banks dropped hard. The ratio crashed from a high of 2.67 to a low of 1.90 by May 2020.
All the major corrections in the ratio since 2013 found support around 1.90 levels. The ratio rebounded from this level in May 2020 but slipped lower in August.
I wrote to you that banks are set to outperform once again since the ratio was trading at a historical support.
The ratio held on to the support level of 1.90 and has even crossed the upper range of 2.10. If it's able to sustain above 2.10 then banks could catch momentum.
If it falls below 2.10 then it has a strong support around 1.90. You can use dips to 1.90 to look for trading opportunities in banks.
Either way banks are set to outperform the broader markets going forward.
Investors normally think of private sector banks only when it comes to buying banking stocks.
Public sector banks are often ignored and rightly so. Their financials are normally in dire straits compared to private banks.
But you must not overlook this.
I believe PSU banks offer the best investing opportunity right now. Check out my video on contrarian trading in PSU banking space below.
Warm regards,

Apurva Sheth
Senior Research Analyst, Fast Profits Report
Equitymaster Agora Research Private Limited (Research Analyst)
PS: Dear reader, get Richa Agarwal's recommendation report of the top stock to buy for 2021... by clicking here.
Recent Articles