Crash Alert! Is There a Big Bubble in Nestle, HUL and Asian Paints?
Nov 7, 2019
No list of quality stocks in India is complete without names like Nestle, HUL, and Asian Paints.
Over the years, these bullet proof franchises have survived everything the competition has thrown at them. In fact, they have gone from strength to strength.
Little wonder, investors have gone gaga over them. They can't seem to get enough of these stocks.
What else could explain the meteoric rise in valuation multiples of these stocks in recent years?
PE Multiples: Up, Up and Away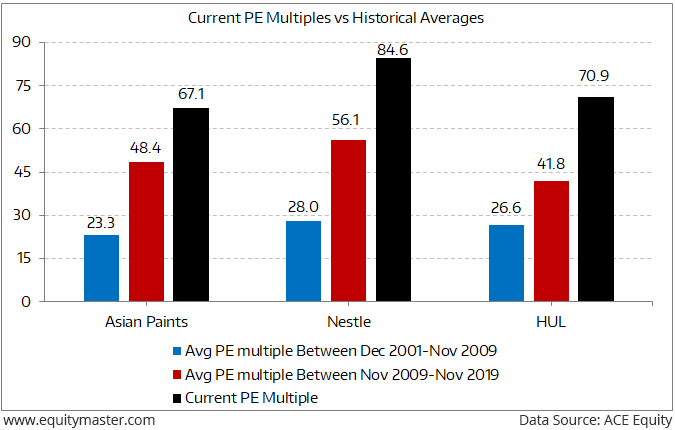 All the three stocks have commanded significantly higher PE multiples in the last decade than in the previous decade.
Furthermore, their current PEs are unlike anything we have seen in the past.
In fact, so optimistic are investors about their future that all of them are trading 3x higher than the entire Indian stock market if we use the Sensex PE as a proxy.
But now doubts have begun to appear. Has this optimism reached dangerous levels?
What do you think?
Have the prices of these high-quality stocks been bid up so high that future gains will not be anything like in the past?
Have their multiples gone so out of whack that they may not even beat the 14%-15% long-term returns from the broader market?
My calculations seem to suggest this is indeed the case.
--- Advertisement ---
You're missing out on a profit source that's up to 200X bigger than stocks

Stocks have been performing terribly over the last 2 years...And it's probably cost you a lot of money.

But what if we told you that instead of stocks - there's another profit source that you can tap into...

One that's up to 200 times bigger than stocks...

And has the potential to deliver explosive payouts like Rs 63,400 in 1 day, Rs 18,250 in 1 day, Rs 13,950 in less than 12 hours and a lot more.

When you can tap into a profit source like this, you won't need to rely on stocks to build a fortune.

Now over the last 30 years, India's #1 trader has been using a special Blueprint to trade these profit sources...And we've convinced him to share it with you.

All you need to do is register for a special summit we're holding on the 26th of November.

Register now – it's free.

*Past performance does not guarantee future results.
*Two lots of each trade have been assumed to calculate the returns of all the backtest examples used.
------------------------------
These companies will have to grow their earnings at a massive rate to justify the current high multiples.
How massive?
Well, growth in the range of 40%-50% will be needed.
Put differently, the market has factored in an annual earnings growth rate of 40%-50% over the next 10 years in the current stock prices of these companies.
This is massive. None of these companies have managed these growth rates in the past. Historically, both HUL and Nestle have managed to grow earnings by than 10%-12%.
For Asian Paints, the historical earnings are slightly higher at 18%. But still well below the 50% that it is expected to grow at over the next 10 years if it is to justify the current high multiples.
Some of you might dismiss my assumptions as too conservative. And perhaps that is really the case.
However, in the case of these stocks, the gap between what is required and what they can realistically achieve is so huge, I believe they have a strong chance of underperforming the market.
Valuations for these stocks have gone up so high, there is no other option for them but to come down.
Besides, reversion to the mean is an iron law in finance. By that I mean, whatever goes up must come down and whatever is down must go up.
Just a decade ago, HUL was facing what is now famously called as 'a lost decade'. Its share price had gone nowhere for almost 10 years.
Does a similar fate await the company and the other two stocks?
Maybe my view is too extreme.
However, I won't be surprised if these stocks turn out to be underperformers over the next decade unless valuations come off and fall back to the long-term average.
Warm regards,



Rahul Shah
Editor and Research Analyst, Profit Hunter
PS: Equitymaster's small cap guru, Richa Agarwal, has found a tiny stock, currently trading at around Rs 300 per share, which has explosive profit potential. I believe it could be Richa's top pick for 2020 and beyond. Read more about this money-making opportunity here.
Recent Articles