Stocks that Could Shine More than Gold After Diwali
Nov 17, 2020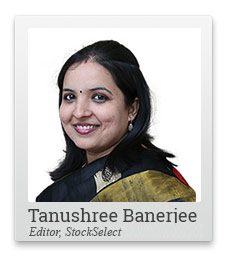 I hope you had a great Diwali weekend dear reader!
We at Equitymaster always strive to make your investing journey more prosperous than ever.
But I must tell you an important fact.
Milestones like Sensex 43,000 and 44,000 come and go.
So, investing keep such days and milestones in mind can be very myopic. It could even hurt your long-term prosperity.
Therefore, please take the Diwali trading tips, coming your way, with of a pinch of salt.
Rather focus on assets and investing methods that could let you enjoy prosperous Diwalis for years to come.
No doubt, investing in gold is considered auspicious on Dhanteras.
--- Advertisement ---
Like a Gold Mine for Investors?

Our co-head of research, Tanushree Banerjee, believes this is like a gold mine for investors.

Here's more...

Let's look at some of the most successful companies in the world today...

– Volkswagen Group, which owns Audi, Bentley, and
– Lamborgini
– Toyota
– Apple
– Samsung
– BMW
– Siemens
– General Electric
– Dell
– Boeing

What is common between them?

Well, the answer to this question is the key to finding multibagger stocks.

Tanushree revealed it all during our special event, The Great Indian Wealth Project.

If you missed this event for some reason, then you can watch the special replay of this event.

Click Here to Watch the Replay...
------------------------------
My colleague Vijay Bhambwani has shared some interesting views on that.
But according to me, the time is right to take a close look at your overall asset allocation and not just gold.
When it comes to stocks, Sensex 43,000 is a milestone probably no one expected in 2020, amid the pandemic.
However, the Sensex's rise from 25,000 to 43,000 within eight months has been the sharpest ever.
Some stocks have only recovered from their March lows.
Some have done much better as these businesses are better placed to grow in the post Covid world.
But there are also those that have scaled 500% or more in the last few months alone.
Yes, you read that right.
About 20 odd stocks have become 6 baggers within months.
Watch Now: 3 Little-known Stocks We are Super Bullish On
And their fundamentals show very little to support such meteoric rise.
The rise in stocks over the past few months has been skewed, rational in some sectors, speculative in others.
Be sure to book profits where the rise is too much too soon.
I have, for instance, recommended StockSelect subscribers to book profits on 9 stocks in the last five months.
But that's not all.
You also need to have a strategy to pick the right stocks, in case the markets become volatile, over the next few months.
The volatility may be due to political uncertainties in the US.
Or due to a second wave of Covid-19 in India. I have discussed a matrix to help you tide over such volatile periods, very profitable, in my latest video.
There are stocks that are poised to shine more than gold, over decades, due to the megatrend tailwinds.
There are stocks that can gain 50% to 100% within months when bought at right valuations.
I have made a watchlist of them.
So, I am here to help you book timely profits and pick safe stocks that could shine in your portfolio for years to come.
Stay tuned.
I wish you and your family a very happy, healthy, safe, and prosperous year ahead!
Warm regards,

Tanushree Banerjee
Editor, StockSelect
Equitymaster Agora Research Private Limited (Research Analyst)
PS: The transcript of Richa's No 1 stock for 2021 mega summit is available for a limited time. Read it here.
Recent Articles