Investing in Small Caps - Read this Before you Buy
Nov 23, 2018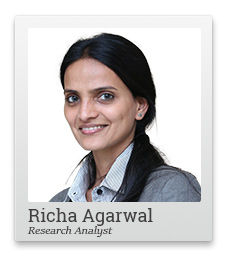 I see many investors scared these days.
The last six months have shaken up many of them, and probably even you. The stock market had been doing so well before that... everything was going up. Where did it all go?
Perhaps the most shaken up are small cap investors.
And of course they are. A single glance at the BSE Small Cap Index' price to earnings ratio is enough to tell you why - it's in the negative.
How can it be in the negative? Well, this is because its EPS (earnings per share) is in the negative. This means that the companies that make up the index put together are making losses right now.
And their stocks have promptly followed suit.
Small cap stocks have seen the biggest declines in the market during the last six to nine months.
However, it is important that one sees this in the right background. India has, for many years now, been in the throes of an economic slowdown.
--- Advertisement ---


Be Greedy When Everyone Else Is Fearful...

The current market crash is indeed a cause of concern for most investors.

But if you're an opportunist, it could be a blessing in disguise.

Tanushree Banerjee, our Safe-Stocks Expert, has carefully picked 7 Blue chip stocks for her loyal subscribers and they're now available at bargain prices.

But these stocks may not be available at such attractive valuations for long.

So before it's too late, claim our special report - 7 stocks To Profit From This Market Crash.
------------------------------
Business moves in cycles, and we're firmly in the 'down' part of the cycle as things stand today. The economy has been in a tailspin for a few years now. It's only gotten worse since then. FY10 was perhaps the last year the economy as a whole turned in a robust performance.
And the downcycle has been harshest on smaller companies.
Smaller companies, though known for their higher growth potential, can be quite shaky during an extended patch of cyclical downturn. No wonder then, the last few years have been hard of them.
So should you avoid them? Certainly not! That would be a big mistake!
Why?
Even a cursory look at history will tell you that business has and always will move in cycles. And good news is a downcycle always gives way to an upcycle.
It is only a matter of time.
While corporate India is stuck in the down part of the cycle currently, as and when the economy gives way to an upcycle, the capitalists' instinct will ensure companies will be quick to take advantage and to benefit.
And small caps will be the biggest beneficiaries of this.
The upturn in their performance during such times is usually swift, and big. Not just at the business level, but also at the stock level.
--- Advertisement ---


These 7 Stocks Could Potentially Build One A Hefty Retirement Nest Egg.

Building a retirement nest egg isn't easy by any means.

To be honest it could be tricky if one doesn't invest in the right stocks.

But with our premium service Stock Select which has an undisputed track record of delivering a WIN percentage of nearly 74% in the last 16 years, building one's retirement nest egg becomes way easier.

In fact, Tanushree Banerjee, the editor of StockSelect, has just put together a report containing 7 stocks that could potentially build a solid retirement nest egg for her loyal Subscribers.

Click here to claim your FREE report and an additional year of StockSelect for FREE.
------------------------------
This played out post the 2002-03 downturn, and then again during the 2008-09 subprime crisis induced downturn. Both the small cap index as well as individual small caps saw massive gains when the economy began to recover.
There is no reason why it will be any different when the current downturn gives way to the next upturn.
And don't make the mistake of waiting for signs of a recovery before you buy them. If you do, you won't get to buy fundamentally sound small caps at the attractive prices they are available at right now.
The time to buy them is today!
Regards,



Richa Agarwal (Research Analyst)
Editor, Hidden Treasure
PS: Have you bought your fair share of small cap stocks - now is a good time to collect them. When the cycle rises again - this will put you in a very good position for profits. Sign up now to get access to the best small cap stocks out there today.
Recent Articles