Patel's Exit, Election Results, and 4 'Must Have' Small Caps in These Exceptional Times
Dec 11, 2018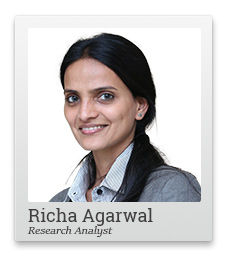 Unless you have been living under a rock, by now you have heard of Mr Patel's resignation.
Urjit Patel, a rather quiet guy, especially so when compared to his predecessor Mr Rajan, has finally publicly expressed his voice of dissent with this government.
RBI, so far a stable pillar for India's economy, seems to be on a shaky ground now.
Amid serious clashes with the vested interests of the government, one wonders for how long the central bank could remain autonomous and guard the economic ship amid uncertain global waters.
Patel's sudden exit is dire enough to shake the confidence of global investors in the Indian economy.
But I would leave the economic commentary to the economists...and would rather talk about investing.
Today is a double jolt for markets:
One, the shocking exit of the RBI Governor.

Second, the assembly election results.
As I write this, we are yet to see the full consequences of both. The next few days are quite likely to be volatile for the markets.
--- Advertisement ---


We Hope You Haven't Bought This Book From Amazon

One of our most popular books, Equitymaster's Secrets, is available on Amazon for Rs 1,450...

We'd say it's cheap even at that price, considering it contains a wealth of secrets and wisdom from our 20+ years of successful stock-picking.

But as an Equitymaster reader, you shouldn't have to pay that much for this book...

Which is why, for a short while only, we're giving away virtually free copies of the latest version of this book to the first 500 readers to act.

Here are the details.
------------------------------
Honestly, I have no advice to offer if the short term is what you are playing for.
However, if you are interested in a minimum three-year investing horizon, you should read on.
A few days ago, I wrote about some famous investment strategists' formal announcement to stop coverage on small caps.
After all, for a lot of them, the short term dramatically affects their prospects. And overall market trading volumes are totally skewed in favour of large caps.
I will not be surprised if market participants distance themselves even further from small caps in these uncertain times. For liquidity reasons, small caps often take the biggest hit due to any events that is perceived negative.
But where others see fear, I see the opportunity - quality small caps available at an attractive price.
And it's not just about how big the gains could be...
I believe that in the current markets, these small cap stocks could be your safest bets.
Safety in stock investing, as history suggests, is not a function of size. Take these recent examples of stocks that were not too big too fail - PFC, Sun Pharma, Vakrangee.
Safety in stock investing is a function of business fundamentals, and the competence, and most importantly, integrity, of the management.
Having researched small caps for a considerable part of my career, I can say with conviction that there are businesses in this space that are headed by the smartest people with strong value system in place.
And once you set a minimum liquidity cut off for your picks, they not only offer stability, but could beat some of the biggest businesses nearly three times in returns.
The long-term bet turns more in favour of small caps now, when small caps are facing significant correction for sentimental reasons.
Which means that you can get into quality small caps at a huge discount.
So, dear reader, I hope you will ignore the fear pervading small caps, and build lasting wealth by betting on what I like to call Rebound Stocks - stocks that are ready to bounce back up.
I have narrowed down and created a list of 4 stocks that are on the verge - or in some cases have already started their rebound.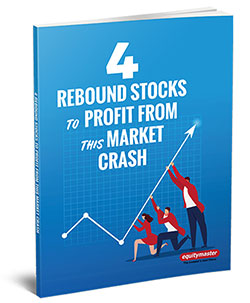 The first rebound stock: is a potential beneficiary of the growth in food and FMCG and discretionary consumption. It's the only company in the world to have a unique backward integration in its niche segment.
The second rebound stock: is the domestic market leader in a niche product that is used across industries. The company is set to become a pioneer in India soon with the launch of a new product with strong latent demand. What I like about the promoter is that he watches margins like a hawk. He does not hesitate to say no to opportunities where sales growth does not come along with healthy profit margins, a temptation that most are not able to resist.
The third rebound stock is a company in the business of transforming other businesses with software. With zero debt on the balance sheet, positive cash flows, healthy dividend payout and return ratios, and a great management at the helm of its affairs, the stock currently is offering a great attractive point at significant discount from its 52 week highs.
The fourth rebound stock is a textile company that is setting new standards when it comes to using technology to reinvent the business. With majority of the capex behind it, this company is set to reap rewards of the efforts the management has put in over last few years. The stock is down by over 40% from 52-week high, and anyone who gets in now is in for a very good rise in my view.
A small warning here: I can see the small cap index making some recovery. So these stocks may not remain actionable for long. Make sure you do not miss the chance, and the discount, to buy them.
If you are a Hidden Treasure subscriber and haven't seen this report yet just click here - 4 Rebound Stocks to Profit for the Market Crash.
If you want access to this premium report just sign up here.
Regards,



Richa Agarwal (Research Analyst)
Editor, Hidden Treasure
PS: If you have been under the impression that small caps are not safe to invest in, know that, especially now they are a safe and profitable way to make significant money in the markets. Richa's small caps are solid businesses selling at a discount in this market crash - get them now.
Recent Articles