My Latest Recommendation Combines the Best of Private and Public Sectors
Dec 17, 2019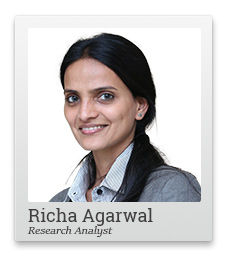 Imagine two colleagues at your workplace. One is impeccably dressed in formals, tall, and everything about him/her looks perfect. The second colleague is shabbily dressed with unkempt hair and looks disorganized.
What impression would you get about both? The first one in most cases would come across as hard working, intelligent and smart. On the other hand, the second colleague would be perceived as lazy, disorganized and not so smart.
First impressions or our perceptions form a big effect on how we judge things. Many a times it might not be true.
The American psychologist Edward Thorndike termed this as the 'Halo effect'. People tend to form a positive or negative perception on one's personality based on some unrelated characteristic.
In the Indian stock market, we do it with Private and Public (PSU) companies.
While private players are as seen as high-growth, efficient operators, the opposite goes for PSUs. Most of the PSUs are labelled as inefficient, no growth and dying companies.
In most of the cases, it is true as well. Inefficient employees and management, stagnant growth over decades has meant PSUs have lagged its private peers for large periods.
This has reflected in its stock price performance as well. Stocks like HDFC Bank, Titan, Eicher Motors, Page Industries and many more have outperformed PSUs like SBI, MTNL, BHEL by a huge margin.
But every now and then, the 'Halo effect' is seen in the stock markets as well. All the PSUs are put into one bad basket. Even the good ones. There are certain PSUs that have shown robust growth, is run efficiently and has a strong business model. Their fundamentals are as good as any private stock but still trades at a discount due to the 'PSU' tag.
Does it make sense to ignore such businesses? We don't think so.
If the business model is strong and numbers show an efficiently run business, we believe it is only a matter of time before the stock price performance catches up.
--- Advertisement ---
[URGENT] Closing Alert for Richa's No. 1 Stock for 2021

Gentle reminder that access to the details of Richa Agarwal's Top Stock Pick for 2021 will be turned off at 11:59 pm today.

This stock is effectively available for pennies on the dollar today and has the potential to deliver life-changing returns over the long term.

But you need to act fast... because the stock has already started to move.

We recommend you access all the details here right away.

Once 11:59 pm hits today, all the stock details will be made private and you will lose out on potentially the opportunity of a lifetime.

So, just continue reading it here right now...
------------------------------
We have found one such PSU for this month's Hidden Treasure recommendation. One that has all the characteristics that we associate with well run private companies.
For one, it is debt free.
It doesn't just come with healthy operating profit margins and return ratios, but with strong cash flows and mouthwatering dividend yield as well.
The current order book offers at least three years of revenue visibility. At a time when the wait for earnings revival seems to be never ending, this company has been reporting stellar growth in profits.
Last but not the least... The stock is still trading in the Buy zone.
But this may not be the case for long. I hope you will make the most of this opportunity while it lasts.
Warm regards,



Richa Agarwal
Editor, Hidden Treasure
Equitymaster Agora Research Private Limited (Research Analyst)
PS: On Friday 20 December, Equitymaster's co-head of research, Tanushree Banerjee, will reveal the Greatest Money-Making Opportunity of 2020 and beyond! Get the details of this event here.
Recent Articles