Does Your Stock Picking Strategy Pass the 'Faraday Test'? Mine Does...
Dec 28, 2018
I am sure by now you must have heard of my S.O.L.I.D. framework for identifying market beating penny stocks.
Each letter of the framework stands for a component that I think is crucial for zeroing in on the right penny stock.
Here's what each of them stands for.
S - Strong Balance Sheet
O- Owner's skin in the game
L - Long Term Business Viability
I - Income Generating and
D - Deeply Discounted Valuations
Individually, each of these components make a lot of sense.
But the reason I am quite confident of their collective power is because they pass what I call the Faraday test.
Michael Faraday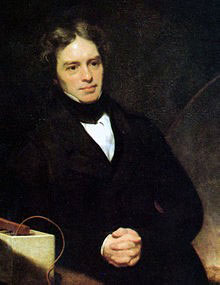 Source: commons.wikimedia.org/
Thomas Phillips
What is the Faraday Test?
I believe, in the pantheon of great scientific minds, Michael Faraday isn't quite given the credit he deserves.
In fact, if you ask a layman to name a few great scientific minds, it is likely Faraday won't be anywhere near the top of the list.
To me, though, he deserves to be named right alongside geniuses like Einstein and Newton.
Simply because he was probably the most unusually gifted experimental scientist.
The world is yet to see anyone as meticulous as Faraday when it comes to recording experiments.
Even when an experiment did not yield results, he used to take down such detailed notes that his is probably the most unbiased and honest scientific research ever published.
Little wonder, he played such a stellar role in the discovery of electromagnetism and electrochemistry.
What has this to do with penny stock research you must be wondering?
Well, my SOLID framework for investing in penny stocks has also passed through an extremely meticulous experiment.
And has come out of it with flying colors.
In investing parlance, these experiments are called back testing.
It usually involves going back a significant number of years and seeing how the strategy has held up when applied to real, flesh and blood stocks.
Here's how my SOLID strategy has performed for the 10-year period starting 2008 till 2017.
SOLID Penny Stocks = SOLID Outperformance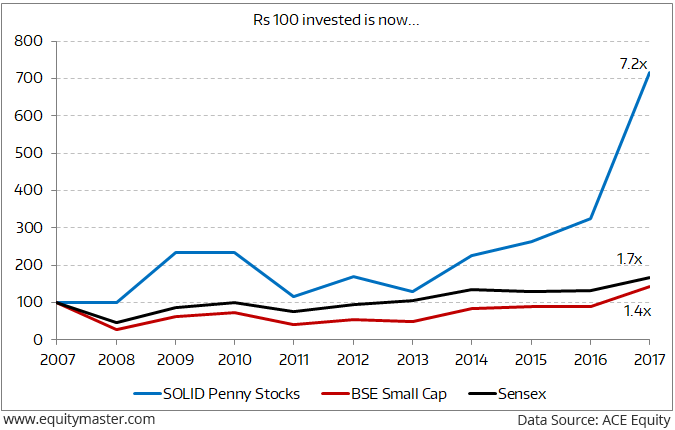 The strategy built around the SOLID framework has outperformed the benchmark indices by a huge margin.
It has returned more than 7x versus less than 2x returns given by the two indices.
This is why I am so positive about the collective power of the SOLID framework.
It just doesn't look formidable in theory, it passes the test of a detailed experiment aka back testing.
In other words, it works in real life too with much superior grades relative to the market.
And I strongly believe this is how it should be.
Given a choice between a strategy that sounds extremely sophisticated and ticks all the right boxes but hasn't been subjected to the Faraday Test and an extremely simple strategy that successfully clears the Faraday Test i.e. does well in back testing, no prize for guessing which one should be preferred.
With SOLID by your side, you will massively boost your chance of market beating long term returns.
Good Investing,



Rahul Shah (Research Analyst)
Editor, Profit Hunter
PS: For market-beating returns, try one of our best running offers that is open right now - get a free year of our small cap service that has beat the market nearly 3X for over a decade. Get your recommendations and your free year here.
Recent Articles