Load Up on These 3 Smallcaps in 2020
Dec 31, 2019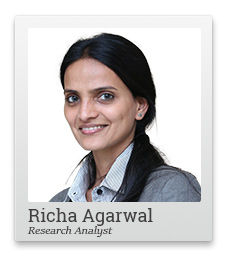 The year 2019 is drawing to a close.
There is hardly any cheer among investors despite Sensex touching new highs. The reason: The rally is driven by a few large caps and has left most of the stocks untouched. The blow was specially felt by smallcaps, most of which remained untouchables.
This isn't the first time smallcaps are witnessing correction. And yet, this was once in a decade kind of event.
That's because it was for the first time that the smallcaps remained in the red in two successive years.
The Divergence between Smallcap and Sensex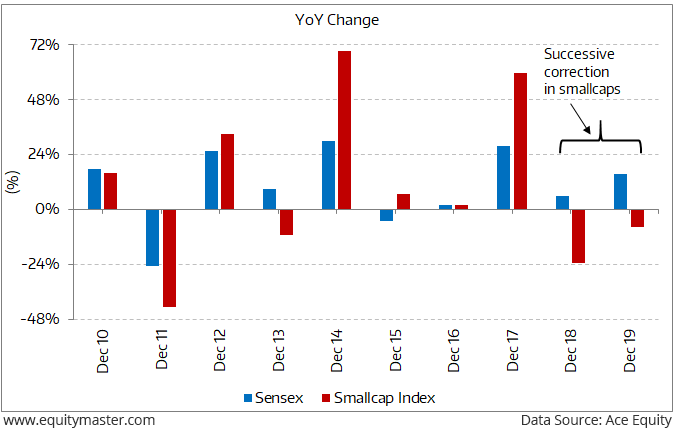 The mutual fund reclassification, liquidity squeeze, global trade tensions and recent reforms and policy changes kept investors on guard and away from smallcaps. It did not help that the economy growth itself slowed down to six-year low.
But amid all this macro data, a few interesting details are missing.
Ignoring these could deprive you of possibly the best money-making opportunity in 2020.
--- Advertisement ---

FREE Report: 7 Overlooked Multibagger Opportunities amidst the Coronavirus Scare...

Our Senior Research Analyst and Co-Head of Research, Tanushree Banerjee, has identified 7 stocks set to climb sharply in the coming years riding on a rare economic phenomenon in progress right now.

These 7 stocks are being overlooked right now amidst the Coronavirus Scare.

But Tanushree believes they could rise and enable one to potentially build wealth lasting generations from them in the coming years.

And the best part - till 11:59pm TOMORROW only...you can get Tanushree's special report with details of these 7 stocks virtually FREE.

To find out how, just click here...
------------------------------
I recently pulled out some financial metrics for smallcaps. And here's what I noticed.
The combined market cap of smallcaps has come down by 39% in last two years. As a result, the P/E (price to earnings) ratio for these smallcaps has fallen from 29 times to 13 times, offering huge margin of safety. It's time for long term value investors to be back in the action mode.
But here's the most interesting part.
You see, combined annual profits for these smallcaps have grown 33%.
Despite the growth in the profits, the biggest undoing for stocks in the smallcap space has been liquidity diversion away from smallcaps to largecaps. The average annual liquidity for these smallcaps has fallen by 50% in the last two years.
So, the real culprit here is not the performance of these companies... But multiple reasons mentioned above that have brought big investors in wait and watch mode before they come back to smallcap space.
Smallcap Space is All Set to Rebound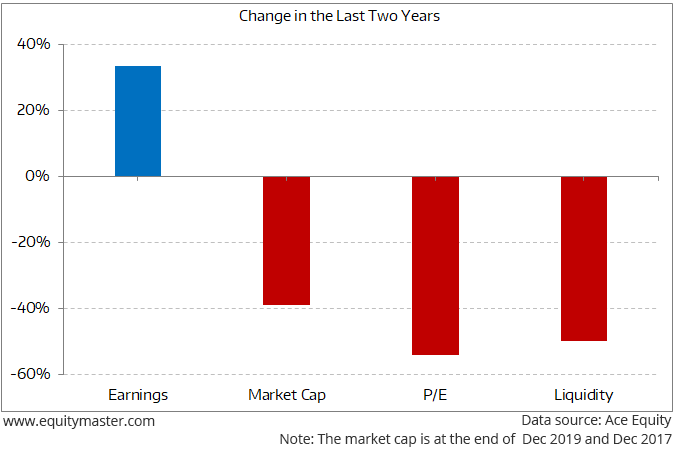 Please note that I have removed both the earnings and market cap of the companies that reported losses to avoid data distortion.
Also, I have removed companies with market caps that lie beyond the zone defined by new market regulator classifications for smallcaps.
Basically, the rebound in smallcaps is not just about mean reversion. It's a potent mix of better performance along with the rerating potential for solid smallcaps that are backed by efficient managements.
On the profits front, smallcaps have already scored well. As far as liquidity is concerned, like I had shared in my previous edition of Profit Hunter : The One Chart You Need to See to Profit from the Smallcap Rebound, there are initial signs of it coming back to smallcap space.
The wait from here might not be too long for the massive rebound opportunity to unfold in smallcaps. Make sure you take part in it. If you are wondering where to start, I recommend you to begin with my special report: Rebound Riches: 3 Stocks Set to Become India's Next Mega-Stocks.
Warm regards,



Richa Agarwal
Editor, Hidden Treasure
Equitymaster Agora Research Private Limited (Research Analyst)
PS: More than 4,000 people have viewed my Rebound Riches Mega Summit yesterday and received my top 3 stock recommendations. In case you missed the summit, you can watch it here.
Recent Articles