This Smallcap Tech Stock Soars 350% in One Year. What's Driving the Rally?
Jan 3, 2022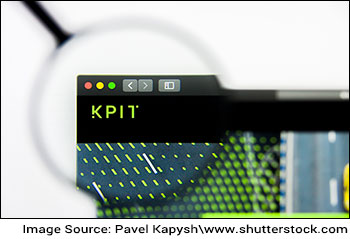 The Indian stock markets concluded the year 2021 on a high note, with the key benchmark indices reaching record levels, the largest flurry of IPOs in a year, and small investors rushing to join the frenzy.
For the year, a significant number of stocks have entered the multibagger pack. The multi-baggers of 2021 are mostly smallcaps and midcaps.
Today, we will look at one smallcap that delivered more than 350% return in the last one year.
The stock - KPIT Technologies - has been continuously hitting its 52-week high for the last six days. It's currently hovering around Rs 615.
In the past one year, the share price has jumped from Rs 130 to Rs 615.
What's driving the rally?
KPIT Technologies is a software integrator and is completely focused on the auto sector.
Nowadays, everyone in the markets wants to be associated with electric vehicles (EVs) and green energy, which are the hottest segments.
Any indication of a firm dedicated to these sectors attracts investor interest right away. This is precisely what has occurred in KPIT Tech.
KPIT Tech is Riding the EV Opportunity
The firm has the massive opportunity to tap into the EV and the automation market globally.
EVs are the largest area of expenditure for original equipment manufacturers (OEMs). This will help the company's growth as it offers software solutions to automakers.
As per a report published by CNBC India, Mr. Ravi Pandit, chairman of KPIT Technologies and chairman of Sentient Labs said EVs are a big part of KPIT's portfolio.
Pandit further said KPIT does a lot of cutting-edge work in this space and expects good growth globally, going ahead.
The shifting dynamics of the global auto industry will translate into stronger growth for the company as demand for tech-driven solutions rises.
Sentient Labs launches 1st indigenously developed hydrogen fuel cell bus
Sentient Labs, a KPIT Technologies-incubated innovation lab, has unveiled India's first indigenously built and manufactured hydrogen fuel cell bus.
Apart from long-distance buses and trucks, Sentient has also started working on powering ships with this technology.
Ravi Pandit said Sentient Labs was talking to Indian auto OEMs, tier-1 companies, and fleet operators to take the technology to market for large-scale adoption.
The bus can run for 600 km without stopping and their fuel cell technology would cost around US$400 per kilowatt compared to US$1,000 - US$12,000 globally.
Sentient Lab has identified constraints in battery technology, fuel cell technology, and hydrogen generating technologies. It's working with partners to build the ecosystem.
KPIT's multi-year deal with BMW
Last month, KPIT announced the signing of a large-scale order with German automaker BMW Group to develop software for its next-generation electric vehicle charging electronics program. The series order is spread over several years.
The company's combined powertrain coordination unit is designed to power the next-generation power electronics architecture of BMW battery electric vehicles (BEVs) and involves software development, integration, and maintenance.
As part of the strategic collaboration, KPIT has been nominated as the single-source software integration partner for the next-generation 11 KW combined charging electronics program powering the upcoming BEVs of BMW Group.
In the electric power train arena, KPIT earned a multi-million-dollar strategic engagement with a large European automobile manufacturer. The engagements pans over 5 years of software development and integration work. This will be followed by software maintenance.
According to the company, the overall purchase value is projected to be US$52 m.
KPIT Tech, dSPACE, Microsoft have teamed up to offer homologation solution for autonomous vehicles.
According to a report in Economic Times, KPIT Technologies, dSPACE, and Microsoft have teamed up to offer unique solutions for OEMs and Tier-1s seeking homologation (self-certification in the USA) for advanced driver assistance systems and autonomous driving.
Certification for autonomous vehicles requires millions of miles of testing, which can only be achieved through data-driven simulation.
A collaborative approach among experts in infrastructure, autonomous driving, and solution expertise will deliver efficiency and effectiveness through a one-stop solution for OEMs, thereby optimising technology spends. KPIT Tech will contribute its expertise in software development, integration, and validation to this collaboration.
The Company's Acquisition of Future Mobility Solutions
Back in September 2021, the technology firm announced the planned acquisition of Germany-based Future Mobility Solutions (FMS).
The board of directors of KPIT has approved the acquisition of an initial 25% shareholding in FMS. Over a period of three years, KPIT will acquire the balance shareholding. Full acquisition is expected by last quarter of the financial year 2023-24.
FMS will add certain unique proprietary offerings in the autonomous driving domain. The collaboration will boost KPIT's access to one strategic client with new offerings and strengthen KPIT's market position in Germany.
FMS is engaged in software and feature development in autonomous driving, ADAS (Advanced Driver Assistance Systems), vehicle safety, integration, and validation.
A bit about company financials and growth trajectory
The company reported a very strong September 2022 quarter with 21% growth in revenue and profit more than doubled in this period.
KPIT posted a net profit of Rs 651 m in September quarter. Its total income grew to Rs 6 bn from Rs 4.9 bn in the year-ago period.
Profit was supported by improvement in earnings before interest, taxes, depreciation, and amortisation (EBITDA) margin.
The company also reported very strong cash flow of Rs 1.7 bn and has made loan repayment of Rs 196 m.
'Year-on-year (YoY) the company has grown by 23%. Most of the growth has come into the fixed price projects, which has helped the company to use other parameters such as productivity improvement, more offshoring and better realization in terms of different business models', said Kishor Patil, Co-Founder, Managing Director and CEO at KPIT.
Going forward, KPIT is confident of sustaining its profitable growth momentum.
The Pune-headquartered firm raised its outlook for revenue and profit for 2021-22. The company said, for the financial year 2022, revenue growth outlook has been increased to 18-20%, while EBITDA margin outlook has been revised to 17.5+%.
How the stock markets reacted to KPIT Technologies
On Friday, shares of KPIT Technologies opened the day at Rs 605 on the BSE and Rs 608.1 on the NSE.
Its share price closed at Rs 612.9 (up 2.7%) on the BSE and Rs 613 (up 2.6%) on the NSE.
At its current price, it is trading at a P/E of 78.02.
The share touched its 52-week high of Rs 620 and 52-week low of Rs 127.6 on 31 December 2021 and 16 February 2021, respectively.
Over the last 30 days, the KPIT Technologies share price is up 24%. Over the last one year, the company's share price is up 358%.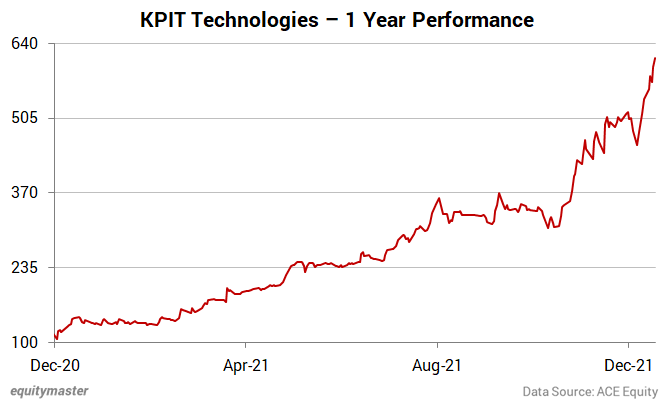 About KPIT Technologies
KPIT Technologies (formerly KPIT Cummins Infosystems) is an Indian multinational corporation headquartered in Pune, India.
KPIT was co-founded in 1990 by Ravi Pandit and Kishor Patil as KPIT Infosystems. In 2019, two companies underwent a merger and demerger, resulting in the creation of separate and publicly listed entities KPIT Technologies and Birlasoft.
While the latter operates in information technology services, KPIT Tech focuses on automotive engineering and mobility solutions.
KPIT is a leading independent software development and integration partner helping mobility leapfrog towards a clean, smart, and safe future.
With engineering centers in Europe, the USA, Japan, China, Thailand, and India, KPIT works with leaders in automotive and mobility and is present where the ecosystem is transforming.
For more details about the company, you can have a look at KPIT Technologies' factsheet and quarterly results on our website.
You can also compare KPIT Technologies with its peers.
KPIT Technologies vs Happiest Minds Technologies
KPIT Technologies vs L&T Infotech
To know what's moving the Indian stock markets today, check out the most recent share market updates here.
Disclaimer: This article is for information purposes only. It is not a stock recommendation and should not be treated as such. Learn more about our recommendation services here...