Sunil Singhania Increases Stake in this Smallcap Stock in Q3
Jan 10, 2023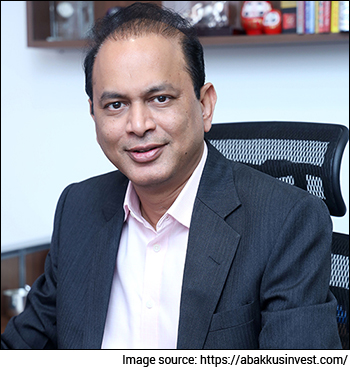 I asked a successful businessman how he made it through the thick and thin of business. He admitted struggling in the initial phases. Luckily, he joined at a time when his father was still in the business.
He said that no business school, university, or a college could teach him what he learnt by observing his father run the business. He built a fortune based on his father's advice and experience.
Thus, a rookie following a veteran is one of the most successful strategies which also holds for investing in the stock market.
A retail investor often tracks investing activities of the big names to see how they are earning market beating returns.
This doesn't mean totally copying their portfolio but keeping track of their buying and selling activity...it helps in understanding what the big names are up to.
In today's article, we take a look at a building material stock recently bought by Sunil Singhania.
A word about Sunil Singhania and Abakkus Asset Manager LLP
Abakkus Asset Manager is an investment management company founded by Sunil Singhania, who was the CIO of Equity Investments at Reliance Mutual Funds.
Sunil Singhania has a track record of over two decades in equity markets and he played an important role in building Reliance-Nippon MF into one of India's largest asset management companies (AMCs).
Which building material stock did Sunil Singhania buy and why?
The latest shareholding pattern of Stylam Industries shows that Sunil Singhania via Abakkus Growth Fund increased stake in Stylam Industries during September-December 2022 quarter.
As of September 2022, the growth fund's stake in the company stood at 2.27%. In the quarter that ended on 31 December 2022, the stake increased to 2.39%.
As of 31 December 2022, the growth fund holds 4.1 lakh shares in the company.
While we don't know why Sunil Singhania bought more shares of Stylam Industries, there are some reasons that we can guess...
Stylam Industries is associated with the building materials sector.
In 2022, building materials companies were under pressure. The cost of construction increased up to 28% according to some reports. This is quite higher than pre-pandemic levels. This had a deep impact on the margins and operational schedule of construction material companies.
However, as the market expects the Russia - Ukraine war to be over soon, we might see crude oil prices come down which will bring down the input cost for building material companies. China lifting its zero Covid-19 policy is also a big sigh of relief for building materials companies and the real estate sector as a whole.
Input cost tailwinds could support the margin expansion of Stylam.
So that could be one reason...
Another reason is the bullishness towards real estate sector. Singhania has earlier taken exposure to a company operating in a similar segment. You can read about it here.
The real estate sector demand is expected to pick up in 2023 which is an indirect boost to the building material sector. The encouraging demand context would raise utilisation levels and drive healthy revenue growth.
Remember a couple of weeks ago when steel stocks were rising and Tata Steel, JSW Steel, among others recorded 6-7% rally in a day? This was partly due to the rebound in real estate sector.
For Stylam, having a strong brand presence in the market will help the company retain its position in exports. Domestic sales of the company will also be on the rise because of its wide distribution network.
So there's the second reason.
Finally, the company has robust financials.
On a compound annual growth rate (CAGR) basis in the past five years (from March 2018 to March 2022), the company's sales and profits have gone up by 18% and 32%, respectively.
The company has even brought down its debt significantly.
Financial Snapshot of Stylam Industries (2018-2022)
| Particulars (Rs in m) | FY18 | FY19 | FY20 | FY21 | FY22 |
| --- | --- | --- | --- | --- | --- |
| Total Income | 3,364.00 | 4,606.00 | 4,621.00 | 4,795.00 | 6,593.00 |
| Growth | - | 36.90% | 0.30% | 3.80% | 37.50% |
| Gross profit | 493 | 799 | 644 | 990 | 1037 |
| Gross profit margin | 14.70% | 17.30% | 13.90% | 20.60% | 15.70% |
| Net profit | 201 | 388 | 189 | 553 | 611 |
| Net profit margin | 6.00% | 8.40% | 4.10% | 11.50% | 9.30% |
| Long term debt | 424 | 976 | 357 | 215 | 91 |
| Debt equity ratio | 0.3 | 0.5 | 0.2 | 0.1 | 0 |
Source: Equitymaster
In fact, not only Abakkus Growth Fund, even FIIs have been bullish on Stylam Industries. In the past four quarters, FIIs have consistently increased their stake in the company. As of 30 September 2022, FIIs held a 5.5% stake in the company.
Adding to some more positives, the company has big expansion plans in the pipeline. All these reasons appear compelling enough and we believe that is why Singhania might have turned bullish on the company.
How shares of Stylam Industries have performed recently
Over the last one month, the share price of Stylam Industries has lost 7%.
In the past three years the company has given multibagger returns of 113%.
The company touched its 52-week high of Rs 1,269 on 16 August 2022 and its 52-week low of Rs 760.2 on 26 May 2022.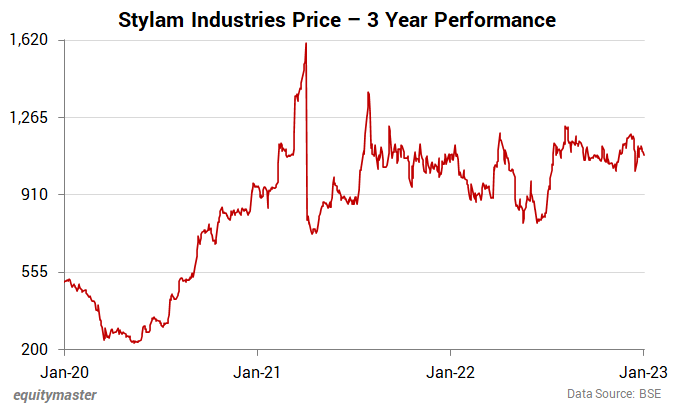 About Stylam Industries
Stylam Industries was earlier known by the name of Golden Laminates. The company started its journey to success in the manufacturing of luxury grade decorative laminated sheets for both residential as well as industrial applications.
Currently, Stylam Industries is engaged in the manufacturing and supply of high-pressure laminates. Its product portfolio includes decorative laminates, acrylic and solid surfaces, exterior cladding, and restroom cubicles.
To know more about the company, check out its factsheet and quarterly results.
You can also compare the company with its peers:
Stylam Industries vs Greenlam Industries
Stylam Industries vs Suncare Traders
Investment in securities market are subject to market risks. Read all the related documents carefully before investing
Want to Grow Your Wealth With Safe Stocks?
If you want a simple, safe, and hassle-free approach to long term wealth building...
Without having to worry about negative news or every little downswing in the market...
And without having to worry whether your investments will actually "deliver"...
You must read our note on Blue Chip Stocks now.
Details of our SEBI Research Analyst registration are mentioned on our website - www.equitymaster.com
Disclaimer: This article is for information purposes only. It is not a stock recommendation and should not be treated as such. Learn more about our recommendation services here...