These Penny Stocks Started 2022 with a Bang. This is what You Need to Know...
Jan 19, 2022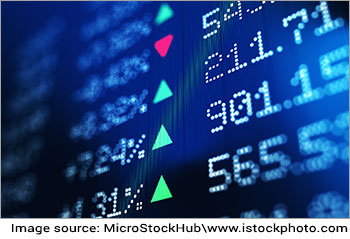 Indians have had enough of the different variants of Covid-19. They're ready to leave any kind of bad news behind. The same can be observed in the stock market.
Just two weeks into the year, stocks have rallied, delivering returns of 30% and more.
Penny stocks, the most volatile of the lot, are leading the way. In fact, a few of them have soared more than 35% in the last fifteen days.
Here are five penny stocks that started 2022 with a bang.
#1 Precision Wires
The first company on our list is Precision Wires, the largest winding wires manufacturer in South Asia.
It has given close to 35% returns in 2022 so far. The stock has been on an uptrend since the company announced a stock split.
Precision Wires is one of the leading players in the organised copper winding wire market in India. The company has a global presence across 18 countries.
Its product portfolio consists of winding wires and conductors used in many industries, including power, construction, consumer durables, transformers, and automotive.
Some of its clients include Godrej, BHEL, General Electric, Bosch, Siemens, and Mitsubishi Electric.
Precision Wires is a debt-free company and will benefit from the government's thrust on energy-efficient electrical equipment. The replacement demand will be high for less efficient equipment. This in turn will increase the demand for copper wires, the primary business of the company.
In the recent quarterly results, the company's revenue grew 80.6% year on year (YoY), driven by higher demand and realisations. Net profit also grew 50% YoY.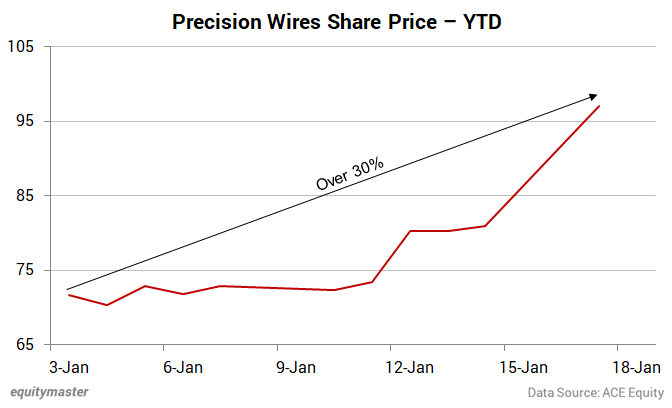 #2 Texmo Pipes
Next on our list is Texmo Pipes, an established player in the plastic pipes and fitting business.
The stock has also delivered over 35% returns in 2022 so far after the company started the commercial production of its project 'Water Tank'.
It manufactures polyvinyl chloride (PVC) pipes, high-density polythene pipes, soil, waste and rainwater pipes, and suction pipes for its clients.
Its clients are Tata Power, Indian Railways, BSNL, Power Grid Corporation, and Siemens.
The company has a capacity of 2,500 tonnes in its manufacturing facility in Madhya Pradesh. It's planning a capex of Rs 245 m to expand its capacity in its existing plant with a mix of equity and debt.
It recently won orders worth Rs 484 m for its high-density polyethene pipes, indicating higher demand.
In the recent quarterly results, the company's sales grew by 58.9% YoY due to high demand. The net profit also jumped 220% YoY due to the high sales growth as well as an increase in realisations.
The promoters have increased their stake in the company by 9.3% since 2018.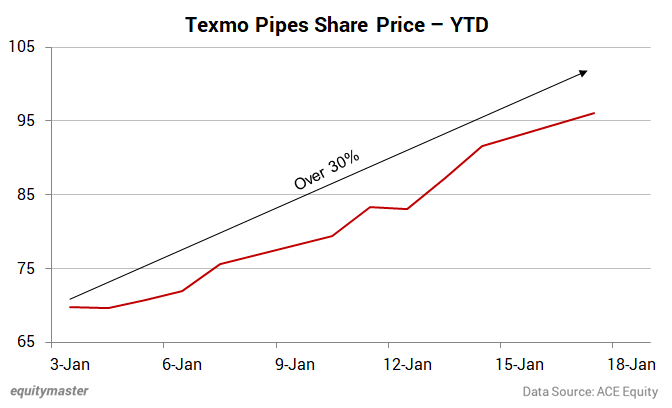 #3 Pudumjee Paper
Third on our list is Pudumjee Paper Products.
The company's shares have risen by over 10% since the first trading session of 2022 after the finance ministry imposed an anti-dumping duty on decor paper for five years to boost the domestic industry.
It manufactures writing, speciality, printing, and tissue paper used in printing, packaging, baking, textile, and processed food industries.
The company also offers hygiene products, including kitchen rolls, sanitisers, disinfectants, hand wash, and soap dispensers under the brand name Greenlime, Lush, etc.
It has a pan India presence and exports to South-East Asia, Europe, and U.A.E. The company currently has a capacity of 72,000 tonnes per annum in Pune. It plans to expand its capacity by relocating to a new facility with advanced technology.
In the last couple of years, the company has been actively reducing its debt, paying almost Rs 510 m. It has reduced its long-term borrowings by 73%.
For the September 2021 quarter, the company reported a 30% growth in revenue (YoY) at Rs 1.3 bn due to higher demand. However, the company reported a net loss of Rs 94 m due to higher raw material prices.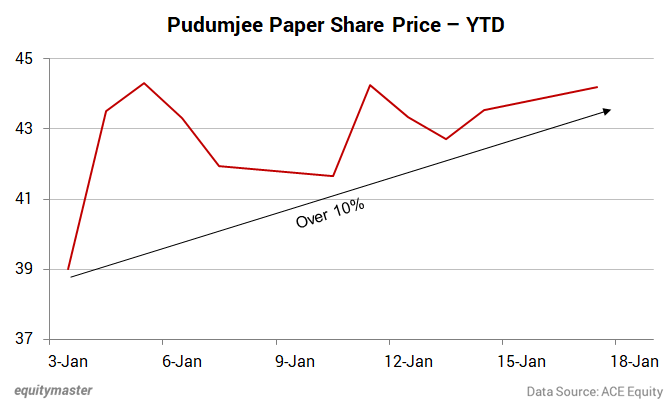 #4 Sutlej Textiles
Fourth on our list is a leading textile solutions provider, Sutlej Textiles.
The company's shares have soared 18% since the start of 2022. This is mainly due to growth in Indian exports of cotton and apparel. It produces a range of products from yarns to fabrics and home furnishings. Some of the most reputed companies are its clients, including JCPenney, Marks and Spencer, Arrow, Grasim, Raymond, and Siyaram's.
The company has the largest portfolio of yarns and fabrics manufactured at its four state-of-the-art manufacturing facilities with a total capacity of 421,000 spindles.
It has been actively upgrading its manufacturing facilities. In the financial year 2021, it spent Rs 370 m to replace old machinery and modify the existing plants.
The company has also been expanding its home furnishing business and launched a new brand Nesterra in December 2020.
In the recent quarterly results, the company's revenue grew 68.8% YoY due to strong demand. Net profit also jumped over 700% YoY.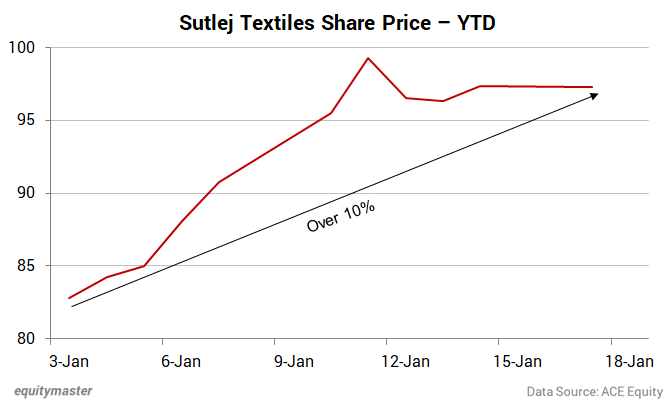 #5 Jagran Prakashan
Last on our list is Jagran Prakashan, a media conglomerate.
The company's shares have gone up 18% since the first trading session of 2022.
Jagran Prakashan initially started its business with printing and publishing newspapers and magazines. However, it has expanded its portfolio in the last few years to FM radio, outdoor and digital advertising, event management, and promotional marketing.
A few of the company's popular brands include Dainik Jagran, Mid-day, The Inquilab, and Radio City, among others.
It operates 34 printing facilities across different states and union territories. The company has 84 m readers, ten publications, 39 radio stations, and 15 digital portals across 10 languages.
In the recent quarterly results, Jagran Prakashan's reported a 39.2% YoY increase in revenue driven by print, radio, and advertising business growth. Its net profit grew by 503% YoY due to cost-rationalisations measures undertaken by the company.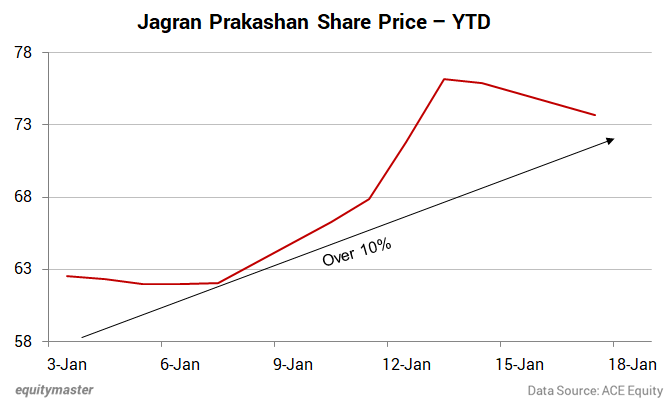 Will the penny stocks rally continue?
The economy is returning to normal despite the emergence of new variants of Covid-19.
The industrial output (IIP) has grown 1.4% in November 2021 and 17.4% from April to November 2021 against a contraction of 15.3% during the same time last year.
Many companies have been reporting growth in sales and profits in their quarterly results for the first time since the pandemic hit.
With positive macro and micro indicators, the markets ought to be green. Positive speculations around the budget are also aiding the market rally.
Penny stocks are also benefitting from this bullish market sentiment.
But will this rally continue?
Penny stocks react to small market movements. During a market rally, they end up giving high returns to investors. But they also come tumbling down just as soon. Hence while investing in them, you have to practice caution.
It would be wise to check the fundamentals and valuations of companies before investing. One should also invest for the long term. This would help in avoiding the pitfalls related to timing the market.
Investment in securities market are subject to market risks. Read all the related documents carefully before investing
Safe Stocks to Ride India's Lithium Megatrend
Lithium is the new oil. It is the key component of electric batteries.
There is a huge demand for electric batteries coming from the EV industry, large data centres, telecom companies, railways, power grid companies, and many other places.
So, in the coming years and decades, we could possibly see a sharp rally in the stocks of electric battery making companies.
If you're an investor, then you simply cannot ignore this opportunity.
Details of our SEBI Research Analyst registration are mentioned on our website - www.equitymaster.com
Here are Links to Some Very Insightful Equitymaster Articles and Videos on Penny Stocks:
Disclaimer: This article is for information purposes only. It is not a stock recommendation and should not be treated as such. Learn more about our recommendation services here...