Why CDSL Share Price is Falling
Feb 8, 2023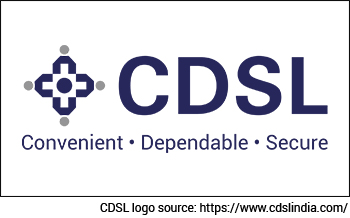 Monopoly stocks are considered similar to gold mines in the realm of investing.
This is because if one can find a suitable monopoly stock to invest in, they provide significant returns in the long turn.
These companies are challenging to compete with and maintain the highest market share for their products and services.
With high barriers to entry, high capital requirements, or a business advantage, they are market leaders in their industry with zero or less competition.
But with the market seeing a correction, even India's top monopoly stocks are trading at discounts.
In line with this sentiment, shares of CDSL (Central Depository Services Limited) have fallen over 11% in the last month.
Here are the reasons that led to this sharp correction.
#1 BSE's disinvestment
Bombay Stock Exchange (BSE) on 7 February 2023 announced its disinvestment in CDSL.
The company said it will sell a 2.5% stake in Central Depository Services (India). The stake sale will take place via an offer for sale (OFS).
Following the news, CDSL's stock dropped by 2.3%.
BSE had acquired a 50.1% stake in CDSL during its IPO in 2017. But to comply with the market regulator, it had to sell off 26.1% of its holdings.
According to regulations, a stock exchange cannot hold more than 24% of a depository.
#2 Dip in demat growth reserve
With unavoidable fatigue, the overall market growth of just 4% has led to stagnation of new demat accounts.
The number of demat accounts rose by 2.1 million (m) to 108 m in December 2022 month. However, this was lower than the average addition of 2.9 m in the financial year 2022.
The number of active users in the industry too fell by marginally month-on-month.
However, the depository business in India is poised for long-term growth.
Increasing retail participation, rising investor confidence, steady inflows in mutual funds, and the use of mobile trading platforms are expected to drive business.
How shares of CDSL have performed recently
CDSL share price is down 3% in five days, while over the month, the share is trading down by 10%.
Over the year, the shares of the company have declined by 33%. The company touched its 52-week high of Rs 1,606 on 15 March 2022 and its 52-week low of Rs 981 on 8 February 2023.
CDSL is currently trading at a PE (Price to Earnings) multiple of 36.8x, with the industry PE ratio being 1.4x.
Mutual funds have been selling their stake in CDSL since September 2021. Mutual fund holding in the September 2022 quarter stood at 7.4%. It has now reduced to 7.3%.
Apart from this, financial institution holding has decreased from 11.5% in September 2022 quarter to 11.1% in December 2022.
The investment and finance sector came under pressure in 2022. It was due to the 2022's volatility that drove away investors from stock markets which in turn has hurt financial companies like CDSL.
Also, the cyber-attack that happened in November 2022 added insult to injury.
For more details, you can have a look at the latest shareholding pattern of CDSL.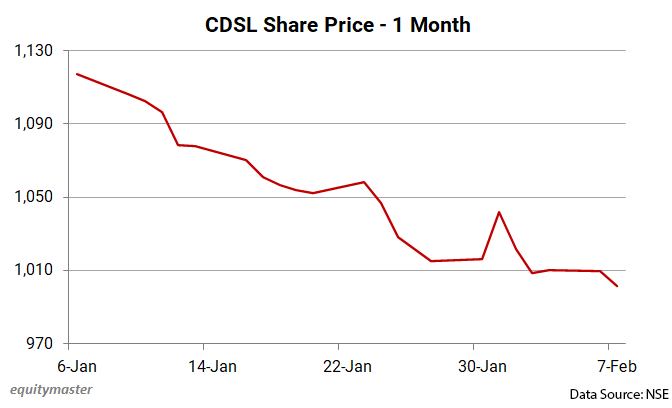 About CDSL
Central Depository Services (India) Limited (CDSL) is one of India's leading securities depositories.
It is the only listed depository in India and a key beneficiary of structural growth in capital markets.
There are only two depositories in India, the other being NSDL which is not listed yet.
As a securities depository, CDSL facilitates the holding of securities in digital form and enables securities transactions (including off-market transfers and pledges) to be processed by book entry.
It generates income from annual issuer charges (annuity nature of the income), transaction charges (market dependent), IPO/corporate activity charges, online data charges (through its subsidiary CDSL Ventures) and others.
The company has high stability of operating income from the fixed annual charges collected from the registered companies and transaction-based fees collected from Depository Participants.
For more details, you can have a look at the CDSL company fact sheet and quarterly results on our website.
To know what's moving the Indian stock markets today, check out the most recent share market updates here.
Now Before You Go, This is Something You Need to Know...
Recently, our co-head of research, Rahul Shah uncovered these 3 amazing stocks.
All 3 of them are very strong on fundamentals.
Not only that... they are also the front-runners in riding what Rahul calls India's third giant leap.
A leap that could potentially generate wealth far beyond anything we have seen till now.
Rahul shared his entire research on this subject at his recent special event... including details of these 3 must own stocks.
Disclaimer: This article is for information purposes only. It is not a stock recommendation and should not be treated as such. Learn more about our recommendation services here...