Indian IT Company Set to Announce Big Dividend in April 2023. More Details Inside...
Mar 19, 2023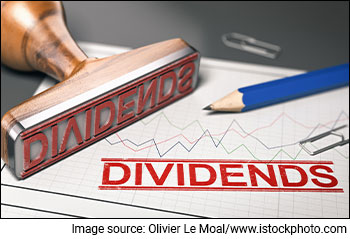 Indian IT stocks are the talk of the town these days.
For more than a year, IT stocks were under intense pressure and were in the news for all the wrong reasons. Recession concerns, slowdown in hiring, layoffs, and more.
Bluechip IT stocks including Wipro and Tech Mahindra corrected to a large extent.
But now with interest rates still on the rise, the domestic currency - Indian rupee is expected to fall against the dollar which will benefit IT stocks.
Most IT stocks have fallen by 30-40% from their peaks in 2022 and offer a good risk reward ratio on the valuations front.
With the financial year coming to a close, IT stocks will be the first ones to report their quarterly earnings for the quarter ended March 2023.
One of India's largest IT companies has already announced that it will declare results on 19 April 2023 or 20 April 2023. It will also declare the record date for the upcoming interim dividend.
This IT company has a knack for declaring big consecutive dividends. To put things into context, this will be its 85th consecutive dividend declaration.
The company has paid out dividends consistently for more than 80 consecutive quarters!
The stock is none other than...
# HCL Technologies
On 17 March 2023, HCL Technologies announced in an exchange filing that its board will declare the quarterly and financial results.
The board will also consider the interim dividend amount.
The record date for the payment of the interim dividend shall be 28 April 2023.
In the quarter ended December 2022, HCL Technologies reported a 19.6% YoY increase in revenue led by growth in the IT services segment and the engineering and R&D services segment.
Despite seasonality and a tough demand environment, HCL Technologies maintained its growth momentum in both verticals. HCL Software delivered strong growth, ahead of expectations on seasonality.
Due to an increase in overall revenue, the company's operating profit rose by 18% YoY and came in at an all-time high of Rs 63.7 billion (bn). Operating profit margins, however fell marginally on account of higher expenses.
During the quarter, the attrition rate dipped further to 21.7% on a 12-month trailing basis, from 23.8% in the September quarter.
HCL Technologies won 17 large deals during the quarter, with new deal wins at US$ 2.35 bn, up 10% YoY.
The company added 3 clients in the US$ 50 m basket, two in the US$ 20 m basket, and 9 in the US$ 5 m basket during the quarter.
Overall, the company's net profit went up by 18.8% YoY. Net profit margins still came in lower marginally.
The board of directors had approved an interim dividend of Rs 10 per share during the said quarter.
HCL Tech Dividend History
Take a look at the table below to see HCL Tech's complete dividend track record.
| Year End | Dividend % | Dividend per share (Rs) |
| --- | --- | --- |
| 31-Mar-2023 | 2,400.0 | 48.0 |
| 31-Mar-2022 | 2,100.0 | 42.0 |
| 31-Mar-2021 | 500.0 | 10.0 |
| 31-Mar-2020 | 500.0 | 10.0 |
| 31-Mar-2019 | 400.0 | 8.0 |
| 31-Mar-2018 | 600.0 | 12.0 |
| 31-Mar-2017 | 1,200.0 | 24.0 |
| 31-Mar-2016 | 800.0 | 16.0 |
| 30-Jun-2015 | 1,500.0 | 30.0 |
| 30-Jun-2014 | 500.0 | 10.0 |
| 30-Jun-2013 | 600.0 | 12.0 |
| 30-Jun-2012 | 600.0 | 12.0 |
| 30-Jun-2011 | 375.0 | 7.5 |
| 30-Jun-2010 | 200.0 | 4.0 |
| 30-Jun-2009 | 350.0 | 7.0 |
| 30-Jun-2008 | 450.0 | 9.0 |
| 30-Jun-2007 | 400.0 | 8.0 |
| 30-Jun-2006 | 800.0 | 16.0 |
| 30-Jun-2005 | 800.0 | 16.0 |
| 30-Jun-2004 | 500.0 | 10.0 |
| 30-Jun-2003 | 200.0 | 4.0 |
| 30-Jun-2002 | 75.0 | 1.5 |
| 30-Jun-2001 | 50.0 | 1.0 |
| 30-Jun-2000 | 5.0 | 0.2 |
| 30-Jun-1999 | 5.0 | 0.5 |
Data Source: Ace Equity
For more, visit HCL Tech's dividend payout history.
Strong growth prospects
HCL Technologies expects to double its semiconductor services business in three to four years. It already has capabilities in semiconductor chip design.
HCL Group is planning to set up a chip wafer fabrication unit for 65 nanometre nodes that are used in automobile, consumer durables and low-cost devices segment.
The company currently works with semiconductor players like Intel, NXP, Taiwan Semiconductor Manufacturing Company (TSMC) and Applied Materials in the electronic chip production.
The semiconductor plant will help HCL to complete its end-to-end offering in semiconductor production.
With this effort, it just shows how the ambitions of Indian companies are no longer limited to designing and outsourcing chip making to Taiwan.
India is taking a big tech leap. And this is the right thing to do if India is to position itself firmly in the global semiconductor supply chain.
How HCL Tech shares have performed recently
In the past one year, HCL Tech shares have lost 8%. In 2023 so far however, HCL Tech shares are up 7%.
HCL Tech has a 52-week high of Rs 1,215 touched on 17 March 2022 and a 52-week low of Rs 876 touched on 29 August 2022.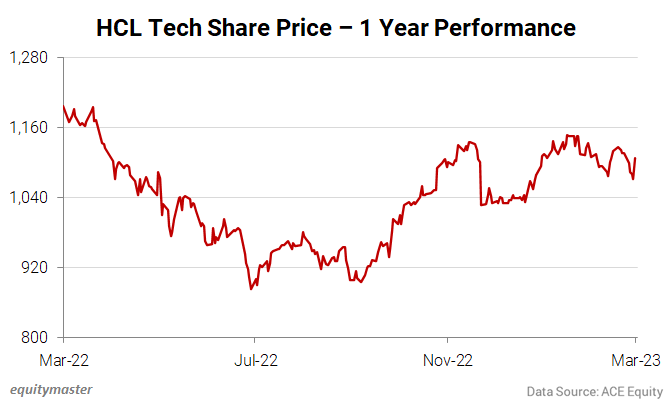 At the current price, the company trades at a PE multiple of 21x and a price to book value multiple of 4.6x. The industry average PE is 25.7x.
About HCL Technologies
HCL Technologies is one of the fastest-growing IT services companies in the world.
The company offers IT and business services, engineering and R&D services and various products and platforms to its diversified client base across 46 countries.
It has laid down a blueprint for the growth of its digital business and divided its services into three modes to help its clients in their digital transformation.
To know more about HCL Technologies, check out HCL Tech's financial factsheet and its latest quarterly results.
You can also compare HCL Technologies with its peers:
HCL Technologies vs Tech Mahindra
Disclaimer: This article is for information purposes only. It is not a stock recommendation and should not be treated as such. Learn more about our recommendation services here...