After Mindtree, Which Companies Are Under Threat of a Takeover?
Mar 28, 2019
Promoters' activities can create quite a buzz in the market.
Promoters are essentially the big boys of companies, the ones with the biggest stakes and the most to lose.
And when news items affect the market price of the company, it becomes even more important to study and deeply analyze promoters' activities and their shareholding pattern.
Mindtree is in news these days for one such reason.
The Mindtree-L&T Saga
L&T is reportedly planning to buy 20.4% stake of V G Siddhartha, the top shareholder in Mindtree. This aggressive move is looked upon as a 'hostile takeover' of Mindtree by the infrastructure giant.
L&T will buy the stake at Rs 981 per share from V G Siddhartha, after which it will have to make the mandatory open offer to the shareholders to buy 26% stake.
How did Mindtree become a takeover target?
Well, Mindtree's shareholding pattern presents a recipe for a hostile takeover in the Indian context.
The promoters of Mindtree, hold a mere 13.3%.
Mindtree's Shareholding Pattern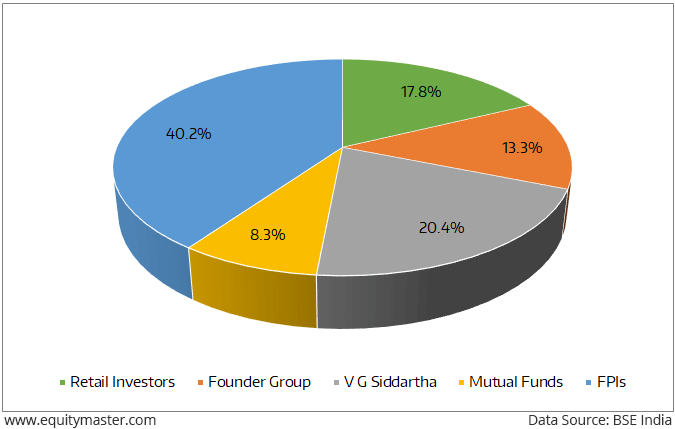 This Mindtree-L&T case bags a question, are there any other companies under such threat?
--- Advertisement ---


Rewrite Your Financial Destiny...
With This LIFE-TRANSFORMING Step Today!

If you're tired of settling for small gains...

And worried you might not save enough for retirement quickly enough...

Here's something I believe could completely rewrite your financial destiny. And give you a chance to end up far richer than you ever imagined.

I'm talking about our small cap service - Hidden Treasure - which has given its subscribers opportunities to make double, triple and even four-digit gains in the long run.

But here's the best part...

Right now, you can join Hidden Treasure at 50% off and get our special report with 4 small caps stocks with great return potential. So don't hesitate.

Rewrite your financial destiny with this life-transforming step today!

Click here for full details now!
------------------------------
Which Other Companies are Ripe for a Takeover?
A study of 481 listed companies on BSE shows that, 219 companies have promoter holdings above 55%. And in 26 companies promoters hold below 30% stake.
Government owned ITI, Hindustan Aeronautics, MMTC among others have highest promoter stakes above 90%.
Companies with Highest Promoter Stakes
| Company Name | Promoter Holding (in %) | Market Cap (in Rs million) |
| --- | --- | --- |
| ITI | 90.0 | 82,300 |
| Hindustan Aeronautics | 90.0 | 238,201 |
| MMTC | 89.9 | 40,800 |
| Housing & Urban Development | 89.8 | 88,284 |
| SJVN | 89.5 | 94,708 |
| MRPL | 88.6 | 129,167 |
| Central Bank Of India | 88.0 | 107,854 |
| India Tourism Development | 87.0 | 23,685 |
| Bank of Maharashtra | 87.0 | 34,170 |
| Corporation Bank | 86.8 | 73,000 |
Data Source: Ace Equity, Equitymaster Database
Infosys, Mindtree, and PTC India have lowest promoter holding at 12.8%, 13.3%, and 16.2% respectively.
Companies with Lowest Promoter Stakes
| Company Name | Promoter Holding (in %) | Market Cap (in Rs million) |
| --- | --- | --- |
| Mahindra & Mahindra Ltd. | 21.6 | 825,853 |
| PVR Ltd. | 20.3 | 74,025 |
| Suzlon Energy Ltd. | 19.8 | 34,259 |
| Yes Bank Ltd. | 19.8 | 571,813 |
| GHCL Ltd. | 18.9 | 22,698 |
| NCC Ltd. | 18.1 | 65,410 |
| IndusInd Bank Ltd. | 16.8 | 1,015,194 |
| PTC India Ltd. | 16.2 | 22,201 |
| Mindtree Ltd. | 13.3 | 154,402 |
| Infosys Ltd. | 12.8 | 3,214,660 |
Data Source: Ace Equity, Equitymaster Database
A high level of shareholdings has its positives and negatives. It determines promoters' having substantial skin in the game and are willing to give their best, among others.
But our focus today will be on the lower shareholding by promoters.
What's the Problem with Low Promoter Shareholding?
Nothing. Except for a potential takeover.
Mergers and acquisitions are inevitable in the corporate world. Acquisitions can be friendly as well as hostile.
A friendly acquisition is one in which controlling group of the target company sells its shares to another group willfully.
However, if the management of the target company is unwilling to negotiate, the acquirer can directly approach the shareholders of the company by making an open offer. This is known as a hostile takeover.
Limited stakes can drag companies into corporate raids. If the promoters don't own much, they can't do much to stop it.
The Case of L&T Was Just the Opposite Once
As they say, life comes in full circle. L&T itself was the target once.
In its long history, L&T has had to ward off multiple corporate raiders ranging from Manu Chhabria in 1987, to Dhirubhai Ambani, and Kumar Mangalam Birla through the 1990s and 2000s.
Later, everyone including LIC and the government got involved in keeping them away.
L&T has now created a wall. It set up an employee welfare trust which used company money to buy up nearly 10% of the company. This ensured that management had at least 10% of the company.
But look at that table again. Even the prestigious M&M group stock is in the top 10 list!
Can M&M Be a Potential Target for a Hostile Takeover?
If the Mahindra family is breathing easy despite its low holding, that would be because of the solid backing of financial institutions.
LIC is the largest public shareholder with 8.8% stake. Other prominent institutional shareholders are ICICI Prudential Life Insurance (2.4%), SBI Mutual Fund (2.3%), among others.
Widely Held Stakes
Domestic investors collectively own around 22% of M&M. The foreign institutions together hold 33%. The rest is widely held.
Usually, such widely held shareholding makes it humanly impossible for any raider to accumulate shares.
Even HDFC and L&T are two prominent examples of companies without an identified promoter group.
The shares are held by the public at large with the majority stake being controlled by financial institutions.
Corporate raids are tough in India. You can't acquire more than 26% without an open offer to the rest of the shareholders.
You can't as a promoter acquire more than 5% a year through "creeping" buys. If an open offer fails or otherwise, you have rules like you can't own more than 75% unless you try to delist the company. And so on.
You can read all the aspects of takeover in India in this article titled "Takeover Code: The basics."
There are various ways to prevent hostile take overs such as finding a white knight (the way L&T did by bringing Ambani on board when Chhabria wanted in) or creeping acquisitions. And there are many other ways to deal with it.
The Tale of Hostile Takeovers in Indian Corporate History
India's relatively nascent mergers and acquisitions (M&A) space has seen very few hostile takeover attempts in the past.
The first such move was made by London-based businessman Lord Swaraj Paul, who launched a bid in the early 1980s to take over Escorts and DCM, which was thwarted by the Nandas.
Most recently, hotel chain operator EIH managed to get Reliance Industries to buy a stake in the company to prevent ITC from launching a takeover bid for the company.
There have been similar situations not so long ago.
The Raasi Cements and India Cements saga is one of the few successful hostile acquisitions in India till date. India Cements successfully made a hostile takeover bid for Raasi Cements with an open offer for the latter Rs 300 apiece, significantly above the then prevailing share price of Rs 100 on the BSE.
Towards the end, India Cements in total bought out 85% of the shareholding.
Another hostile takeover attempt is from the FMCG space when Emami picked up a 24% stake in Zandu from its promoters Vaidyas (co-founders) at Rs 6,900 per share.
There is also the more recent story of Essel Group's move to mount a hostile bid on IVRCL.
Fear of hostile takeover bids puts the promoters on the edge, which is a positive thing in the context of governance.
But, it may still take some time for such unfriendly takeover attempts to finally result in the acquisition of the target company in foreseeable future.
What Lies Ahead of Mindtree-L&T Battle?
As per the reports, the combination of the two companies will help create an entity with a higher turnover of close to Rs 120 billion, closer to larger rivals such as Wipro and TCS.
The Mindtree management, however, thinks differently.
Creating Synergies?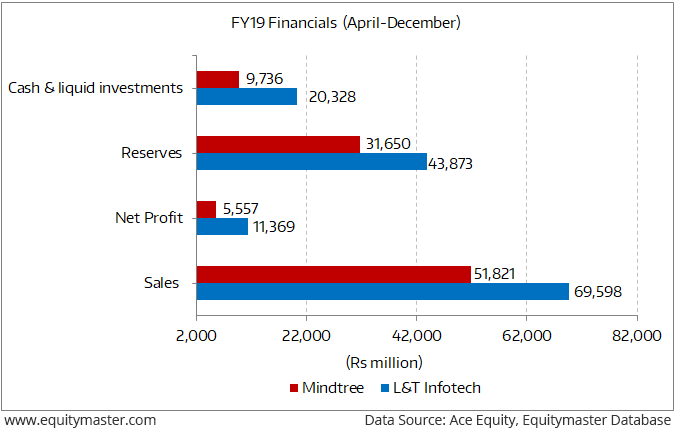 Given that the takeover has just been launched, it would be too early to make any predictions regarding the outcome.
While the L&T-Mindtree saga will one day disappear into the history books, the lessons will not.
One thing that we must bear in mind is that most companies in India are managed by promoters.
Hence, they are bound to protect their interest and will not relinquish control without a fight.
This means that the company launching such an attack needs to be very clear as to why it wants to go down this route.
Here's snippet from the article on hostile takeovers that Tanushree Banerjee, co-head of research wrote:
"In mergers and acquisitions, in general, the acquiring company has to make sure that it pays a reasonable price for the target company. It needs to gauge the synergies that are likely to flow in on making the acquisition such that the payback period is not too long. Many a time, when competition for a particular target heats up, valuations soar. As a result, the company which has finally made the acquisition ends up paying a very high price."
This applies to hostile takeovers as well.
Since these are bound to be fought tooth and nail by promoters, the acquiring company at the end of the day needs to evaluate whether the price paid, and the potential benefits are all worth it.
And as far as minority shareholders are concerned, if they stand to benefit with the change in management, then this takeover doesn't matter in long run.
Warm regards,
Rini Mehta
Rini Mehta is a keen follower of the stock markets and economy. At Equitymaster, she covers daily stock market moves and broader market trends across Indian and global markets.