TVS Motor Reports Substantial Rise in Net Profit for Q4
Apr 28, 2021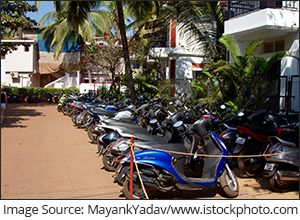 One of the country's leading two-wheeler manufacturer, TVS Motor Company (TVS Motor) reported a 292% year-on-year (YoY) increase in net profit to Rs 2.9 bn on the back of robust recovery in sales of its vehicles especially in export markets.
It had recorded a net profit of Rs 740 m for the year-ago period as the domestic market was battling an economic slowdown, which was followed by the coronavirus pandemic.
The company's profit before tax (PBT) stands at Rs 3.9 bn in the fourth quarter of 2020-21 recording a growth of 331% as against Rs 900 m in the fourth quarter of 2019-20.
TVS Motor's revenue from operations grew by 53% at Rs 53.2 bn for the quarter under review against Rs 34.8 bn reported in the fourth quarter of FY20.
Operating earnings before interest, tax, depreciation, and amortisation (EBITDA) for the quarter is at 10.1% against 7% reported in fourth quarter of 2019-20.
Company reported highest ever operating EBITDA of Rs 5.4 bn for the fourth quarter recording a growth of 119% as against Rs 2.5 bn in fourth quarter of 2019-20.
According to K.N. Radhakrishnan, MD and CEO, TVS Motor Company, a better product mix, higher sales of premium products, improved performance in the international markets, and material cost reduction efforts were the key factors that contributed to improve EBIDTA margins.
Key Financial Highlights for the Full Year - FY21
During the financial year 2020-21, revenue from operations grew by 2% from Rs 164.2 bn to Rs 167.5 bn despite Covid-19 related lockdown during the Q1 of 2020-21.
Operating EBITDA for the year is higher at 8.5% compared to 8.2% of last year despite country lockdown during the Q1 of 2020-21. The company has been delivering improved EBITDA sequentially from Q2 onwards.
The PBT for year ended March 2021 grew by 10% at Rs 8.3 bn as compared to Rs 7.5 bn reported during previous year.
Its PAT for the year ended March 2021 was at Rs 6.1 bn as compared to Rs 5.9 bn reported during the year ended March 2020.
During the year, focused working capital management and improved operating performance helped the company to generate free cash flow of Rs 18.9 bn. These proceeds are used to reduce the debt.
Lean stock with the dealers also helped to unleash the blocked working capital across the supply chain.
--- Advertisement ---
WATCH: FULL Replay of Our Urgent Broadcast

The full replay of our urgent broadcast on India's Revival is available for a limited time now.

In case you missed watching our broadcast LIVE...

You can see all the important highlights from our broadcast in this replay.

Please note that we may take this replay off the internet any minute.

So it is highly recommended you watch it immediately.

Click Here to Watch the Replay NOW
------------------------------
TVS Motor Company's Operational Performance for Q4FY21
The overall two-wheeler and three-wheeler sales including exports registered a growth of 47% at 9.3 lakh units in the quarter ended March 2021 as against 6.3 lakh units registered in the quarter ended March 2020.
Motorcycle sales registered a growth of 54% at 4.3 lakh units in the quarter ended March 2021 as against 2.8 lakh units in quarter March 2020.
Scooter sales for the quarter ended March 2021 registered a growth of 78% at 3 lakh units against the sales of 1.7 lakh units in the fourth quarter of 2019-2020.
The company's total export of two-wheelers and three-wheelers registered a growth of 58% at 3.2 lakh units in the quarter under review as against 2 lakh units in the quarter ended March 2020.
Three-wheeler sales for the quarter under review is 41,000 units as against 43,000 units during fourth quarter of 2019-20.
Interim Dividend
The Board of Directors of the company at their meeting held on 24 March 2021 declared the second interim dividend of Rs 1.4 per Share (140%) for the year 2020-21.
The total dividend paid for the year ended March 2021 aggregated to Rs 3.5 per share (350%) on 475 m equity shares of Re 1/- each absorbing a sum of Rs 1.7 bn.
BREAKING: It's Good Time to Invest in Gold, but Just Don't Go Blindfolded
Market Share of TVS Motor
According to a leading financial daily, TVS is in the third place in terms of market share with 14.4%.
Hero MotoCorp is the leading two-wheeler manufacturer in India, with a market share of 39.3%, while the second spot is held by Honda Motorcycle and Scooter India with a market share of 24.6%.
Two-Wheel Vehicles Market in India
Currently, the new growth point for the two-wheeler industry is electric scooters and motorcycles. Many of the leading manufacturers have already started the production of electric vehicles.
The Indian government has set a goal to electrify a major part of India's two-wheelers and has provided considerable financial incentives.
However, because of the impact of the Covid-19 pandemic on the sales of automobiles in India, the electrification target might be delayed.
More investment in the electricity infrastructure, especially the renewable energy sector, could potentially accelerate the process.
How the Stock Markets Reacted to TVS Motor Q4FY21 Numbers Today...
Shares of TVS Motor Company opened the day at Rs 604 on the BSE and Rs 605 on the NSE and closed at Rs 645.9 (up 14%) and Rs 645.8 (up 14%), respectively.
At its current price, it is trading at a P/E of 85.5.
The share also touched its 52-week high of Rs 664 and 52-week low of Rs 291 on 28 April 2021 and 28 April 2020.
Over the last 30 days, the TVS Motor share price is up 12.9%. Over the last one year, the company's share price is up 115.1%.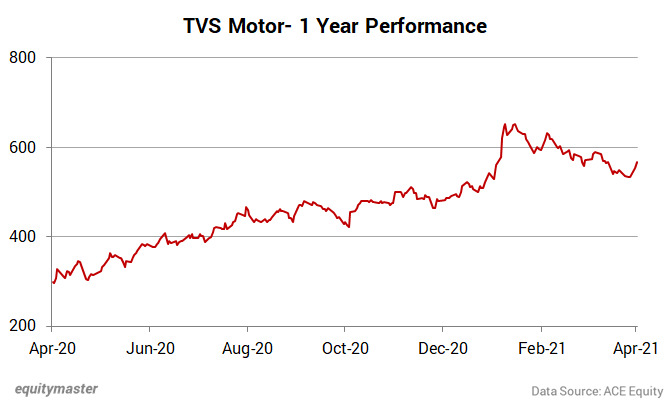 About TVS Motor
TVS Motor Company is an Indian multinational motorcycle company headquartered at Chennai, India.
It manufactures the largest range of two-wheelers, starting from mopeds, to scooters, commuter motorcycles, to racing inspired bikes.
The company is the third largest two-wheeler company in India with a revenue of over Rs 182.2 bn (over US$ 2.9 bn).
It has an annual sale of more than 3 m units and an annual capacity of over 5 m vehicles.
TVS Motor is also the 2nd largest exporter in India with exports to over 60 countries. A member of the TVS group, it is the largest company of the group in terms of size and turnover.
The two-wheeler company has footprints globally, including geographies like Middle East, Africa, South East Asia, Indian subcontinent, Latin and Central America.
For more details about the insurance sector, you can have a look at TVS Motor Company factsheet and quarterly results on our website.
You can also compare TVS Motor with its peers -
And to know what's moving the Indian stock markets today, check out the most recent share market updates here.