Hero MotoCorp Q4 Net Profit Jumps Over 40% On Strong Operating Performance
May 7, 2021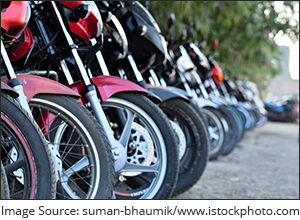 Two-wheeler maker Hero MotoCorp reported a 44.2% year-on-year (YoY) increase in consolidated profit at Rs 8.9 bn for the March 2021 quarter.
The company had posted a net profit of Rs 6.1 in the same period, a year ago. This growth was driven by an increase in revenue.
The company's revenue from operations grew by 37.2% YoY to Rs 86.9 bn with 18.5% volume growth for the March 2021 quarter.
However, both the company's quarterly profit and revenue fell by 17% and 11% sequentially as higher ownership cost hurt two-wheeler demand. The company sold a total of 1.6 m units of two-wheelers during Q4FY21, registering a growth of 18.5% over Q4FY20 but 15% fewer units than in the preceding quarter.
The decline came as demand in rural India, which was expected drive two-wheeler sales buoyed by a good monsoon, a bumper crop, increased government spending and less severe Covid-19 restrictions, failed to take off.
High fuel prices, a series of price hikes prior to the pandemic to counter the surge in commodity costs also caused sales to tumble.
--- Advertisement ---
You Need to See This Today

Would you like to know about 3 stocks having the potential to return as much as 1,000% or more over the long term?

If yes, then check out this page right away.

There's only a small window of opportunity to get in before it's too late. If you miss it, then it could be the greatest financial mistake of your life.

Just click here to get full details immediately.
------------------------------
Due to the year-on-year increase in revenue, the company's EBITDA (earnings before interest, tax, depreciation and amortisation) jumped 78.8% YoY to Rs 12.3 bn while its EBITDA margin expanded 3.3% YoY to 14.1%.
The company has been able to drive profitable operating growth through a combination of key strategic initiatives such as the acceleration of the Leap-II savings program to offset the higher commodity prices and input costs.
Consolidated Financial Results (Q4FY21)
| | Q4FY21 | Q4FY20 | YoY Change |
| --- | --- | --- | --- |
| Revenue (in bn) | 86.9 | 63.3 | 37.20% |
| EBITDA (in bn) | 12.3 | 6.9 | 78.80% |
| EBITDA Margin | 14.10% | 10.80% | 3.30% |
| Net Profit (in bn) | 8.9 | 6.1 | 44.20% |
| Net Profit Margin | 10.20% | 9.70% | 0.50% |
Data Source: Company Financial Results
The board of directors also proposed a final dividend of Rs 25 per share and a special dividend of Rs 10 per share.
Aggregating the dividend of Rs 90 per share and a special dividend of Rs 15 per equity share for the year, the total dividend for FY21 amounts to Rs 105 per share.
The special dividend has been declared to mark the achievement of the historic milestone of achieving 100 m cumulative production of two-wheelers.
The company has re-appointed the current Chairman, Managing Director and CEO, Mr Pawan Munjal, as the Chairman and CEO for a term of five years with effect from 1 October 2021, subject to the approval of the shareholders at the ensuing Annual General Meeting of the company.
--- Advertisement ---
BEST VALUE: Do THIS to Grow Potentially 40-60% Richer in Just 1 Year...

What do you get when you tap into an enormous market proven to be a treasury of wealth-boosting opportunities...

... pick two money-making stocks ready to prosper and pump out spectacular gains for people who act now...

... and take complete advantage of an irreversible mega-trend that'll do nothing but skyrocket this segment and the stocks inside it?

TRULY ENORMOUS PROFIT POTENTIAL: 40-60% Gains in Just 1 Year!
------------------------------
FY21 Highlights
Sales Impacted Due to the Pandemic - For the year FY21, the company saw its revenue increase by only 5.8% YoY due to a slowdown in demand due to the pandemic. Rising raw material prices and employee expenses also affected its operating performance. As a result, the company registered a 19.8% YoY decline in net profit for the year.
Increase in Market Share - While a late recovery towards the second half of the FY21 saw the company gain strong volumes, the broader market continued to suffer in view of the recent escalations in Covid-19 cases. Despite the challenges, Hero MotoCorp grew its market share in both motorcycles and scooters.
Growing Presence in the Premium Segment - The company also grew its presence in the premium segment. It launched a range of premium and youthful motorcycles and scooters during the year and entered into an alliance with Harley-Davidson to develop and sell a range of premium motorcycles under the Harley Davidson brand name.
Crossed Historic Milestone - The company surpassed the monumental milestone of 100 m units in cumulative production and sales and registered its best-ever Q3 with sales of 1.8 m units.
Strides in the EV Space - The company has increased its equity share in Ather Energy. It has made an additional investment of Rs 1.7 bn (US$ 24 m) in Ather Energy, taking its shareholding in the company up to 34.8%.
Hero MotoCorp will also launch its first electric vehicle in FY22.
The company's journey has further been augmented with its recent partnership with Gogoro, the developer of the world's largest battery-swapping network.
REVEALED: 3 "Super Smallcaps" You Didn't Know About
How the Stock Markets Reacted to Hero MotoCorp's Results
Hero MotoCorp shares rose 4.7% to hit an intraday high of Rs 2,920 on the BSE yesterday, ahead of its March quarter earnings.
However, shares of the company fell as much as 3.2% today on account of profit-booking, to hit an intraday low of Rs 2,820.5, a day after it reported its results.
Shares of the company opened at Rs 2,962 on the BSE and at Rs 2,948 on the NSE.
The scrip touched its 52-week high of Rs 3,628.5 on 18 February 2021, and its 52-week low of Rs 1,955.40 on 7 May 2020.
At its current price, it is trading at a P/E ratio of 21.4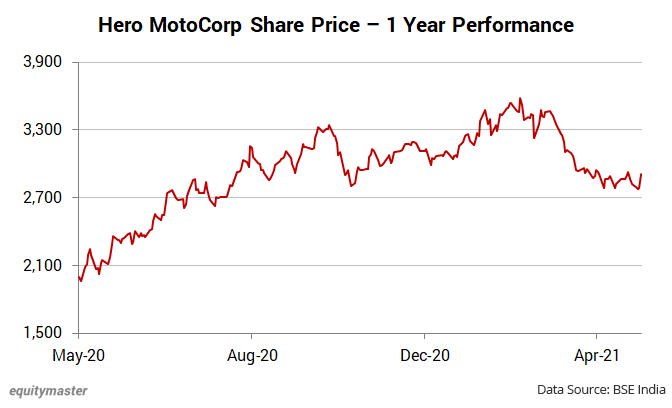 About Hero MotoCorp
Hero MotoCorp Limited, formerly Hero Honda, is an Indian multinational motorcycle and scooter manufacturer based in New Delhi, India.
The company is the largest two-wheeler manufacturer in the world, and in India, where it has a market share of about 46% in the two-wheeler category.
Hero MotoCorp has five manufacturing facilities based at Dharuhera, Gurugram, Neemrana, Haridwar, and Halol under the Green Field stage.
These plants together have a production capacity of over 7.6 m two-wheelers. The company also has a sales and service network with over 6,000 dealerships and service points across India.
In 2007, Hero MotoCorp incorporated Hero Electric as a 100% subsidiary of the group. The company started manufacturing electric scooters from its Ludhiana plant.
For more details about the company, you can have a look at Hero MotoCorp's factsheet and Hero MotoCorp's quarterly results on our website.
You can also compare Hero MotoCorp with its peers.
Hero MotoCorp vs Mahindra & Mahindra
Hero MotoCorp vs Maruti Suzuki
And to know what's moving the Indian stock markets today, check out the most recent share market updates here.
Ayesha Shetty is a financial writer with the StockSelect team at Equitymaster. An engineer by qualification, she uses her analytical skills to decode the latest developments in financial markets. This reflects in her well-researched and insightful articles. When she is not busy separating financial fact from fiction, she can be found reading about new trends in technology and international politics.