Avenue Supermarts: Net Profit Spikes 53%; Stores Disrupted by Covid Second Wave
May 10, 2021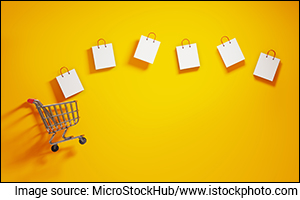 Avenue Supermarts, which owns the hyper-retail chain DMart, on Saturday reported a 53% year-on-year (YoY) jump in its consolidated net profit at Rs 4.1 bn for the March quarter (Q4FY21).
The company had reported a net profit of Rs 2.7 bn in the corresponding quarter of last year.
Total revenue for the quarter stood at Rs 74.1 bn, compared to Rs 62.6 bn in the same period last year.
Earnings before interest, tax, depreciation, and amortisation (EBITDA) in Q4FY21 stood at Rs 6.1 bn, compared to Rs 4.2 bn in the corresponding quarter of last year.
Total expenses were reported at Rs 69.2 bn, up 16.1% YoY.
Here's a table comparing Avenue Supermarts' quarterly performance on key parameters.
Avenue Supermarts Financial Performance
| (Rs m) | Q4FY21 | Q4FY20 | Q3FY21 | YoY (%) | QoQ (%) |
| --- | --- | --- | --- | --- | --- |
| Revenue | 74,117 | 62,559 | 75,420 | 18.5% | -1.7% |
| Total Expenses | 69,162 | 59,575 | 69,779 | 16.1% | -0.9% |
| Profit before tax | 5,436 | 3,332 | 6,094 | 63.1% | -10.8% |
| Tax | 1,297 | 630 | 1,625 | 105.9% | -20.2% |
| Profit after tax | 4,139 | 2,713 | 4,469 | 52.6% | -7.4% |
Data Source: Company Presentation
FY21 Performance
For the financial year ended 31 March 2021, the company reported a 13.7% YoY decline in net profit at Rs 11.7 bn, hit by the coronavirus pandemic.
While total revenue declined 3.6% to Rs 237.9 bn, EBITDA also fell 17.9% to Rs 17.4 bn in FY21.
After losing significant revenue in the first half of FY21, the company ended the fiscal with a 3.6% revenue de-growth.
Capital work in progress stood at Rs 10.2 bn against Rs 3.6 bn which means a stronger store addition pipeline.
The company had a healthy balance sheet with cash and equivalents of around Rs 26 bn.
--- Advertisement ---
Govt's 257 Bn Rupees Boost for EVs- Your Chance for Potentially Wild Profits

A few days back, the government announced that it will be pumping a whopping 257 billion rupees into electric vehicle initiatives by 2025.

We urge you to become a part of the EV gold rush that's happening now and gain the early mover advantage.

We have closed in on 3 EV stocks which could potentially hand you over insane profits in the long run.

We will be revealing all the details in one of our upcoming special online event.

Sign Me Up For the FREE Event
------------------------------
Company Sees Significant Disruption; 80% Stores Impacted by Covid Second Wave
The company's CEO and Managing Director, Neville Noronha said FY21 has been a challenging year for their business.
The year began amid a strict lockdown post the emergence of the coronavirus towards the end of the last financial year.
He said significant disruptions have been seen from March onwards for its store operations. The restrictions and local level enforcements have become much stricter.
"A much stronger second wave of Covid-19 infections hit the country towards the end of FY 2021 and has once again resulted in significant disruption to our business as several cities and towns have announced restrictions.

Restrictions vary from store closures on certain days or for extended periods, to restricted store operating hours and selling only essential goods in most cities and towns.

In general, more than 80% of our stores are operating for significantly lower number of hours (not exceeding four hours per day) or are even shut for operations for one to weeks or shut on weekends. These shut downs are having an adverse and severe impact on our revenues".
Issue of Excess Inventory
Unlike last year, when the company faced supply disruption, the company is bracing for excess inventory this time, as it had become quite optimistic after the last two quarters.
The company said that it continued to receive regular supply of goods from its suppliers. Owing to that, they may have a problem of excess inventory.
FREE Event: The Great Indian Wealth Project
The receding threat of the pandemic and consequent sales surge in Q3 and most of Q4, followed by the oncoming summer and back to school season made the company plan more optimistically.
This could have a longer-term impact on its inventory to sales ratio as it could take comparatively longer time to liquidate the excess inventory.
New Store Openings Likely to be Slow
The company said it is witnessing significant restrictions for construction activity across towns and cities.
It said it's unable to forecast the impact of the current lockdowns on the store opening pipeline for the year. The company noted construction activity also impacted during the first half of the year.
Despite this the company opened 22 new stores during the year. For the March quarter, it added 13 stores.
As of 31 March 2021, Avenue Supermarts operates 234 operating stores with a total retail business area of 8.82 m square feet.
Revival in Discretionary Spends
The company said that its sales from general merchandise and apparel formed 22.9% of total revenue for FY21 compared with 27.3% in the previous year, and that its sales mix also shifted towards grocery and FMCG products.
This was a result of consumer preference of need-based shopping for a significant period during the year, reduced discretionary spending, and significant restrictions on selling non-essentials during the early part of the year.
That also impacted the company's margins during the year. The company said Q4 margins did indicate revival of discretionary spends not seen in previous three quarters.
--- Advertisement ---
What CNBC Won't Tell You...


The next 10 years would be a golden period for Indian investors...

The "Big Bull" Rakesh Jhunjhunwala claims it could be one of the largest stock market bull runs in India ever...

And veteran investor Raamdeo Agarwal says the S&P BSE Sensex could even reach 200,000 points in the next 10 years... All thanks to these...

Highly Powerful Wealth-Building Mega-Trends
------------------------------
Equitymaster's View on Avenue Supermarts...
Here's an excerpt of what Rahul Shah, Co-head of Research at Equitymaster, wrote about the stock of Avenue Supermarts in the month of March 2021...
Avenue Supermarts, the company that owns the DMart chain of stores, is not cheap by any stretch of imagination.

Based on its all-time high EPS of Rs 20 that it earned in FY20, the stock is trading at a price to earnings multiple of a whopping 150x.

That's huge.

There aren't many investors who've earned 100x their investments by paying a starting multiple of 150x. This is irrespective of how great or how fast growing the company.

Besides, there's always the chance the high growth rate of 28% the analyst seems to be projecting, comes unstuck.

After all, competition not just within its own space, but even of the digital kind, seems to be breathing down its neck.

Thus, there could well be a double whammy in the form of the bottomline growing at a lower than projected rate.
You can read Rahul's entire article on this topic here: Is DMart Really a BAAP Stock and a future 100-Bagger?
How the Stock Markets Reacted to Avenue Supermarts' Results
Avenue Supermarts share price 1.5% today to hit an intraday high of Rs 2,958 on the BSE.
However, shares of the company erased gains on account of profit-booking, and are presently trading down by 0.5%.
The scrip has touched a 52-week high of Rs 3,330 and a 52-week low of Rs 1,900.
At its current price, it is trading at a P/E ratio of 160.6.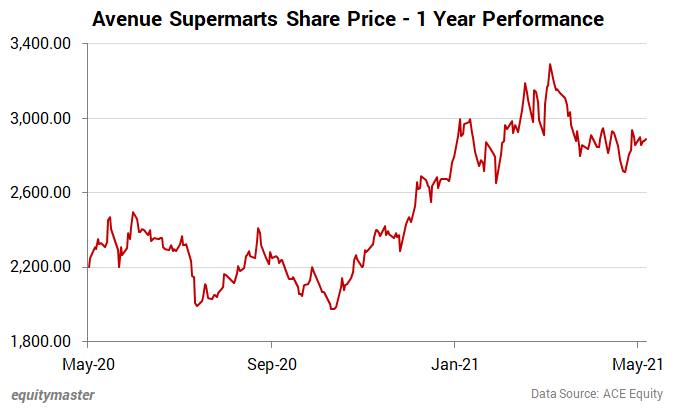 About Avenue Supermarts
Avenue Supermarts is an India-based company which owns and operates DMart stores. DMart is a supermarket chain that offers customers a range of home and personal products under one roof.
Each DMart store stock home utility products including food, toiletries, beauty products, garments, kitchenware, bed and bath linen, home appliances and others.
The company offers its products under various categories, such as bed and bath, dairy and frozen, fruits and vegetables, crockery, toys and games, kid's apparel, ladies' garments, apparel for men, home and personal care, daily essentials, grocery and staples, and DMart private label brands.
DMart was started by Mr. Radhakrishnan Damani. From the launch of its first store in Powai in 2002, DMart today has a well-established presence in 234 locations across Maharashtra, Gujarat, Andhra Pradesh, Madhya Pradesh, Karnataka, Telangana, Chhattisgarh, NCR, Tamil Nadu, Punjab, and Rajasthan.
For a sector overview, read our retailing sector report.
To know what's moving the Indian stock markets today, check out the most recent share market updates here.