Bandhan Bank Q4 Profit Dips as Provisions Spike: What Should Investors Do?
May 10, 2021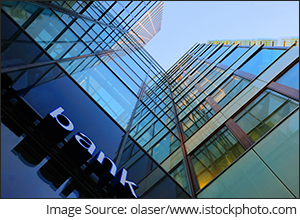 Shares of Bandhan Bank hit an over six-month low of Rs 285.9, down 4% on the BSE in intra-day trade today.
This after the bank reported weak numbers for the quarter ended March 2021. High provisioning and interest reversals hurt the bank's profitability.
The stock was trading at its lowest level since 30 October 2020. It has corrected 345 from its 52-week high level of Rs 430.3 touched on 11 December 2020.
Key Financial Highlights
Private sector bank, Bandhan Bank on Saturday reported an 80% year-on-year (yoy) fall in net profit for the quarter ending March to Rs 1 bn on the back of additional provisions on non-performing assets (NPAs).
The Kolkata-based bank had posted Rs 5.2 bn net profit in the fourth quarter of FY20.
Sequentially, the net profit was down 84% as in the December quarter it had recorded a profit of Rs 6.3 bn.
Net interest income (NII) grew 4.6% yoy to Rs 17.6 bn. Sequentially it was down 15.2%, owing to the fact that after the apex court's order, it had to reverse interest to the tune of Rs 5.4 bn on account of non-performing asset (NPA) recognition and interest on interest.
Non-interest income, however, grew 57.4% yoy and 42.3% sequentially to Rs 7.9 bn in the same period. This took the total income in the quarter to Rs 25.4, up 17% yoy but down 3% sequentially.
The net interest margin of the lender at the end of the March quarter stood at 6.8% as opposed to above 8.3% in Q3FY21 due to the interest reversal.
An Overview on Company's Asset Quality
Asset quality on a pro forma basis improved due to write-offs worth Rs 19.3 bn.
The bank's gross non-performing asset (GNPA) ratio fell to 6.8% from 7.1% on a pro forma basis as on 31 December 2020.
Its net non-performing assets (NPA) rose to 3.5% from 2.4% in the previous quarter.
Loan growth was healthy at 22.5% yoy while deposit growth was also strong at 36.6% yoy.
During the quarter, it restructured accounts of a value of Rs 6.2 bn, of the housing finance vertical comprising 0.7% of the total portfolio.
The company's managing director and chief executive C S Ghosh said the bank wrote off Rs 19.3 bn of loans, a bulk of them in the microfinance segment, in the March quarter because it wanted to start the new fiscal with a clean balance sheet.
As a result of the accelerated write-off, the bank's overall provisions shot up to Rs 15.9 bn from the year-ago period's Rs 8.3 bn, which had a direct impact on the profit line.
Operating profit, which is arrived at by excluding the provisions, was up 13% to Rs 17.3 bn.
Highlights from the Conference Call
The bank saw a 3-5% collection efficiency impact due to the second Covid wave.
If the second wave settles in 2-3 months, then the impact on business will be insignificant as its growth comes in the second half.
The bank is confident of improvement in collection in the coming months.
As many as 72% of NPA customers paid instalments in April, of which 7% have paid full instalment.
Local lockdowns in the second wave has not impacted the business of small enterprises.
In West Bengal, business activity continuity was seen and it was much better than the first lockdown.
The present quarter (Q1FY22) is expected to be much better in performance versus the same period last year.
As many as 632 microcredit branches have been opened, most outside West Bengal and Assam.
50% of borrowers in West Bengal and Assam are matured and have converted to individual loans.
Learnings from the last lockdown will reduce impact in the second wave due to past experience. There is no merit in restructuring loans for non-paying customers; a write-off is opted.
Businesses like gyms and beauty parlours have seen write-off due to the nature of business.
Equity Dividend
The board has proposed a dividend of Re 1 per share subject to the approval of the members at the Annual General Meeting (AGM).
How the Stock Markets Reacted to Bandhan Bank Q4FY21 Numbers Today...
Shares of Bandhan Bank opened the day at Rs 287 on the BSE and Rs 285 on the NSE. At the time of writing, shares of Bandhan Bank were trading down by 0.4% on the BSE.
At its current price, it's trading at a P/E of 13.8.
The share also touched its 52-week high of Rs 430.7 and 52-week low of Rs 195.4 on 11 December 2020 and 22 May 2020.
Over the last 30 days, the Bandhan Bank share price is down 11.5%. Over the last one year, the company's share price is up 20.1%.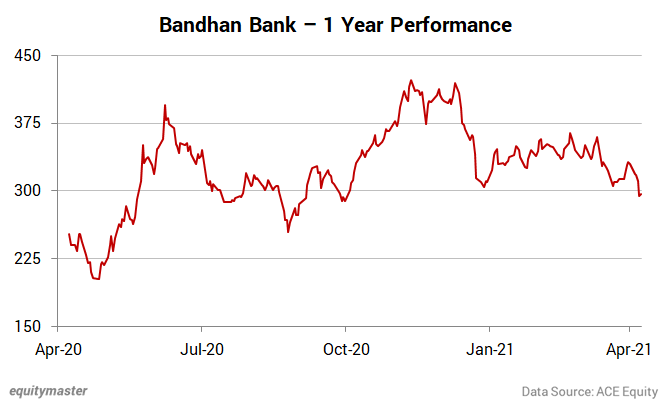 About Bandhan Bank
Bandhan Bank is an Indian banking and financial services company, headquartered in Dalhousie Kolkata, West Bengal.
It's a commercial bank focused on serving underbanked and underpenetrated markets in India.
The company is the first instance in India of a microfinance entity transforming into a universal bank.
The bank currently offers a variety of asset and liability products and services designed for micro banking and general banking.
Its asset products consist of retail loans including a substantial portfolio of micro loans as well as micro small and medium enterprise (SME) loans and small enterprise loans.
In addition to the loan and deposit products the bank also offers other banking products and services to generate non-interest income and cater towards the additional needs of its customers.
Bandhan Bank is present in 34 out of 36 states and Union Territories of India. Presently Bandhan Bank has 5,371 banking outlets Pan-India serving more than 23 m customers.
On 17 June 2015, the Reserve Bank of India granted the universal banking license to Bandhan Bank. The same year, on 23 August, the bank started operations with 501 branches, 50 ATMs, and 2,022 DSC.
The bank has mobilised deposits over Rs 779.7 bn. Its total advances stand at Rs 870.4 bn, as on 31 March 2021.
For more details about the company, you can have a look at Bandhan Bank factsheet and quarterly results on our website.
You can also compare Bandhan Bank with its peers.
Bandhan Bank vs City Union Bank
Bandhan Bank vs Bank of Baroda
And to know what's moving the Indian stock markets today, check out the most recent share market updates here.