How Did Kalpataru Power Transmission Perform in Q4FY21?
May 12, 2021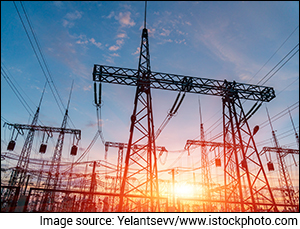 Kalpataru Power Transmission (KPTL) on Tuesday reported multifold jump in consolidated net profit at Rs 1.9 bn for March quarter 2020-21 due to higher revenues.
The net profit of the company in the year-ago period was Rs 130 m.
Net sales rose 15.9% to Rs 40.1 bn in the quarter ended March 2021 as against Rs 35.3 bn during the previous quarter ended March 2020.
The consolidated net profit of the company in 2020-21 too rose to Rs 6.6 bn from Rs 3.9 bn in 2019-20.
The company's total income in the year increased to Rs 130.2 bn from Rs 127.2 bn in 2019-20.
Kalpataru Power Transmission MD & CEO, Manish Mohnot said,
'Despite the disruptions, we continue to execute projects globally with broad-based momentum across all our businesses.

The company has emerged stronger despite challenging times in 2020-21 and has delivered a resilient performance backed by steady revenues, healthy profitability, reduced debt levels, strong order booking, favourable progress on divestment of long-term assets and scaling-up of the international business'.
Equity Dividend
For the year ending 31 March, the company's board of directors has recommended an equity dividend of Rs 1.5 per equity share of face value of Rs 2 each.
Board Approved Reappointment of Executive Director of the Company
The company's board approved the reappointment of Sanjay Dalmia as executive director of the company for a period of three years effective fromv8 August 2021 subject to approval of shareholders.
Mr Dalmia has more than three decades of experience in areas related to power, infrastructure, textiles, mining, and business development.He has earlier worked in diverse geographies like Far East, Africa, C.I.S. and the Middle East. He is a qualified Chartered Accountant and Company Secretary.
Kalpataru Power Transmission Arm Acquired Stake in Brazil's Fasttel Engenharia
Back in February 2021, the company's wholly owned subsidiary in Brazil signed a definitive agreement to acquire 51% stake in Fasttel Engenharia in the South American country, for US$ 8.8 m (over Rs 640 m).
Fasttel Engenharia, founded in 1988, specialises in engineering, procurement, and construction (EPC) and maintenance of power transmission lines, substation, and distribution systems across various voltage range up to 750 kilovolt (kV).
The company mainly operates into three business areas comprising EPC of substation, transmission and distribution network services with revenue of around US$ 47 m in 2020 and has a profitable track record.
Major Investments and Developments in the Indian Power Sector
In December 2020, the Asian Development Bank (ADB) and government of India signed a US$ 132.8 m loan to strengthen and modernise the distribution network as well as improve quality of power supplied to households, industries, and businesses in Meghalaya.
In March 2020, the Central Government signed virtual agreement to conclude strategic sales in Kamarajar Port, Tehri Hydro Development Corporation (THDC) India, and North Eastern Electric Power Corporation (NEEPCO). It will receive Rs 135 bn from these deals.
In December 2019, NTPC announced investment of Rs 500 bn to add 10 gigawatt (GW) solar energy capacity by 2022.
In September 2019, Adani Transmission acquired the entire stake in Bikaner Khetri Transmission.
In FY21, Adani Transmission also acquired Warora-Kurnool Transmission (WKTL) owned by Essel InfraProjects adding 1,750 ckt kms to its total transmission network of 17,276 ckt kms.
ReNew Power and Shapoorji Pallonji will invest nearly Rs 7.5 bn in a 150 MW floating solar power project in Uttar Pradesh.
Back in 2019, the government of India expected to offer nearly 20 power transmission projects worth Rs 160 bn for bidding.
Note that Indian power sector is undergoing a significant change that has redefined the industry outlook. Sustained economic growth continues to drive electricity demand in India.
Speaking of the power sector, it's interesting to note the power exchanged in India is about 4.5% of the overall power production, as can be seen in the chart below.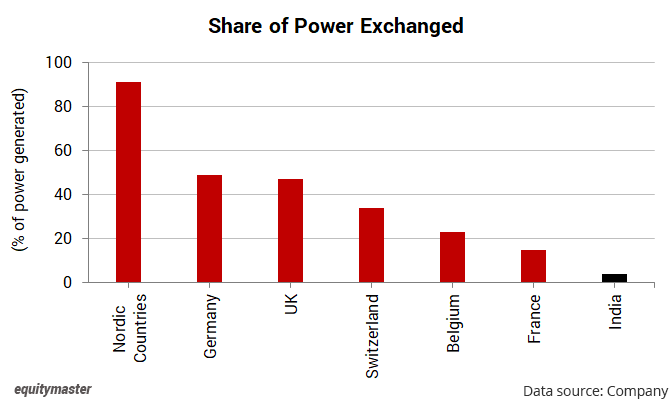 As per Tanushree Banerjee, Co-Head of Research at Equitymaster, India's power sector is currently in transition. It's driven by increasing reliance on short-term contracts and electricity spot markets.
This transition to the short-term market is happening due to quickly evolving industry dynamics.
Tanushree believes the Indian power sector will see a surge in spot power volumes due to certain factors.
In August 2020, Tanushree recommended a high-quality stock from this space. Subscribers can read the report here (requires subscription).
And if you are not a StockSelect subscriber, here's where you can sign up.
How the Stock Markets Reacted to Kalpataru Power Transmission Q4FY21 Numbers Today
Shares of Kalpataru Power Transmission opened the day at Rs 403.4 on the BSE and Rs 400 on the NSE.
The stock closed at Rs 379.1 (up 0.2%) on the BSE and Rs 381.5 (up 0.8%) on the NSE, respectively.
At its current price, it is trading at a P/E of 10.8.
The share also touched its 52-week high of Rs 406.8 and 52-week low of Rs 180 on 8 April 2021 and 19 May 2020.
Over the last 30 days, the Kalpataru Power Transmission share price is up 4.3%. Over the last one year, the company's share price is up 91.5%.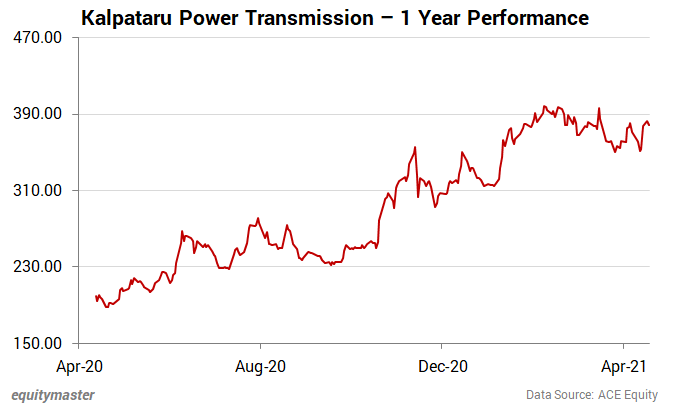 About Kalpataru Power Transmission
Kalpataru Power Transmission was incorporated in 1981 as HT Power Structures.
The company is a global engineering procurement and construction (EPC) player with diversified interest in power transmission and distribution civil construction railway track laying and electrification oil & gas pipelines laying etc.
It has presence in over 50 countries across the globe.
As on 31 March 2018, the company had 20 direct and indirect subsidiaries and two joint ventures.
KPTL is one of the leading companies in the field of Turnkey projects for extra high voltage (EHV) transmission lines up to and including 800 KV in India and overseas.
For more details about the company, you can have a look at Kalpataru Power Transmission factsheet and quarterly results on our website.
And to know what's moving the Indian stock markets today, check out the most recent share market updates here.