Cipla's Q4 Update: Net Profit Surges 68%; Company to Pay Rs 5 Dividend
May 17, 2021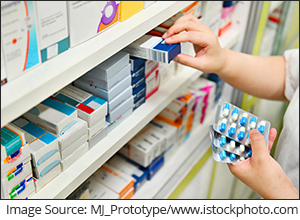 Drug major Cipla on Friday posted 68% rise in consolidated net profit at Rs 4.1 bn for the fourth quarter ended 31 March 2021.
The Mumbai-based firm had reported a net profit of Rs 2.5 bn in January-March 2019-20.
For the entire 2020-21 fiscal year, the drug maker reported a consolidated net profit of Rs 24 bn as against Rs 15.5 bn in the previous year.
On a quarter-on-quarter (QoQ) basis the net profit stood at Rs 4.1 bn, down 44.8%, as compared to Rs 7.5 bn in the December 2020 quarter.
Operational Performance
The company's total revenue from operations rose to Rs 46.1 bn, up 5%, compared to Rs 43.8 bn in the same period of 2019-20.
Total revenue from operations for the last fiscal year rose to Rs 191.6 bn as against Rs 171.3 bn in 2019-20.
The company's consolidated earnings before interest, tax, depreciation, and amortisation (EBITDA) in the quarter rose 22% year on year (YoY) to Rs 8 bn with margins expanding 239 basis points (bps) to 17.3%.
For the full fiscal year 2021, EBITDA stood at Rs 43 bn, up 33%, compared to Rs 32.3 bn reported in the previous financial year.
Key financial Indicators
| Rs in bn | Q4FY21 | Q4FY20 | Growth | FY21 | FY20 | Growth |
| --- | --- | --- | --- | --- | --- | --- |
| Total revenue from operations | 46.1 | 43.8 | 5% | 191.6 | 171.3 | 12% |
| EBITDA | 8 | 6.5 | 22% | 43 | 32.3 | 33% |
| % of Income from operations | 17.30% | 14.90% | | 22.50% | 18.90% | |
| PAT | 4.1 | 2.5 | 68% | 24.1 | 15.5 | 56% |
| % of Income from operations | 9% | 5.60% | | 12.60% | 9% | |
Data Source: Company
Equity Dividend
The board of directors of the company at its meeting held on 14 May 2021 has recommended a final dividend of Rs 5 per equity share (face value Rs 2 each) for the financial year ended 31 March 2021.
Tax Expenses Affected Cipla's Bottomline
The drug maker's bottomline performance was affected by a sharp jump of 50% YoY in tax expenses to Rs 1.1 bn during the quarter. Other income in the quarter also slumped 35.5% on-year to Rs 601.3 m.
The topline performance was aided by 17 % YoY rise in sales from North American market to Rs 10 bn.
In the European market, the company's sales grew 7% YoY to Rs 2.5 bn as compared to Rs 2.3 bn in FY20.
Back home, the sales performance was muted in the March quarter as compared to December quarter due to lower demand of Covid-19 treatment related drugs before the onset of the second wave towards the end of the quarter.
Sales in India rose merely 4% YoY to Rs 18.1 bn, compared to Rs 17.3 bn in the last year.
Cipla Looks to Expand its Covid-19 Portfolio Over Next Two Months
The company is gearing up to expand its wide portfolio of Covid-19 drugs over the next two months with the expected launch of Regeneron Pharmaceuticals Inc's antibody cocktail and the generic of baricitinib through voluntary licenses from Merck and Eli Lilly.
The company's chief financial officer Kedar Upadhye said,
In terms of launch timelines, the antibody cocktail is immediate. Hopefully, we would be able to launch the cocktail in the next few days, subject to import, and the next one is baricitinib because that is for an approved product and is subject to the innovator (Eli Lilly) getting clearance from the DCGI and we will also have to conduct some studies.
Roche Holding AG (Swiss multinational healthcare company) had earlier this month received an emergency authorization for its partner Regeneron's monoclonal antibody cocktail of casirivimab and imdevimab for treating people with mild-to-moderate infection who are at high risk of hospitalisation.
--- Advertisement ---
WATCH: FULL Replay of Our Urgent Broadcast

The full replay of our urgent broadcast on India's Revival is available for a limited time now.

In case you missed watching our broadcast LIVE...

You can see all the important highlights from our broadcast in this replay.

Please note that we may take this replay off the internet any minute.

So it is highly recommended you watch it immediately.

Click Here to Watch the Replay NOW
------------------------------
The Swiss firm expanded its partnership with Cipla for exclusive distribution of the imported drug in India.
Cipla was also among the five domestic firms to sign a voluntary licensing pact with Merck Sharp & Dohme (MSD) for production of molnupiravir, an investigational oral antiviral agent.
MSD, in collaboration with Ridgeback Biotherapeutic, is currently conducting a phase 3 trial for the drug in mild-to-moderate covid-19.
The other voluntary license holders for the drug are Dr Reddy's Laboratories, Emcure Pharmaceuticals, Hetero Labs, and Sun Pharmaceutical Industries.
Cipla's Shareholding Pattern as on 31 March 2021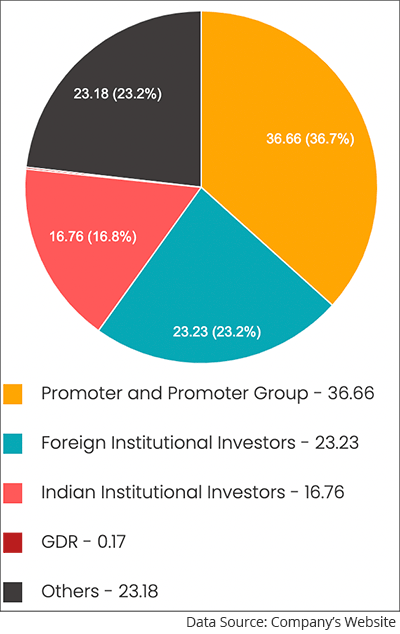 How the Stock Markets Reacted to Cipla's Q4FY21 Numbers Today
Shares of Cipla opened the day at Rs 899.5 on the BSE and Rs 895 on the NSE.
Cipla's share price closed at Rs 881 (down 2.6%) on the BSE and Rs 881.2 (down 2.5%) on the NSE.
BREAKING: It's Good Time to Invest in Gold, but Just Don't Go Blindfolded
At its current price, it is trading at a P/E of 29.5.
The share also touched its 52-week high of Rs 966 and 52-week low of Rs 357 on 20 April 2021 and 13 March 2020, respectively.
Over the last 30 days, the Cipla share price is down 3.3%. Over the last one year, the company's share price is up 53.1%.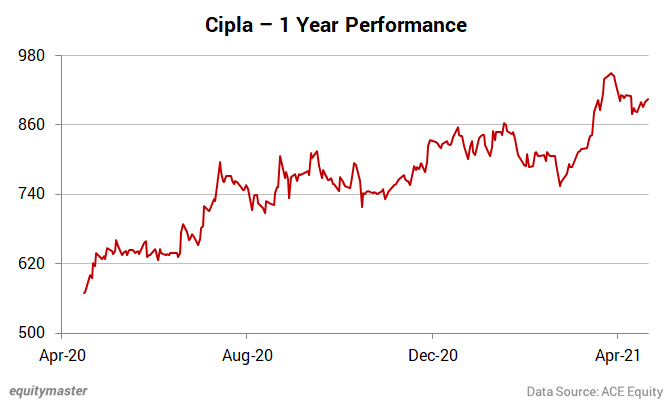 About Cipla
Cipla is one of the leading pharmaceutical companies in India. It was incorporated in the year 1935 with the name Chemical Industrial & Pharmaceutical Laboratories Limited.
The company focuses on development of new formulations and has a wide range of pharmaceutical products.
Khwaja Abdul Hamied the founder of Cipla gave the company all his patent and proprietary formulas for several drugs and medicines without charging any royalty.
Cipla is also a global pharmaceutical company focused on agile and sustainable growth, complex generics, and deepening portfolio in India, South Africa, North America, and key regulated and emerging markets.
Its strengths in the respiratory, anti-retroviral, urology, cardiology, anti-infective, and CNS segments are well-known.
The company has 46 manufacturing sites around the world produce 50+ dosage forms and 1,500+ products using cutting-edge technology to cater 80+ markets.
Cipla is ranked 3rd largest in pharma in India (IQVIA MAT Mar'21), 3rd largest in the pharma private market in South Africa (IQVIA MAT Mar'21), and is among the most dispensed generic players in the U.S.
For more details about the company, you can have a look at Cipla's factsheet and quarterly results on our website.
You can also compare Cipla with its peers:
And to know what's moving the Indian stock markets today, check out the most recent share market updates here.