A Close Look at the Stock of JK Lakshmi Cement
May 21, 2021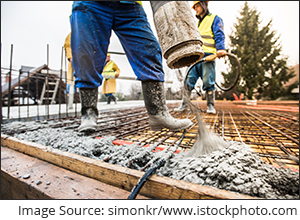 Shares of JK Lakshmi Cement surged over 8% and hit a fresh 52-week high of Rs 514 in intraday trade today.
This was after the company posted good results for the March quarter (Q4FY21). The earnings exceeded analysts' expectations on multiple fronts.
The stock is trading close to its record high level of Rs 535, touched on 17 May 2017.
Quarterly Performance Helped by Higher Volumes
JK Lakshmi Cement reported a 37% year-on-year (YoY) jump in its standalone net profit for Q4FY21 at Rs 1.4 bn.
The jump in bottomline was on the back of healthy operational performance.
The company reported a profit of Rs 1.1 bn in Q4FY20. On a consolidated basis, profit jumped 61.3% to Rs 1.6 bn.
--- Advertisement ---
This is a Powerful Mega Trend Playing Out in India

We have uncovered a powerful mega trend that is playing out in India right now.

It could potentially generate immense wealth for early movers.

Our co-head of research Tanushree Banerjee has also zeroed in on one specific stock riding this mega trend.

It's her #1 stock pick right now.

And she believes, this could be one of the top stocks to get to potential Rs 7 crore wealth over the long term.

Tanushree will reveal all the details about this mega trend and her #1 stock at her special online event on July 29.

At the event Tanushree will also show you, how to potentially accumulate Rs 7 crore in wealth over the long term.

What you learn at the event could possibly change your financial fortunes forever.

Click here to reserve your FREE seat.
------------------------------
The company's revenue from operations grew 24.6% YoY at Rs 13.2 bn.
Total expenses were at Rs 12.1 bn in Q4, up 18.8% from Rs 10.2 bn a year earlier.
EBITDA margin improved to 20.3% in Q4FY21 from 19% in Q4FY20, the company said in an exchange filing.
Despite hike in the prices of inputs like Petcoke, Diesel, Fly Ash, Gypsum, JKLC has improved its profitability on account of substantial higher volumes, higher realisations, improved efficiency, improved product mix etc.
Here's a table comparing JK Lakshmi Cement's quarterly performance on key parameters.
JK Lakshmi Cement Financial Performance
| (Rs m) | Q4FY21 | Q4FY20 | Q3FY21 | YoY (%) | QoQ (%) |
| --- | --- | --- | --- | --- | --- |
| Net Revenues | 13,220 | 10,612 | 11,928 | 25% | 10.80% |
| Total Expenses | 11,319 | 9,526 | 10,863 | 19% | 4.20% |
| Profit before tax | 1,865 | 1,311 | 1,272 | 42% | 46.60% |
| Tax | 500 | 303 | 248 | 65% | 101.60% |
| Profit after tax | 1,365 | 1,008 | 1,024 | 35% | 33.30% |
Data Source: Company Filings
Cement Business During the Quarter
The cement business gained from higher volume and better price realisations, which was evident from the sharp pick-up in sales.
The demand thrust came from the government investing heavily in the infrastructure segment. This compensated for the spike in raw material cost which has almost doubled.
That being said, investors must be careful. There might be some near-term challenges for the cement sector due to rising input cost inflation and demand uncertainty due to the second wave.
Free Signup: The Smallcap Revival Summit
Full Year Highlights
For the fiscal year 2020-21, JK Lakshmi Cement's net profit climbed 66.5% to Rs 4.2 bn. Profit was Rs 2.5 bn in the previous year.
Revenues were reported at Rs 47.3 bn, up 8.3% as compared to Rs 43.6 bn in FY20.
Commenting on the performance, company's Vice Chairman and MD, Vinita Singhania said:
This performance is achieved during a pandemic period when we lost nearly 55 days of production and 40-45 days of sales. It is greatly satisfying and speaks greatly of the Team JKLC's passion and commitment.
During FY21, the company's gross debt declined Rs 3.5 bn. Net debt was down Rs 6.2 bn in FY21.
JK Lakshmi Cement recommended a dividend of Rs 3.75 per equity share of Rs 5 each for the financial year ended 31 March 2021.
Equitymaster's Technical View on the Cement Sector
We reached out to Brijesh Bhatia, Research Analyst at Equitymaster, and Editor of the premium monthly recommendation service Fast Profits Report, for his technical view on the cement sector.
Here's what he has to say...
The financial market was hit in March 2020 by lockdown and by March 2021, they are up by 100% from the lows.
Cement sector outperformed and most of the cement stocks are up by 100% from the lows.
The demand in cement is largely lead by government spending on infrastructure and real estate.
The commercial office been vacant with work-from-home culture and new housing projects been stalled, can still the cement sector rally from current levels?
We created an Equal Weighted Cement Index (EWCI) chart using cements stocks with market cap over 10,000 crores and compared it with Nifty Realty Index.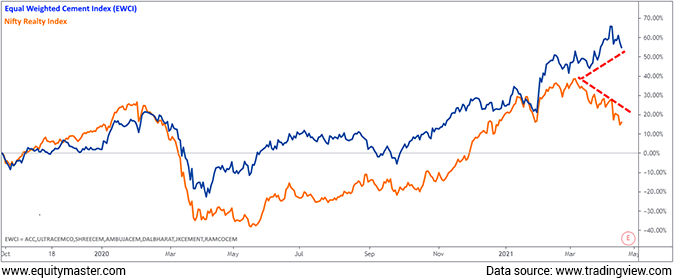 Since the lows in March 2020, EWCI and realty index rallied in a same manner.
But since March 2021, we are witnessing divergence between the two sectors (marked red) where cement stocks are trading near high and realty stocks are underperforming against cement stocks.
To check the future outperformance of cement stocks, we compared EWCI with Nifty.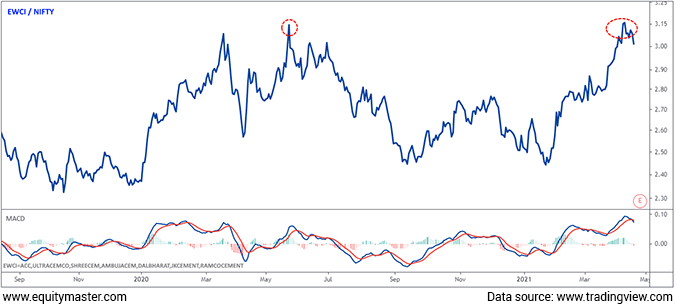 The ratio chart of EWCI Index vs Nifty above is indicating profit bookings can be on cards for cement stocks and it has reversed from the similar highs made in June 2020.
The negative crossover of averages on Moving Average Convergence Divergence (MACD) supports an underperformance of EWCI over Nifty.
How Stock Markets Reacted to JK Lakshmi's Q4 Numbers Today
JK Lakshmi Cement share price surged 9% today and hit a fresh 52-week high of Rs 514 after the company reported good results.
Presently, shares of the company are trading up by 7%.
Cement stocks are trading on a mixed note today with JK Lakshmi Cement witnessing most of the buying interest.
Over the past one year, JK Lakshmi Cement shares have outperformed the benchmark BSE Sensex by rising 134%.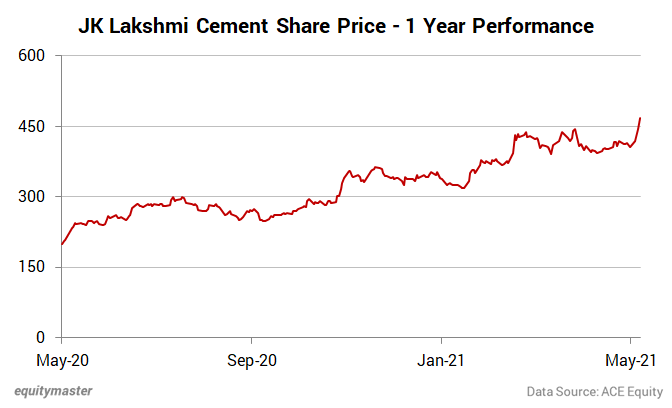 The company commands a market cap of Rs 59,541 m.
At the current price of Rs 508, the P/E ratio for JK Lakshmi Cement stands at 18.2 times.
About JK Lakshmi Cement
JK Lakshmi Cement was incorporated on 6 August 1938 in the State of Rajasthan. The company's plant is situated at Jaykaypuram District of Sirohi Rajasthan having an annual capacity of 12 m tonnes.
The company manufactures and markets Cement Clinker and cementitious products like RMC and AAC blocks.
For more details about the company, you can have a look at JK Lakshmi Cement's fact sheet and JK Lakshmi Cement's quarterly results on our website.
For a sector overview, you can read our cement sector report.
You can also compare JK Lakshmi Cement with its peers on our website.
JK Lakshmi Cement vs UltraTech Cement
JK Lakshmi Cement vs Ambuja Cements
JK Lakshmi Cement vs JK Cement
JK Lakshmi Cement vs India Cements
JK Lakshmi Cement vs Shree Cement
To know what's moving the Indian stock markets today, check out the most recent share market updates here.