Why Gland Pharma Share Price is Falling
May 23, 2023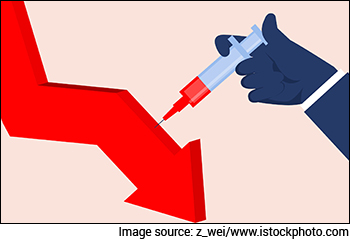 It's said that bad news comes in a group. This has turned out to be true for Gland Pharma.
Lately, the pharma company has been surrounded by bad news. The bad news, in a short period, has cast a shadow of doubt on its future.
No wonder Gland Pharma's share price is down 30.6% in the past five days.
Read to know about the bad news.
#1 Poor Q4 results
On 18 May 2023, Gland Pharma announced its quarterly results. The company reported a 56% decline in its March quarter profit on Thursday.
The pharma company, the majority of which is owned by China's Shanghai Fosun Pharmaceutical group, said that its consolidated profit before exceptional items and tax, fell to Rs 1.7 billion (bn) for the March 2023 quarter, from Rs 3.8 bn a year earlier.
Multiple headwinds on revenue and a sharp rise in operational costs have hit its financial performance.
It had a one-off expense of Rs 564.6 million (m) as a provision for credit-impaired financial assets related to a customer who filed for bankruptcy in the US court. Accounting for this, the company's net profit came in at Rs 786.8 m.
Its earnings before interest, taxes, depreciation, and amortisation (EBITDA) margin contracted to 21% from 32% a year earlier.
Revenue from operations fell about 29% to Rs 7.9 bn, dragged by weak sales in domestic and international markets as well as a production line shut down at a facility in Hyderabad.
#2 Stake sell by Morgan Stanley
Foreign investor Morgan Stanley sold a stake in Gland Pharma through open market transactions on Monday.
According to the bulk deals data available with the exchanges, Morgan Stanley Investment Funds' Emerging Markets Equity Fund offloaded about 960,000 shares in the company at an average price of Rs 930.7.
Morgan Stanley is a big name in stock market. It's a leading global investment bank and wealth management firm. Hence, retail investors take notes of its trading activities.
Thus, when it sold its stake, retail investors followed suit.
This is not the first time an FII divested stake in the company. In the past few quarters, foreign investors have continuously divested stakes from the pharma company.
FIIs were divesting their stake in Gland Pharma since December 2021. FII's stake stood at 11.3% in the quarter ending December 2021. The stake reduced to 4.3% by the end of the March 2023 quarter.
What next?
In 2023, Gland Pharma made progress on its path to building a Bio-CDMO and signed its first contract for Plasma Protein at its Shamirpet facility. It has also initiated the launch of its first product in China.
Total capex incurred during the quarter was Rs 977 m. For the financial year 2023, the total capex stood at Rs 2,230 m.
The company is adding new capabilities of combi-line for the microsphere, and an additional bag line for the Penem block in the Pashamylaram facility in Hyderabad.
Thus the company achieved significant milestones during the financial year and it also has big plans for the current financial year. This may bode well for investors.
However, investors should remember all of this is built on hopes and expectations which may not translate into numbers anytime soon.
How Gland Pharma share price has performed recently
In the last six months, Gland Pharma's share price fell by 44.4%. On a YTD basis, it price tumbled 40%.
In the past one year, its share price is down 68.3%.
Gland Pharma shares touched a 52-week high of Rs 3,176.8 on 23 May 2022 and a 52-week low of Rs 861.5 touched on 22 May 2023.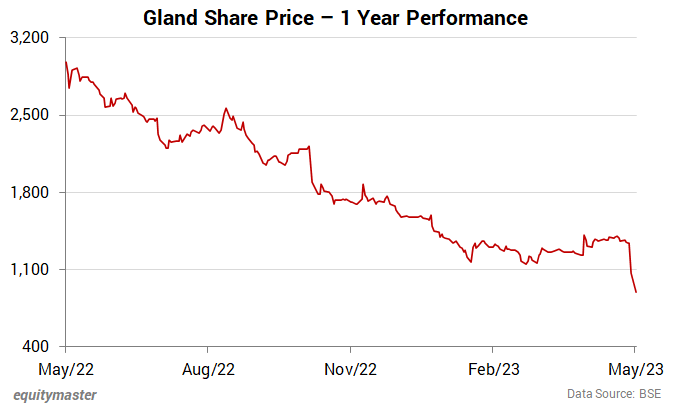 About Gland Pharma
Gland Pharma was established in 1978 in Hyderabad.
It has grown over the years from a contract manufacturer of small volume liquid parenteral products, to become one of the largest and fastest growing injectable-focused companies.
It has a global footprint across 60 countries, including the United States, Europe, Canada, Australia, India, and other markets.
It operates primarily under a business to business (B2B) model and has an excellent track record in the development, manufacturing, and marketing of sterile injectables.
It has a wide range of injectables, including vials, ampoules, pre-filled syringes, lyophilized vials, dry powders, infusions, oncology, and ophthalmic solutions.
It also has the distinction of having pioneered Heparin technology in India.
To know more about company, check out the Gland Pharma fact sheet and quarterly results on our website.
You can also compare Gland Pharma with its peers:
Gland Pharma vs Zydus Lifescience
Disclaimer: This article is for information purposes only. It is not a stock recommendation and should not be treated as such. Learn more about our recommendation services here...