Why Hindalco Share Price is Falling
May 25, 2023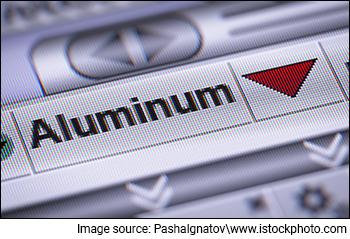 Hindalco Industries stock price extended it's downward trajectory for a second day on Thursday, registering a decline of 1.5%.
The stock has been in retreat since hitting a nine-month high of Rs 504 on 18 January 2023. At present, the aluminium major is trading more than 20% below its January peak.
The entire metal sector has come under scrutiny, as it has been exhibiting underperformance relative to its sectoral peers.
So far in 2023, the BSE Metal index is down 9%, while the Nifty Metal index has suffered a steeper decline of 15%.
Read on to find out the factors behind Hindalco's downtrend.
Disappointing Q4 results
Hindalco reported weak earnings results, contributing to the decline in its share price.
For the March 2023 quarter, Hindalco revenue came in at Rs 558.6 billion (bn), up marginally from Rs 557.6 bn in the same quarter last year.
Net profit for the quarter came in at Rs 24.1 bn. The net profit was 37% lower compared to the year-ago quarter, where the company posted a profit of Rs 38.6 bn.
The year-on-year decline in net profit is attributed to the significant fall in base metal prices compared to the year-ago quarter, while inflationary pressure, though easing, remains higher than last year.
The year-ago quarter had seen a sharp rally in aluminium prices after the start of the Russia-Ukraine war.
Aluminium averaged around $3,275 a tonne on the London Metal Exchange (LME).
However, during the financial year 2023, aluminium prices experienced a decline due to concerns over a global economic slowdown. In the March 2023 quarter, aluminium prices on the London Metal Exchange (LME) averaged US$ 2,395 per tonne, marking a 27% decrease from the previous year's levels, which impacted the company's profitability.
At the operating level, EBITDA (earnings before interest, taxes, depreciation, and amortisation) declined by 23% YoY to Rs 58.2 bn in the March 2023 quarter.
Weaker global demand has also put pressure on the volumes of Hindalco's US subsidiary, Novelis.
The destocking of inventory in the beverage cane market has affected Novelis' volumes, although there is a healthy demand for automotive and aerospace products.
Novelis, which contributes more than half of the company's overall operating profit, saw its revenue decline by 8% to US$ 4.4 bn (around Rs 360.8 bn).
Its net profit declined by 23% YoY at US$ 175 m (around Rs 14.3 bn), impacted by lower average aluminium prices and subdued sales volume.
However, respite is expected in September 2023 quarter.
Long-term outlook
Moving ahead, Hindalco has earmarked a capex of Rs 50 bn each for this fiscal and the next, which would be used mainly for its ongoing expansion plans.
This is a 67% increase from Rs 30 bn last year. The firm would funnel its entire capex requirements through internal accruals and will not raise debt.
However, it will continue with its planned investment of US$ 1.8 bn in the US subsidiary, which would be used for expansion plans across the US, Brazil, and South Korea.
Hindalco is focused on downstream expansions in India, with an emphasis on increasing contributions from value-added products. This strategy aims to enhance profitability and protect the company from fluctuations in aluminium prices.
Moreover, the company remains committed to its holistic Environmental, Social, and Governance (ESG) approach. It has set specific targets beyond carbon emissions, encompassing critical aspects such as waste management, biodiversity preservation, water positivity, and community inclusion.
Additionally, Hindalco plans to augment its usage of renewable power and increase the contribution of low-carbon products.
Further, it expects to sustain its positive momentum in the copper business, driven by increasing volumes, robust demand, and improved TC/RC (Treatment Charge/Refining Charge) margins.
Regarding aluminium prices, the company foresees a range of US$ 2,200 to US$ 2,400 per tonne, and despite a spike in coal prices observed in Q4, it anticipates the cost of production to remain stable at Q4 levels.
For its subsidiary, Novelis, Hindalco expects improvement to commence from the September 2023 quarter.
How Hindalco shares have performed recently
Hindalco share price is down 17.6% in 2023 so far. In the past six months, the shares have delivered a negative return of 8.9%.
In the past month, shares of Hindalco have declined by 6.7%.
Hindalco touched its 52-week high of Rs 504 on 18 January 2023. Its 52-week low was Rs 308.9 touched on 20 June 2022.
It's currently trading at a PE (Price to Earnings) multiple of 22.3, while the PB (Price to Book) ratio stands at 1.6x.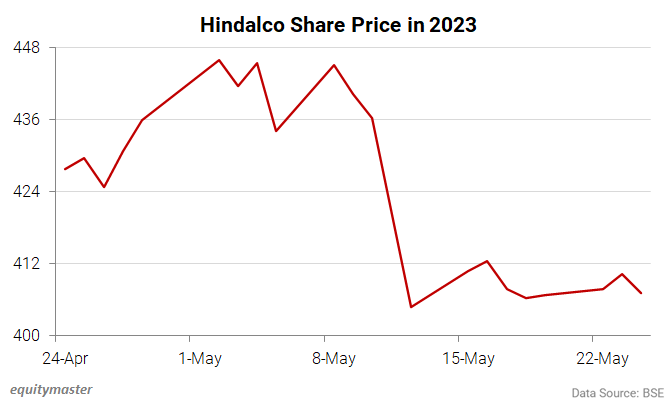 About Hindalco
Hindalco Industries is an Indian aluminium and copper manufacturing company.
The company is a subsidiary of the Aditya Birla Group.
Hindalco is the largest aluminium rolling and recycling corporation in the world, as well as a major copper player. It is also one of Asia's top primary aluminium producers.
Building and construction, auto-motives, packaging, electrical, consumer durables, refractories, and ceramics are some of the industries it serves.
Along with its global subsidiary Novelis Inc., Hindalco has a presence in 12 countries.
From bauxite mining to alumina refinement, aluminium smelting, rolling, and extrusions, the company engages in a wide range of operations.
For more details about the company, you can have a look at Hindalco's Fact sheet and its quarterly result
You can also compare Hindalco with its peers.
And to know what's moving the Indian stock markets today, check out the most recent share market updates here.
Disclaimer: This article is for information purposes only. It is not a stock recommendation and should not be treated as such. Learn more about our recommendation services here...