Why Asian Paints Share Price is Falling
May 27, 2022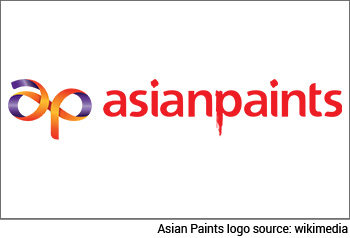 In this volatile market, where the market is bearish for a few sectors and bullish for others, paint stocks are dominated by bears.
This week, all paint stocks have declined.
Since Monday, 23 May, Asian Paints has been in a downward trend, with a decline of 15.1%.
What could be the probable reasons for the fall?
Let's find out...
#1 Rising crude oil prices
Crude oil is an essential component in manufacturing paints. Rising crude oil prices have increased the cost of titanium dioxide, a major input in the making of paints.
Crude oil has risen by 50% this year.
Increased input costs have a direct impact on a company's margins.
The conflict between Russia and Ukraine may result in more oil supply problems, which will have a direct impact on the paint industry. As a result, investors are cautious.
Asian Paints is the top company that could lose big as crude oil prices head higher.
#2 Grasim Industries announces doubling its capex plan in the paint industry
Paint stocks fell on Wednesday morning after Grasim Industries Ltd disclosed an increase in it paints business capital expenditure.
The effect of this news had an impact on all the big paint firms.
Let's have a look at how paint stocks reacted to this news...
Meanwhile, Grasim Industries surged 2.5% as analysts deemed the plan significant.
It is believed that Grasim's aggressive foray into the paints sector will erode these companies' market share.
Grasim has advanced the implementation of a 1.33 bn litre paint capacity. The plant's commissioning will begin in stages in the fourth quarter of 2023-24.
The project cost has been increased to Rs 100 bn by 2024-25 from the previously stated Rs 50 bn by 2023-24.
In 2021-22, it set a maximum capex of Rs 35.8 bn for land acquisition.
The capacity of 1.33 bn litres is higher than big players like Asian Paints with capacity of 1.7 bn litre, Berger Paints with 0.7 bn litres capacity, and Kansai Nerolac with 0.6 bn litres capacity.
The market dynamics of the decorative paints sector may shift with new capacity announced by Grasim.
The foray into this consumer-oriented company would further diversify Grasim's portfolio and give it more scale and growth potential.
Now that Asian Paints is down from its highs, should you buy the stock or is there more pain in the offing?
Tune in to the below video where co-head of research at Equitymaster Rahul Shah analyses whether you should buy the dip in Asian Paints.
How the stock of Asian Paints has performed recently
Asian Paints last traded price was down 1.4% to Rs 2,803.8 on the BSE.
On the NSE, Asian Paints last traded price was down 1.2% to Rs 2,804.8.
center37966400This week, the company registered a fall of 11.6% from Rs 3,174.0 to Rs 2,844.0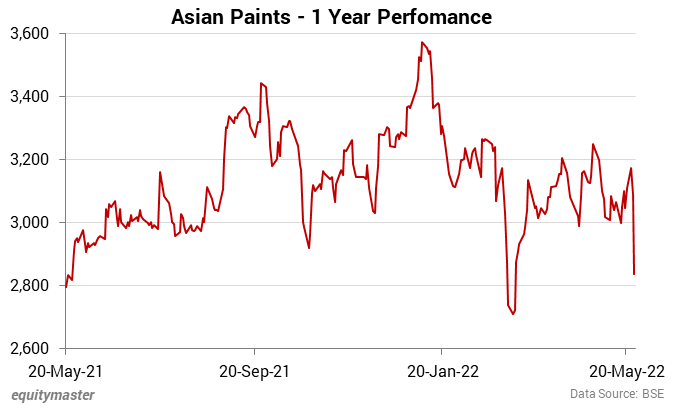 Over the last 30 days, the Asian Paints share price is down 10.8%.
And over the last year, Asian Paints share price is down 4.2%.
The current market capitalisation of Asian Paints stands at Rs 2,690.4 bn.
In its Q4 results, Asian Paints reported a consolidated net profit at Rs 8.5 bn on account of a one-time loss witnessed in Sri Lanka business
To know more about the company, check out Asian Paints financial factsheet and its latest quarterly results.
About the Company
Asian Paints is one of India's most well-known and finest paint companies.
Founded in 1942, it's also India's largest paint company. It also produces varnishes, enamels, or lacquers, surface preparation, organic composite solvents, and thinners.
The firm has business in 15 countries and has 26 paint production sites worldwide, serving customers in over 60 nations. It sells its products under numerous names such as Apcolite, SCIB, and Causeway Paints.
The firm is also well-known for its supply chain approach. Its supply chain is critical to its competitiveness by offering flawless product quality and exceptional service while keeping prices down.
We will have to wait and watch how Grasim's paint business works out and how it competes with its peers.
Till then, you can compare Asian Paints with its peers:
Asian Paints vs Shalimar Paints
Asian Paints vs Kansai Nerolac
As of March 2022, promoter pledging in ASIAN PAINTS stands at 11.08%. To know more, check out the latest shareholding pattern of ASIAN PAINTS.
Happy Investing.
Disclaimer: This article is for information purposes only. It is not a stock recommendation and should not be treated as such. Learn more about our recommendation services here...