Bank of Baroda Shares Plunge 5% After Reporting Huge Loss
May 31, 2021
State-owned lender Bank of Baroda (BOB) reported a standalone net loss of Rs 10.5 bn for the March 2021 quarter despite falling provisions.
This was due to higher tax costs.
It had posted a profit of Rs 5.1 bn in the same period last year.
The tax cost for the March quarter was at Rs 37.3 bn against tax writeback of Rs 22.3 bn in the same quarter last year.
On a consolidated basis, the net loss stood at Rs 7.4 bn for the fourth quarter.
The bank has stopped short of declaring any dividend for the financial year 2020-21.
Profit for the full year, increased sharply by 51.8% to Rs 8.3 due to lower provisions compared to the previous year.
Operational Performance
Bank of Baroda's net interest income (NII) (the difference between interest earned and interest expended) increased 4.5% to Rs 71.1 bn for the fourth quarter compared to Rs 68 bn in the same quarter last year.
The bank attributed the loss to a shift to new tax structure and on account of deferred tax liability (DTA) reversal.
'Excluding the impact of the change in tax regime, the bank would have reported profit after tax of Rs 22.7 bn in the March quarter', the company said in a filing.
Non-interest income (other income) at Rs 48.5 bn surged 71% in the fourth quarter compared to the year-ago quarter.
Pre-provision operating profit grew by 27.3% year-on-year (YoY) to Rs 62.7 bn during the quarter.
The lender's advances grew by 4.9% to Rs 6.4 tn during the March quarter, while domestic deposits rose 6.2% to Rs 8.6 tn.
Domestic advances increased by 4.9% YoY, led by domestic organic retail and agriculture loans which grew by 14.4% and 13.2%, respectively.
Within retail loans, auto loans increased by 27.8% YoY and personal loans grew at 27.2%
Capital adequacy ratio (CAR) at the end of the quarter stood at 14.9% with common equity tier (CET-1) at 10.9% on a standalone basis.
Asset Quality Improves
Asset quality improved during the quarter compared to the previous quarter.
Gross non-performing assets (NPAs) as a % of gross advances and net NPA as a percentage of net advances fell to 8.9% and 3.1% in the March quarter.
This was against gross and net NPA at 9.6% and 3.4% in December 2020 quarter, respectively.
Provisions and contingencies fell 46% YoY to Rs 35.9 bn, but the same increased 4.4% on a sequential basis in the March quarter.
Bank of Baroda said the slippages ratio declined to 2.7% in the financial year against 3% in the previous year.
The credit cost ratio also declined significantly to 1.7% from 2.4% in the same period.
The slippage ratio stood at 6.8%, increasing sharply from 2.4% in the December quarter, and credit cost rose by 130 basis points (bps) to 2.5% for the March quarter, the bank added.
What is Slippage Ratio?
Fresh accretion of NPAs during the year or a falling below the current position of standard assets of the bank is a slippage.
For example, the gross NPA of a bank's last financial year is 12% and in the current financial year it is 15% due to fresh accumulation of bad loans, it is called as slippage of 3% in the current year.
A sharp rise in slippage has major impact on provisioning and net profit of the bank.
Low slippage or no slippage in asset quality shows how asset qualities are managed by the bank.
When asset quality goes up, benefits include more liquidity, greater risk capacity, and a lower cost of funds.
The slippage ratio is the rate at which good loans are turning bad; the credit cost is the amount a bank expects to lose due to credit risks.
Bank of Baroda's Digital Footprint
Recent initiatives taken by the bank to increase its digital presence.
The company launched digital dangal campaign to enhance bank's market share in digital products and services.
The bank has introduced unified payments interface (UPI) with mobile banking app to provide omni-channel experience to customers.
Fastag Issuance through tab banking pilot launched in 61 Branches.
Savings accounts opened via tab banking are at 85% of eligible accounts in March 2021.
BHIM Baroda Pay (UPI) app enabled for scanning goods and services tax (GST) enabled QR codes and IVRS (inter-active voice response system) based UPI blocking.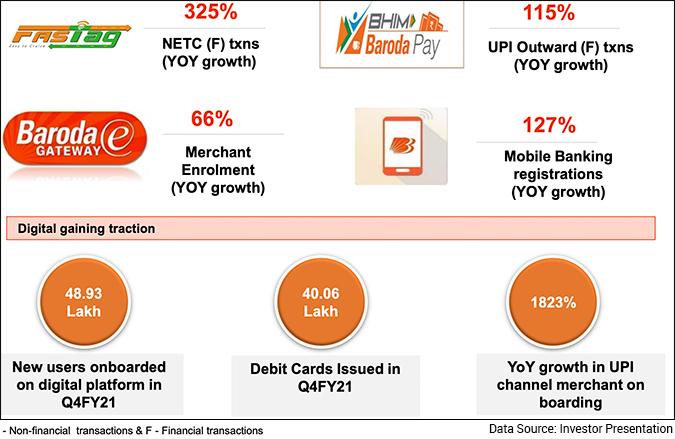 Company to Rely on Corporate Book to Face Second Covid Wave
State-owned Bank of Baroda will rely on the strength of its corporate book to tide over the second wave, even as small businesses and retail loans could cause some discomfort.
Sanjiv Chadha, chief executive of the bank said on Saturday that as far as the second wave is concerned, the bank is likely to see pretty much a repeat of what it witnessed last year.
"Last year, we were not confident what would happen to the corporate sector. This time, we can say with confidence that the second wave has largely left the large corporate businesses untouched," he added.
The lender has a corporate loan book of Rs 2.9 tn, almost unchanged from the last financial year.
It's retail and micro, small and medium enterprises (MSME) book stood at Rs 1.2 trillion (14.4% higher than last year) and Rs 962 bn (10.2% growth), respectively.
According to Mr Chadha, even for corporate accounts which were relatively weaker and had got restructured last year, there would be no need to revisit in most cases.
"Given the fact that 50% our book is corporate, it is the performance of the corporate loans which will define the overall impact on the bank," he said, adding that as was the case with the first wave, the impact is going to be more as far as retail is concerned and significantly more for MSMEs.
So, the areas of concern remain the MSME sector and to a lesser extent, the retail sector, he said.
However, Sanjiv Chadha believes that some of the recent measures announced by the Reserve Bank of India (RBI), like another round of debt recast, will aid borrowers.
On 5 May 2021, RBI stepped in to rescue and small business borrowers with loans of up to Rs 250 m, allowing lenders to restructure their debt and offer some respite from the stress induced by the second wave of the covid-19 pandemic.
Bank of Baroda to Raise Rs 50 Bn After Unexpected Loss
Bank of Baroda plans to raise Rs 50 bn from sales of shares and bonds after posting an unexpected loss in the fourth quarter.
India's state-run lender's borrowing plan includes raising as much as Rs 20 bn through a sale of shares and up to Rs 30 bn via bonds that qualify as capital.
The bank raised Rs 45 bn from institutional investors in March to strengthen its capital ratios.
Bank of Baroda's gross bad loan ratio was at 8.9% at the end of March quarter compared to 8.5% at end of December quarter.
Equitymaster's View on Bank of Baroda's March Quarter Performance
We reached out to Aditya Vora, Research Analyst at Equitymaster, for his view on the company's quarter four performance.
Here's what he has to say -
Public sector banks are a play on the turning corporate credit cycle.  In spite of the pandemic stress, Bank of Baroda posted lower retail slippage indicating a positive going forward.

Having already raised Rs 7.6 bn as AT 1 bonds in July 2020, the bank further plans to raise Rs 50 bn going forward. We believe this will well capitalize the bank from any external macro shocks.
How the Stock Markets Reacted to Bank of Baroda Q4FY21 Numbers Today
Shares of Bank of Baroda opened the day at Rs 82.3 on the BSE and Rs 83 on the NSE.
Bank of Baroda share price closed at Rs 80.7 (down 3.8%) on the BSE and the NSE.
At its current price, it is trading at a P/E of 8.1.
The share touched its 52-week high of Rs 99.8 and 52-week low of Rs 36.7 on 19 February 2021 and 25 September 2020, respectively.
Over the last 30 days, the Bank of Baroda share price is up 28.4%. Over the last one year, the company's share price is up 118.1%.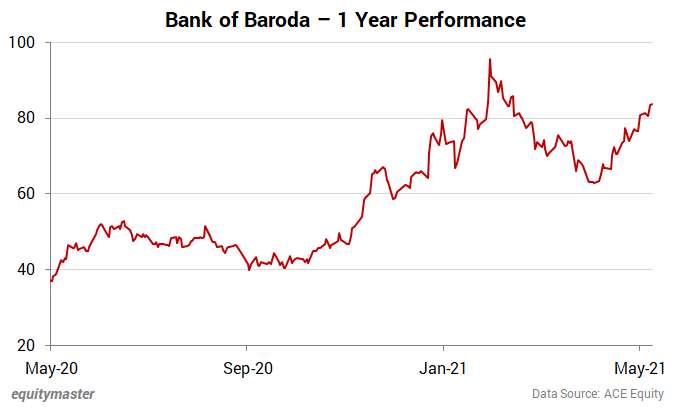 About Bank of Baroda
Bank of Baroda (BOB) is one of the leading commercial public sector banks in India.
The bank's solutions includes personal banking which includes deposits, retail loans, credit cards, debit cards services, and lockers; business banking which includes deposits loans and advances, services and lockers; corporate banking which includes wholesale banking deposits loans and advances and services; and international business which includes non-resident Indian (NRI) services, foreign currency credits, external commercial borrowings (ECB) offshore banking, export finance import finance, correspondent banking, trade finance, and international treasury.
Bank of Baroda is one of India's largest banks and as on December 2020 the bank has a strong domestic presence spanning 8,246 domestic branches and 11,553 ATMs and cash recyclers supported by self-service channels.
The bank has a significant international presence with a network of 99 overseas branches/offices subsidiaries spanning 21 countries.
The company also has wholly owned subsidiaries including BOB Financial Solutions (erstwhile BOB Cards) and BOB Capital Markets.
For more details about the company, you can have a look at Bank of Baroda's factsheet and quarterly results on our website.
You can also compare Bank of Baroda with its peers.
Bank of Baroda vs Punjab & Sind Bank
Bank of Baroda vs Union Bank of India
To know what's moving the Indian stock markets today, check out the most recent share market updates here.