Why Grasim Industries Share Price is Falling
Jun 6, 2022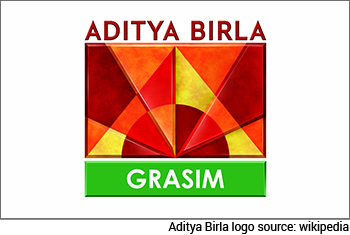 The stock markets recovered in the week gone by with bulls marking a comeback of some sort on Dalal street.
However, amid this backdrop, some stocks are still stuck in a bear grip.
Grasim Industries is one such stock that is down 7.7% in one week and 18.2% in 2022 so far.
The stock hit a new 52-week low of Rs 1,310 in today's trading session.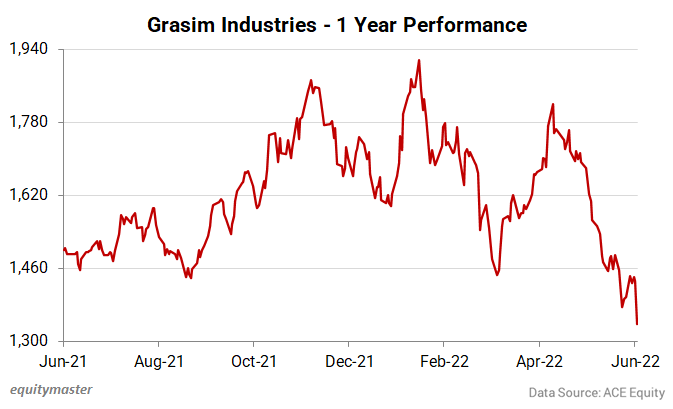 Grasim Industries is a leading global producer of Viscose Staple Fibre, the largest Chlor-Alkali, Linen, and Insulators player in India.
Through its subsidiaries, UltraTech Cement and Aditya Birla Capital, it's also India's largest cement producer and a leading diversified financial services player.
Here are a few reasons that's dragging the stock down...
#1 Huge changes in shareholding pattern
We know that markets track the movements of foreign investors (FIIs) and domestic institutional investors (DIIs) owing to their superior analytical skills. They also usually trade in large volumes widely intensifying the market sentiment.
Take a look at the FII and DII investing trends in Grasim Industries.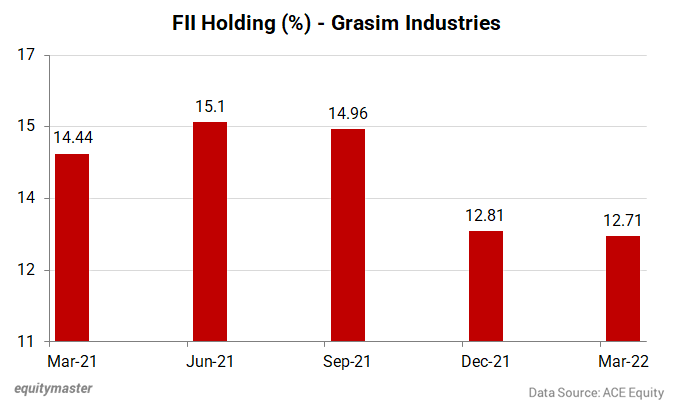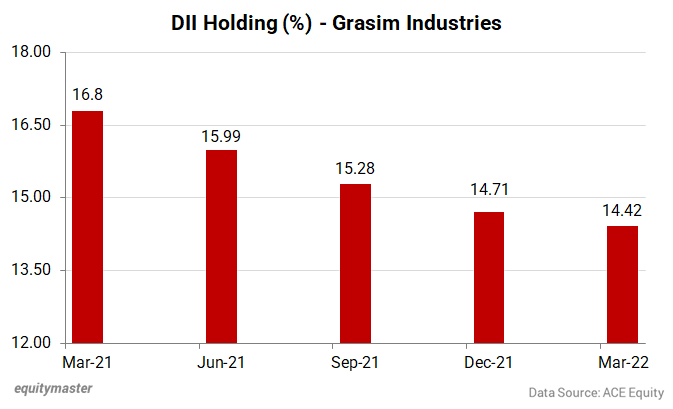 FIIs and DIIs have remained net sellers since June 2021 substantially decreasing their stake in the company.
That's not all, the company's insiders (senior officers or directors) haven't bought any shares during the last year.
Insiders have collectively disposed of shares worth Rs 308 m more than they bought over the past year.
In fact, some insiders like Amit Kumar and Krishna Maheshwari, have sold substantial or even 100% of their holding, which certainly isn't a good sign.
Insiders are perceived to have greater insight into the company. So, when promoters sell their stake, it's extensively presumed that something is not going well for the company, and the markets witness panic selling.
Although promoters have increased their stake from 42.09% in June 2021 to 42.76% in March 2021, buying over the year was witnessed by only two promoter groups - IGH Holdings and Grasim Employees' Welfare Trust.
#2 Weak financial health
The Aditya Birla group company recently announced its plan to invest Rs 100 bn over the next three years for entering into the paints business.
The civil construction at two of its plant sites Panipat and Ludhiana has already commenced while construction of new plants is expected to start shortly.
For this massive capital expenditure, Grasim Industries is planning to raise up to Rs 20 bn through debentures, negatively impacting the already weak financial health.
As indicated by the 2022 financial year results, the current net debt-to-equity ratio stands sizeable at over 47%. This ratio is typically used to measure the balance sheet risk.
Also, the debt-to-equity ratio has increased from 0.2 to 0.8 over the past five years.
The company's short-term assets do not cover its short-term liabilities which is considered a negative sign.
Adding to the pressure, UltraTech Cement, which is a material subsidiary of Grasim Industries, announced on 3 June 2022 a new capital expenditure plan of Rs 129 bn to tide increased competition in the sector.
Following the announcement, Grasim Industries' share price along with shares of other cement companies came under massive pressure. Grasim Industries closed 6.5% lower on the bourses on Friday.
For more details, check out Grasim Industries' financial factsheet.
#3 Margins under pressure
According to its Q4 results, Grasim Industries' revenue stood at Rs 63.8 bn posting a solid 45% increase YoY.
But the earnings before interest, tax, depreciation, and amortisation (EBITDA) came in at Rs 7.5 bn recording a negative growth of 7% on year-on-year basis severely impacting the operating margins of the company.
The viscose staple fibre (VSF) segment witnessed heavy cost pressure which led to a 60% year-on-year dip in EBITDA of this segment. At the same time, the operating profit margins were down 17.5 percentage points (pp).
The chemical segment on the other hand posted a 2.7x year-on-year increase in EBITDA while operating margins improved 7.5 pp on yearly basis. However, the margins were down 2.5 pp on a quarterly basis.
For more details, check out Grasim Industries' quarterly results.
The road ahead for Grasim Industries...
Although the capital expenditures are dragging the margins currently, Grasim is likely to benefit from capacity expansions in VSF and the chemical segments.
The entry into the paints business is also a positive outlook as analysts expect demand to be robust in the medium term due to lower penetration of paints.
Despite the margins being under pressure, Grasim Industries is profitable and growing which keeps some check on concerns.
It remains to be seen if the company substantially converts the ongoing expansion into profits.
We will keep you updated on what's brewing in the company and its latest developments. Stay tuned.
In the meantime, you can compare the company with its peers to see the performance.
Happy Investing!